Interview: Sketch comedy troupe TallBoyz chats ahead of their Season 2 premiere on CBC
Filed under: Interviews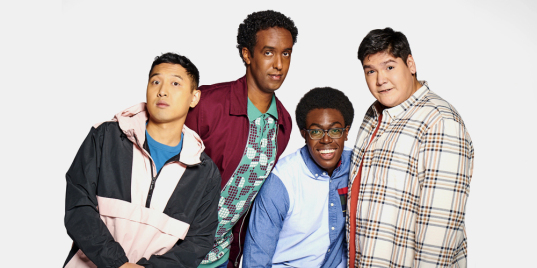 The most interesting part of any TV series is the second season. The show runners know what they like, what they don't, what works, what they can add, what the audience loves, and what they can make bigger. The voice is now stronger and more focused. A shot gun blast becomes a laser.
Don't get me wrong, the shot gun blast is fun. It's amazing to see what people do when the product can be anything it wants. It's bold and exciting new ground. That said, the second season is when the choices really get made. "What do you want it to be?" They've already broken new ground, and now they get to mine it. Watching the first two episodes of the sophomore season of TallBoyz, there is clear feeling of focused assertive confident intention. Not only has the show grown, but it's clear that the Boyz themselves have grown along with it. It's an incredible stride. Not since The Kids in The Hall have I cackled out loud, "I can't believe the CBC is letting them do this!"
Guled, Vance, Franco, and Tim were kind enough to sit down with me recently over Zoom to discuss the exciting choices and changes that brought them here. Season 2 of TallBoyz begins on Tuesday, February 16 at 9:30 PM on CBC Television and CBC Gem.
You can follow the Boyz on Twitter, Facebook, and watch their sketches (and other funny stuff) on CBC Comedy on YouTube.
Tags: TallBoyz, CBC, Guled Abdi, Vance Banzo, Franco Nguyen, Tim Blair, sketch comedy
Related Posts
Comments Posted ()
Search SBM Archives