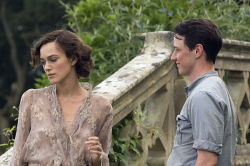 Golden Globe Nominations: Film
The awards season is upon us, and with that comes the list of Golden Globe nominees, announced Thursday morning. Atonement scored the most nominations with seven, while the Coen brothers' No Country for Old Men, Jason Reitman's sophmore effort Juno, Tim Burton's upcoming Sweeney Todd, and American Gangster also received multiple nominations.
A complete list of Golden Globe nominees for motion pictures is after the jump.
Best Picture (Drama)
American Gangster
Atonement
Eastern Promises
The Great Debaters
Michael Clayton
No Country for Old Men
There Will Be Blood
Best Actress (Drama)
Cate Blanchett – Elizabeth: The Golden Age
Julie Christie – Away From Her
Jodie Foster – The Brave One
Angelina Jolie – A Mighty Heart
Keira Knightley – Atonement
Best Actor (Drama)
George Clooney – Michael Clayton
Daniel Day-Lewis – There Will Be Blood
James McAvoy – Atonement
Viggo Mortensen – Eastern Promises
Denzel Washington – American Gangster
Best Picture (Musical or Comedy)
Across the Universe
Charlie Wilson's War
Hairspray
Juno
Sweeney Todd
Best Actress (Musical or Comedy)
Amy Adams – Enchanted
Nikki Blonsky – Hairspray
Helena Bonham Carter – Sweeney Todd
Marion Cotillard – La Vie En Rose
Ellen Page – Juno
Best Actor (Musical or Comedy)
Johnny Depp – Sweeney Todd
Ryan Gosling – Lars and the Real Girl
Tom Hanks – Charlie Wilson's War
Philip Seymour Hoffman – The Savages
John C. Reilly – Walk Hard: The Dewey Cox Story
Best Supporting Actress
Cate Blanchett – I'm Not There
Julia Roberts – Charlie Wilson's War
Saoirse Ronan – Atonement
Amy Ryan – Gone Baby Gone
Tilda Swinton – Michael Clayton
Best Supporting Actor
Casey Affleck – The Assassination of Jesse James by the Coward Robert Ford
Javier Bardem – No Country for Old Men
Philip Seymour Hoffman – Charlie Wilson's War
John Travolta – Hairspray
Tom Wilkinson – Michael Clayton
Best Animated Feature Film
Bee Movie
Ratatouille
The Simpsons Movie
Best Foreign Language Film
4 Months, 3 Weeks and 2 Days (Romania)
The Diving Bell and the Butterfly (France, United States)
The Kite Runner (United States)
Lust, Caution (Taiwan)
Persepolis (France)
Best Director
Tim Burton – Sweeney Todd
Ethan Coen, Joel Coen – No Country for Old Men
Julian Schnabel – The Diving Bell and the Butterfly
Ridley Scott – American Gangster
Joe Wright – Atonement
Best Screenplay
Atonement (Christopher Hampton)
Charlie Wilson's War (Aaron Sorkin)
The Diving Bell and the Butterfly (Ronald Harwood)
Juno (Diablo Cody)
No Country for Old Men (Ethan Coen, Joel Coen)
Best Original Score
Grace is Gone (Clint Eastwood)
The Kite Runner (Alberto Iglesias)
Atonement (Dario Marianelli)
Eastern Promises (Howard Shore)
Into the Wild (Eddie Vedder, Michael Brook, Kaki King)
Best Original Song
"Despedida" – Love in the time of Cholera
"Grace Is Gone" – Grace is Gone
"Guaranteed" – Into the Wild
"That's How You Know" – Enchanted
"Walk Hard" – Walk Hard: The Dewey Cox Story
Tags: Golden Globes, awards, Atonement, Sweeney Todd, Juno
Related Posts
Paul Little is the founder and Managing Editor of ShowbizMonkeys.com. When not interviewing his favourite musicians and comedians, he can also be found putting on and promoting music and comedy events with The Purple Room in Winnipeg, or co-producing the live comedy game shows Pants on Fire and The Great Patio Showdown. (@comedygeek)
Search SBM Archives