2010 North American* Genius Monkey Comedy Award
Filed under: SBM Awards
The North American* Genius Monkey Comedy Award is given to a comedy writer/performer who is on his or her way up. It would be impossible -- or at least incredibly short-sighted -- to try and come up with the "funniest" comedian every year. By instead selecting a rising writer/performer who is already capturing our attention, we hope to bring attention to a comic before the rest of the world has realized their awesomeness, and maybe even help a little in that process. Plus, we've gotten pretty good at this.
In 2008, our Genius Monkey winner was Aziz Ansari, who has blown up both as a stand-up comic and as Tom Haverford on the second-best show on television, Parks and Recreation. He's also on the verge of movie stardom, co-starring with Oscar-nominee Jesse Eisenberg in the summer comedy 30 Minutes or Less. Last year's winner, Donald Glover, has had an even more eventful year after winning our esteemed award. Besides being on the best show on television, Community (yes, we realize these are extremely subjective categorizations, even if they are 100% accurate), Glover has become a very successful comic, and plans to hit theatres across the continent this spring with both his stand-up and hip-hop (he raps under the name Childish Gambino) for the IAMDONALD tour. So, though we generally like to remain humble here at ShowbizMonkeys.com, this award is officially a star-maker!
So who will be the next comedy star? Deciding on the 2010 recipient of the North American* Genius Monkey Comedy Award came down to deciding who out there was young, incredibly funny, and (unfortunately) not yet widely known. There was one name that came to mind -- someone who's embarked on a relatively successful stand-up career, performed a bit on television, and has written for a comedy institution. But we have a feeling that over the next little while, he's going to become a household name, and deservedly so.
The recipient of the 2010 North American* Genius Monkey Comedy Award is...
JOHN MULANEY
John Mulaney may not have the pedigree or experience of some of the top stand-up comics working today, but he's on his way there. Mulaney has already been recognized on ShowbizMonkeys.com, as his 2009 debut stand-up CD, The Top Part, was a runner-up for our Comedy Album of the Year (beat out only by The Lonely Island). That recording contains one of the most entertaining stories ever put to tape -- "The Salt and Pepper Diner" -- which still keeps us howling each and every time we listen.
Mulaney started his comedy career at Georgetown University, where he met his frequent collaborator, Nick Kroll. Being interested in theatre but having never performed comedy, Mulaney heard about an improv group taking auditions, and he decided to try out. The troupe was run by Kroll, and the two have written and performed together frequently since then.
Following his time at Georgetown, Mulaney headed to New York City, interning at Comedy Central and performing stand-up for the first time in 2003. As he began honing his stand-up act, he also began working on projects with Kroll, including the Comedy Central web series, I Love the 30s, spoofing VH1 shows like I Love the 80s and Best Week Ever. He also, naturally, appeared regularly on Best Week Ever.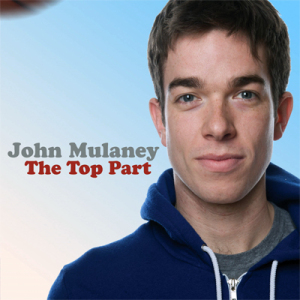 Appearing frequently on late night television, including memorable appearances on Late Night with Conan O'Brien and its follow-up, Late Night with Jimmy Fallon, Mulaney began getting more well-known, eventually headlining clubs across the country. This eventually culminated with the aforementioned release of Comedy Central Records' The Top Part, an album that includes bits on black-out drinking, Donald Trump, Law & Order, and angry drag queens.
Mulaney's performance style and cadence are a big part of why his stand-up works so well, but the writing behind it can't be discounted. It was his skills as a great joke writer and storyteller that lead to him being hired as a writer on Saturday Night Live prior to the 2008-2009 season. Working under head writer and Weekend Update host Seth Meyers, Mulaney quickly proved to be one of the strongest writers on staff, evidenced by his participation in the more out-of-the-box (and frankly, more interesting) sketches and character pieces, including an "Of Mice and Men" sketch with James Franco early on his SNL career and the recurring Weekend Update character Stefon (played by Bill Hader).
Besides writing for the show, it also seems that they're grooming Mulaney to eventually replace Seth Meyers, who's been anchoring Weekend Update for several years now and has been with the show longer than any current on-air performer. Mulaney has twice appeared on Update himself, with hilarious pieces that could easily be a part of his stand-up act, and is frequently name-checked by SNL performers when talking about their favourite sketches.
With strength as both a writer and performer, there's no telling how far Mulaney can climb. He'll no doubt become a top stand-up act as he develops his voice even further, but that will likely only be the beginning for this year's Genius Monkey winner.
* Note: Does not include Mexico
Tags: Genius Monkey, awards, John Mulaney, stand-up, Saturday Night Live, SNL, The Top Part, Law and Order
Related Posts
Paul Little is the founder and Managing Editor of ShowbizMonkeys.com. When not interviewing his favourite musicians and comedians, he can also be found putting on and promoting music and comedy events with The Purple Room in Winnipeg, or co-producing the live comedy game shows Pants on Fire and The Great Patio Showdown. (@comedygeek)
Comments Posted ()
Search SBM Archives