Trailer Review: Skyfall Trailer #1
Posted by: Andrew Burns // July 31, 2012 @ 8:30pm
When he isn't escorting the Queen to the Olympic Ceremonies, 007 is coming back from the dead to kick some world-dominating-villain ass. The first official full length trailer for Bond's next mission, Skyfall, was released today and it's all kinds of awesome.
The trailer shows Skyfall to be a combination of vintage Bond staples, some modern action movie grit, and fresh blood to this always evolving 50 year old franchise. But before I make you wait past anymore praising paragraphs take a look for yourself:
As you just saw this trailer gives Bond fans their first real view of Javier Bardem's character (Silva), Ben Whishaw as Q, as well as drop some hints at what kind of story the film might have. More than flashy car chases and giant explosions for latest Bond outing, Skyfall looks to have an interesting story to go along with the blood, bullets, and one-liners. There is so much to speculate and geek out about so I'll give you my highlights:
Expanding on some of the short exerts shown in the teaser trailer is does look like 00 agent were killed/compromised. Ralph Fiennes' character's conversation with Judi Dench's M about a stolen classified computer drive, her typing up Bond's obituary, and another shot at the Union Jack draped coffins almost confirms this potential plot. (Called it in the teaser review, no big deal)
Back from the dead, after getting shot off the train, Bond looks to be not quite the same after his return to MI:6; missing targets and having to squint while shooting. Bardem's character somehow knows this about Bond as well, which might tie into the stolen MI:6 drive.
Bardem's blonde haired mystery bad guy character Silva looks even creepier than him as Anton Chigurh from No Country for Old Men; if that's even possible. We see a glimpse at his lair and it looks to be on the grand sized scale fit for a Bond villain.
Quick flashes of the typical, yet stunning, exotic locations Bond movies are known for.
A longer look at the two beautiful Bond ladies. Naomie Harris' character looks to be part of MI:6, as she is the one who shoots Bond off the train. And Bérénice Marlohe looks to be the villainess temptress type, possibly being Bond's connection to getting to Silva.
Lastly and my personal favourite, Bond meets his new quarter master (aka Q) and gets a new gadget.
As much as I've loved Daniel Craig in his first two outings as agent 007 there has been something missing from those films. That something is a someone: Q. Ben Whishaw will be the new Q, Bond's quarter master, giving him all of his inventive weapons, gadgets, and tricking out his Aston Martin. Desmond Llewelyn's scenes as 007's Q in his 17 time appearance run beginning in From Russia with Love to The World Is Not Enough (1963-1999) were always my favourite part of any Bond flick. John Cleese did his best at filling his shoes after Llewelyn's poetic exit from the franchise in 1999, just before his death, but to give the film series a more modern take the younger Whishaw was casted. This is still just a trailer review, and like the rest of you I only saw a few seconds of Whishaw in this trailer, but I already love the fact the producers cast their Q to be younger than their Bond for the first time ever; presumably more tech savvy. This trailer only showcases one of Q's new gadgets for Bond, finger print signature activate Walther PPK (a classic Bond pistol), but its technical simplicity is brilliant.
"Less of a random killing machine and more of a personal statement" –Whishaw as Q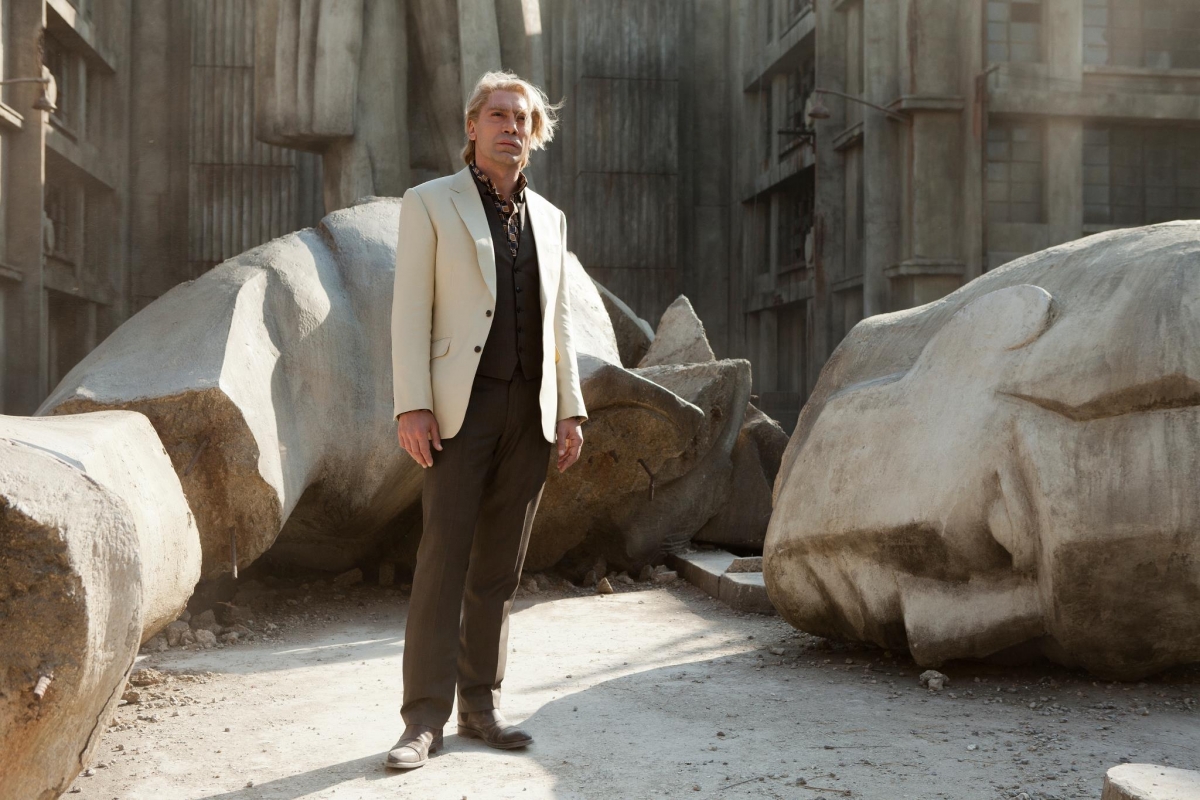 As amazing as Craig looked as Bond in the action sequences shown here (that part where the train gets torn in half and he jumps down all nonchalant was freckin' awesome) it was Bardem as this mysterious new Bond villain Silva that practically stole the show in the trailer. The trailer reveals Silva as he has Bond tied up in what looks to be his lair. Dozens or hundreds of computer servers in that massive hall suggests he is doing something technical with the drive that was stolen from M and MI:6. Some of the other screen shots of Bardem show him in some kind of an MI:6 secure cell and another shot of him disguised as a British policeman; hinting at him trying to kill Judi Dench's M. Whatever Skyfall director Sam Mendes ends up doing with Bardem as his main villain will no doubt be menacing and I can't wait.
If after all of that you still need more of a 007 fix here is an additional teaser trailer, to the one that came out a couple months back, which was released during the London 2012 Olympics. Has most of the same footage as this new trailer, but still worth a watch in my books. Enjoy:
Follow Andrew on Twitter.
Tags: James Bond, Daniel Craig, Judi Dench, Ralph Fiennes, Javier Bardem, Naomie Harris, Bérénice Marlohe, Ben Whishaw, Sam Mendes, Desmond Llewelyn
Related Posts
Andrew Burns loves film and comics, and can be found writing about when those worlds converge. You can follow him on Twitter at @myAndrewBurns.
Search SBM Archives