Trailer Review: Skyfall Teaser





Filed under: Reviews
I've been waiting four long years to hear that iconic MGM lion let out another fierce roar. Four long years to see martinis drank as villains monologue their plans for world domination. Four long years to see Britain's top secret agent renew his license to kill. That's right Bond fans 007 is on his way back to the silver screen for his 23rd time, in Skyfall ,and here is the first teaser trailer to prove it.
Do you have 00 sized goosebumps now? Because I sure do.
This 84 second teaser lives up to the definition. It gives the viewer just enough eye candy to be excited about without giving anything away. The teaser's 24 words of dialogue doesn't quite explain much, but again that's the point, keeping to the viewer in that state of anticipation. Here are a couple of highlights and some omissions that caught this Bond fan's eyes:
Multiple shots of Bond both overlooking and running-in the streets of London. These images are notable because traditionally Bond's missions take him abroad to different exotic locales instead of fighting in his own backyard.
A word association style of questioning in an integration room takes place between Bond and what seems like an MI:6 psychologist or analyst where the word 'Skyfall' ends their conversation. On the other side of the glass is a shot of Ralph Fiennes' unknown character's first appearance, alongside Judi Dench back as M.
M standing over eight or more caskets, each with a British flag draped over top, where looks to be inside MI:6's headquarters. Those could be fallen British soldiers or possibly Bond's fellow 00-statused agents.
Gun fights in some skyscrapers in Beijing China, as well as possibly the Scottish Highlands.
Simply a silhouette of who can only be Javier Bardem, Skyfalls villain, as he walks away from a burning mansion.
Two quick glimpses of Naomie Harris and Bérénice Marlohe; the two beautiful ladies to be the next Bond girls, presumably.
Missing is a first peek at Ben Whishaw as the new, modern, and younger version of Q. As well as the rumoured appearance of another former James Bond staple, Miss Moneypenny. It has been ten years since either of these characters have been a part of the Bond films' legacy.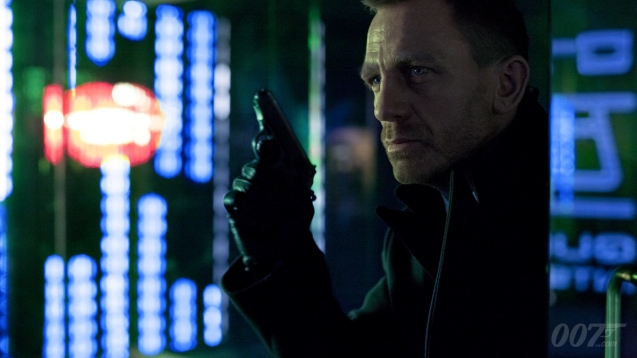 50 years old and this franchise has never looked better. Skyfall marks Daniel Craig's third outing as the famed MI:6 secret agent, yet this time things are going to be a little for him. Breaking from the story arc that began in Casino Royale, and extended in Quantum of Solace, Skyfall is rumoured to bring Bond back to his standalone action flick model. As awesome as both Casino Royale and Quantum of Solace were continuity has never been Bond's style. Sure, there have been a few exceptions in the past, but part of the reason the character has been able to last and thrive for half a century is because each film is its own story. Though I was interested to see how the Broccoli family, Barbara Broccoli & Michael G. Wilson (owners/producers of the Bond Legacy), would have concluded 007's Quantum villains story-arc I'm glad Craig will get a more traditional Bond flick before his age catches up with him. With Bond's final words in the teaser being:
"Some men are coming to kill us. We're going to kill them first."
007 doesn't seem to running out of villains anytime soon.
Tags: James Bond, Daniel Craig, Judi Dench, Ralph Fiennes, Javier Bardem, Naomie Harris, Bérénice Marlohe, Ben Whishaw, Casino Royale, Quantum of Solace
Related Posts
Andrew Burns loves film and comics, and can be found writing about when those worlds converge. You can follow him on Twitter at @myAndrewBurns.
Search SBM Archives