Top Fives: James Bond Films
Posted by: Andrew Burns // November 7, 2012 @ 3:07pm
Since Skyfall is only days away from hitting the theaters, and the franchise is celebrating its half centennial (50 years) anniversary, I thought why not do a good 'ol Top Five for everyone's favourite British secret agent. The 00 agent with a license to kill has been in 22, going on 23, films over the past 50 years, saving the world time after time. Narrowing the character's 50 year career on the big screen down to only 5 films is a tricky thing to do, with so many factors to take into account. Many Bond fans, including myself, can be a bit subjective to the 007 films that happened to be released during their generation, making them their obvious favourites. Even though I can't ignore the effects growing up in generation Brosnan had on me, this Top Five will be a hybrid list of two key components: overall film quality & film legacy.
Each of these five Bond films has been considered to be "the best Bond of them all" by critics over the years for good reasons. They each have standalone cinematic qualities to them that have proven staying power for audiences decades apart. As well, each of these five films have had a significant impact on the 007 franchise and, in their own unique way, altered the legacy of the franchise. The ranking here for this Top Five probably weights heavier on the legacy attributes, but rest assure the value of their action packed missions were not overlooked.
5. Casino Royale (2006) - Bond #21
The number five spot was actually the hardest spot to fill and picking Daniel Craig's 007 debut might be pretty tough for die-hard Bond fans to except. Casino Royale is the 21st James Bond film in the franchise and the film's direction was a tremendous gamble (no pun intended) for the studio behind the character to take.
Film Quality:
What probably stands out the most for people when looking back on Casino Royale is the opening chase sequence. Typically Bond movies open with an amazingly ridiculous and always awesome car chase sequence. Granted there have been a few exceptions over the years, but for the most part Bond is usually behind the wheel of some kind of vehicle during the film's opening number. In Casino Royale they broke from that tradition with a parkour or freerunning chase. The on-foot-on-screen pursuit was a fresh take on the Bond staple and thanks to the physicality both the actors and stuntmen brought the action-packed scene proved to be one of the most memorable in recent years; Bond film or not.
From that opening scene onward Craig settles in to the tux tailored role as if, like the men before him, he was born to play it. Pitted against a calm yet ruthless (facially scared as well of course) villain known as Le Chiffre (played by Mads Mikkelsen), the film has Bond in both his fair share of battles of wits at the card table and battles to the death everywhere but the casino. Bond also has one of the most intense car crashes ever put on screen after he flips his Aston Martin seven times. A feat that actually would enter the car crash into the Guinness Book of World Records for most rotations of seven with a driver inside.
Film Legacy:
The film is actually the closest thing to an origin Bond had ever got in the 20 films that came before it. In the beginning of the film Bond kills two individuals before getting promoted to '00 status; a ranking the character had always had already in all of his previous 20 endeavors. Going back the character's beginnings gave the modern generation's audience context to a character that they may have been being introduced to for the first time. In terms of just backstory Casino Royale provided audiences with the most amount of information on Bond's past than any other film that came before. Bond's tough origin over the years has been explained only ever through dialogue. Him been an orphaned child acquired by the British government and later in life having a unknown woman as his great love that died, making him the hardened secret agent he appears to be. Other than maybe in Timothy Dalton's second and last Bond outing, License To Kill (1989 & Bond #16) where he tells CIA agent Felix Leiter he was once married, do audiences ever get anything close to a romance backstory for Bond's jaded approach to women as Casino Royale shows with beautiful and tragic Vesper love interest, played by Eva Green.
Casino Royale went against some other major Bond basics. For the only third time since the character's film debut in 1962's Dr. NO and the role's transition film Live and Let Die was Bond without his quartermaster to supply him with his mission's cool gadgets. Judi Dench carried over from the Brosnan era to reprise her role as M, but the other single lettered role of Q did not. Another Bond basic the film strayed away from was the casting of the blonde and bigger Daniel Craig as James Bond. Craig psychically goes against the standard mold when looking back at the five previous men who played the part. The female fans probably appreciate the upgrade to a more ruggedly suave secret agent, but Craig's larger physique brought a believability to roles' action sequences that may have been lacking.
Lastly the other major shift in the franchise was Casino Royale being part of was it initially was intended to be part of a trilogy within the already massive series, known only for standalone features. Quantum of Solace later followed the events that directly took place at the end of Casino Royale, making it anomaly in terms of continuity for the franchise. The latest, and would be third chapter, Skyfall however has been reported not to follow or conclude any stories beginning from Casino Royale; making Casino Royale the only origin film in the series.
4. Goldeneye (1995) - Bond #17
The number four spot for my money goes to Pierce Brosnan's debut Bond film Goldeneye. Brosnan is the Generation Y's James Bond as the character started to transcend the medium of film with added popularity on the rising video game platforms. Goldeneye was more than just a film turned into a game, it was a game-changer.
Film Quality:
Directed by Martin Campbell (who later returned to the franchise for Casino Royale) Goldeneye had a fantastic balance of classic Bond clichés and realistic modern threats to go along with its great story-line. Just like in past films the movie seemingly used Soviet Russia as the easy out for the story's villain, but a double cross resurrection plot twist involving Bond's fellow MI:6 agent Alec Trevelyan (aka 006) took audiences by surprise. Goldeneye had more than its fair share of memorable action sequences but the concept of having another 00 agent included was a fresh take in terms of story-line and like nothing the series had done before. If 007 is just one of a handful of Britain's secret agents that save the world from impending doom time and time again then putting him up against an individual of his calibre in 006, a man who also knows both James' strengths and vulnerabilities, makes for the perfect villain. If the 006 double cross wasn't good enough the plot's, at the time, innovative digital bank robbery scheme was one of the most practical master plan of all the Bond villains. Granted the Goldeneye weapon was still a factor in covering Trevelyan's digital getaway the plan was eerily plausible in many degrees of the crime.
With a solid story-line in place Brosnan effortlessly slides into the role of James Bond. After not one but two major stunts in the opening sequence (the bungee jump on the dam and the motorcycle off the cliff into an unmanned diving plane) any questions about Bond being relative after its long 6 year hiatus were answered. Sure credit for those stunts, and later ones, goes to the stuntmen but Brosnan carries the rest of the film with his Connery-isk charm and physically during his first time playing the iconic role. Like I said before the film has those classic Bond clichés with everything from the high class gambling scene, back and forth quips between Q, and my personal favourite the Bond Girl bady with one of those unforgettable innuendo type names: Xenia Onatopp. Oh and he has a car chase with a tank if all that wasn't enough.
Film Legacy:
Like all the films on this list they changed the course of Bond franchise but maybe none as drastic as Goldeneye. The franchise broke ground in casting Judi Dench in the role of M the head of MI:6, which up until that point had only been a male only role. A female cast as M was a bold choice to take seeing how it had always been written for males, Bernard Lee for 11 Bonds and Robert Brown for 4. But that bold choice of the opposite sex paid off immensely. Dench brilliantly deflected Pierce's Bond's charm and maintained a commanding authority, frankly more believable, than any other to play the role of M. Dench's performance, like the other M's over the course of the franchise, doesn't have much screen time but made such an impression that she has become integral in future films and is going into her seventh reprisal of the role with Skyfall.
On the merchandise side of the series Goldeneye altered major factors of additional revenue Bond films have become known for. First to note is Bond's change up with their product placements and their new relationship with BMW. Bond is typically known for uses a fancy, and often time tricked out model, Aston Martin of some type. However in Goldeneye the studio begun a 3 picture deal with the BMW car company and from then on Bond had created a bidding war for other companies who had not been a staple in the franchise to try and buy their way in. The second and perhaps most famous for those Gen Y Bond fans is the additional experience brought to the franchise because of Goldeneye and the Nintendo 64 game adaption: Goldeneye 64. The now majority popular N64 game came out almost two years after Goldeneye's initial theatrical release and it revolutionized the genre of first person shooter games with its graphics, game play and its multiplayer platform. The game was such a huge success other game companies tried to emulate Goldeneye 64's style, but more importantly the game vastly expanded Bond's demographic. Drawing in younger male and even female kids into the film series partly because of how closing the game stuck the film's story-line.
Lastly and most significantly Goldeneye was an overwhelming test for the longevity and the future of the Bond franchise. Albert "Cubby" Broccoli had been Bond's producer since day one, producing every Bond film since Dr. No (1962) and at that time up to Licence To Kill (1989). Cubby's age and declining health had almost shelved the iconic character for good until his daughter Barbara Broccoli and step son Michael G. Wilson were handed over the keys to the legacy. At this time in the Bond world Timothy Dalton's two Bond run had started to take the character off of movie audience's radar and a six year absence only hurt the Bond brand that much more. The importance for Goldeneye to not just to be a financial success but deliver fresh life into the character to kick start the 007 name with movie goers was paramount. Goldeneye blew away all expectations for Bond's return to the silver screen and proved the franchise was is in very good hands after the pasting of the torch.
3. Live and Let Die (1973) - Bond #8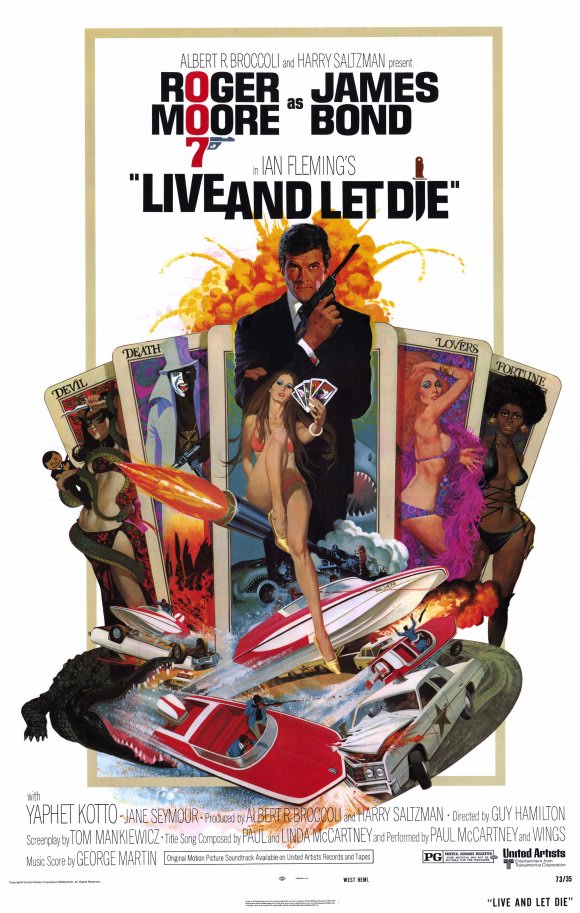 Keeping in trend of role debuts the number three spot goes to Roger Moore's first time in Live and Let Die. This isn't a hard pick to include in ranking the top Bond films but putting it at bronze medal status is was hard to accept, and its even my list. Quality wise Live and Let Die probably won't crack the Top Five for all time Bond films but it impact on the franchise is too big to ignore.
Film Quality:
Every Bond film has the standard opening credit sequence that plays normally just after some exciting action scene to set the tone for the picture. Included in this opening credit sequence is always some stylish visuals and editing, but the unique signature that they all have is the title track. Live and Let Die has arguably the most memorable opening song in the series with Paul, Linda McCartney and their group Wings' track of the same name of the film. The song has even maintained popularity decades later with Guns N' Roses doing their own cover version of the song back in 1991 and Weird Al parodying it years before them.
Live and Let Die was director Guy Hamilton's third of four Bond films and he was tasked with winning Bond audiences over with the franchise's newest actor to play 007 in Roger Moore. Hamilton left nothing to chance putting Bond in one of his most surprising adventures at the time and loaded it full of chase sequences. If audiences didn't like the new choice for the lead actor Hamilton made sure they were still entertained by giving them stunts, stunts, and more stunts. The film had almost every type of vehicle in some kind of a chase doing things never thought possible; both on and off the road. There were double-decker buses pulling 180s at full speed, Cadillacs playing bumper cars with planes, boats crossing over lawns (through a wedding party), and even into swimming pools. Hamilton gave Moore more style points to possible weary fans by having Bond run across crocodiles' backs to safety as they snapped at his legs.
Film Legacy:
Other than some inventive action scenes Live and Let Die, again, wouldn't be ranked this high given the many other fantastic films throughout Bond's 50 year run. What puts this film on the podium on my list here, and it pains me a bit to admit it, Live and Let Die proved there was life after Connery.
Causal fans of the Bond series probably all know Sean Connery was the first official actor in the franchise to play the iconic role of James Bond: secret agent 007. But what causal fans might forget is that even though Connery wore the famous tux for 6 films they weren't all consecutive. Back in 1969 Connery stepped away from the role and George Lazenby came on for On Her Majesty's Secret Service. Making Lazenby the second actor ever to play the character under the official franchise. Audiences didn't care for the replacement and On Her Majesty's Secret Service quickly become Lazenby only performance in the role as producers turned to Connery once again for the next and seventh installment; Diamonds Are Forever. Connery return was considered a success compared to Lazenby's attempt but his age became very apparent in Diamonds Are Forever and producers again rolled the dice on refreshing the series lead role.
Moore was no Connery, as he mainly had the role's charm, where Connery had the charm and was a psychical presence in the role. Raised as Connery Bond fan and growing up as Brosnan entered the series I always leaned the other direction when it came to Moore's portrayal of the character. However, credit for the Bond franchise's survival and longevity has to go to Moore and Live and Let Die. If Moore (and credit also should go to Hamilton) didn't have success in his first time out as 007 there would be no Bond series at all. Connery had already been deemed too old to continue and audiences already showed their displeasure with change when On Her Majesty's Secret Service did poorly in the box office. Live and Let Die's success became a make or break for the film series and thankfully was well received. The film became Moore's first of seven appearances (most official total Bond films for any actor) in the role of 007 over 12 years, carrying the character though generations of audience members to come.
2. Goldfinger (1964) - Bond #3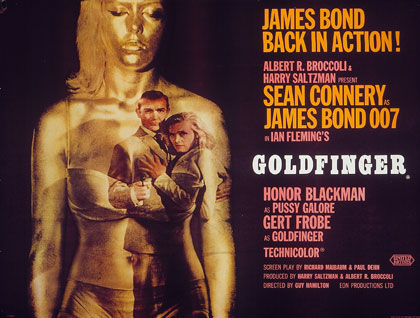 Goldfinger could easily be considered the number one Bond film of all time. I wrestled with my decision not to make it number one on my list here. Growing up and having the Connery Bond boxset on VHS no other Bond movie spent more time in my VCR than Goldfinger did. The film has so many things going for it and every part, big or small, still rings true and holds up today nearly 50 years later.
Film Quality:
When people think about a James Bond film there is a mental check list that first comes to mind. Cool car, high tech gadgets, killer henchmen, monologuing villains, and intense car chases to name a few. Well Goldfinger has all of those things and so much more.
Let's start with Bond's car, an Aston Martin DB5. Q and his crew at MI:6's Q branch tricked out 007's ride better than Xzibit could have ever pimped it. The DB5 had it all: bullet proof windshields, revolving license pallets from other countries, side tire slashers, homing device radar (aka 60's version of a GPS), smoke screen, oil slick, front facing machine guns built into the headlights, and the iconic passenger ejector seat. Director Guy Hamilton didn't just give 007 a stocked arsenal within his sports car and let it go to waste. No sir, when Bond is on the run from Goldfinger's men and he uses every weapon in and outside that DB5 in one of the most memorable car chase scenes of not just a Bond movie, but of all time. That might sound like bold claim but to those that might disagree I have two words for you 'ejector seat'. When Q first mentions that added feature to 007 during his briefing you never thought a situation would come up that he would have to actually use it, yet sure enough Bond does and that set the tone and the bar for all other Bond car chases to follow.
Apart from the material affects 007 got to use in the film, Goldfinger had a brilliant villainous master plan at the core of its story. The premise of a wealth gold collector, dealer, and even smuggler, aptly named Goldfinger, breaking into one of the world's largest and well protected gold deposits in Fort Knox was bold enough as it were. Then taking that premise and adding an ingenious twist to the plan by not stealing the gold but rather to contaminate it with a dirty bomb, thus driving the value of Goldfinger's personal stock pile of gold. Gert Fröbe who plays the main villain Goldfinger is not a physical treat in the film but his commanding confidence that his plan will succeed is just as effective as any fight scene. Add an unassumingly lethal body guard/henchman and an impressively strong female counterpart to the mix and Bond has the ultimate trifecta of villains he has to defeat.
Goldfinger was Sean Connery's third outing as the famous British secret agent in the series and perhaps his strongest performance in the role. Any inconsistencies there may have been in Connery's two previous portrayals were gone when it came to this third time in the tux. For my money this is the film where Connery and Bond become synonymous with one another. No other film in the series encompasses everything audiences have come to know and love about the character and most of that credit is shouldered by Connery's performance. Connery works his famous charm with the ladies, tugs on a few heart strings after he loses one of those ladies, and he puts you on the edge of your seats with the action scenes and hits the ejector button to send things to another level.
Film Legacy:
"Do you expect me to talk?"

"No, Mr. Bond. I expect to die!"
Other than 007 saying "The name's Bond. James Bond" those two sentences are perhaps the most iconic lines of dialogue in the entire Bond franchise. Just one of the many iconic moments from Goldfinger that helped cement the character's legacy for decades to follow. The film's main villain of the same name and his group of hired minions may not have been the first in the series since Goldfinger was the third film in the cinema library but two key characters and their positions set the bar for all future film adventures for the British secret agent. Those characters were the henchman Oddjob and the formidable yet sexy Pussy Galore.
Oddjob, again, wasn't the first character of his kind in the franchise as Donald 'Red' Grant was the muscle for the lead villain in From Russia With Love, the film just before. Even though his character was the complete opposite of Red, Oddjob's small stature and silence demeanor actually drew more audience attentions to him. Add in his abilities to karate chop people out cold, crush golf balls with his bare hands, and kill people with the throw of his hat Oddjob became the symbol and benchmark for badass henchmen. From Oddjob onward a Bond staple was born. Bond films where 007 faced an intellectual foe would also pair the villain up with a physically threatening henchman-sidekick like character.
The other trend in the franchise Goldfinger started involved Honor Blackman as the character Pussy Galore. Bond has always been one for the ladies but giving his female counterparts a double entendre name like Pussy Galore became the series' way to give audiences that extra wink. The double entendre style of naming for certain female characters didn't become a regular occurrence from film to film, only occasionally like Holly Goodhead in Moonraker and Xenia Onatopp in Goldeneye. The naming of female characters did became another classic trait to play into the scripts' stories and dialogue. Denise Richard's character Christmas, coming twice a year in The Worlds Not Enough, to name another humorous example. But beyond the funny character name Blackman gave her character strength and empowerment in a 1960's era where women were typically only seen as sex symbols. Goldfinger shows Galore on the same psychical level as Bond, and for the most part shows her immune to his charm. A similar matchup rarely duplicated in other Bond films that followed.
Lastly and probably most importantly are the visuals that the Goldfinger film produced etching this 007 addition in the number two spot on this list. Goldfinger is chalk full of classic moments and scenes that audience immediately recognise with the James Bond series. The image of Connery strapped down on a table with a laser about to cut him in half = James Bond. The moment with the poor villain lackey being ejected out of the passenger seat of a bitchin' Aston Martin = James Bond. Or the famous image of Shirley Eaton as Jill Masterson painted to death head to toe in gold paint = James Bond. Few visuals in cinema history have maintained over both decades of time and multiple generations of audience members than that gold painted nude corpse in Goldfinger. That image continues to be one of the most iconic of the whole franchise; that and the gun barrel opening sequence in each Bond film.
Goldfinger hands down is the quintessential Bond film. Not to say others haven't come close, some extremely close, but none but one have had that same combination of enduring excitement onscreen and classic series staples quite like Goldfinger. Goldfinger might not have created many of the Bond standards but in many areas it perfected them.
1. Dr. No (1962) - Bond #1
Credit where credit is due. There are no 22 sequels, no 50 year franchise, no longest running film series without that first feature film that started it all. Dr. No could take this list's number one spot for that sole reason alone, yet there are so many more reasons this (in my books) is the best Bond of them all. Dr. No's impact on the Bond franchise's legacy is very intertwined with the film's quality, so in the case of my number one spot here I'm going to mesh the two together.
Film Quality & Legacy:
So much about what makes this film great are the classic moments, scenes, series staples, and even clichés that originated from it. So many of these original traits have lived on pass the character's first onscreen adventure and into his sequels, becoming synonymous with the Bond brand. Franchise foundations like the instantly recognizable theme music, the shaken not stirred Vodka Martini, or the suave line delivery for the film's hero: "Bond. James Bond" are just a few of the many examples that were born out of this first (official) feature film of the character.
The principal story elements in Dr. No have become a classic formula to follow for success. Bond's many sequels have added plot twist, variations of multiple types of characters, and changed the adventures' destinations but ultimately the fundamental ideas for that type movie experience 007 gives audiences can all be traced back to his first onscreen mission.
Ian Filming's James Bond novels had become popular over multiple age groups, both old and young, so the theatrical adaption of the character had enormous pressure attached to it long before principal photography started. Like any other book to film adaption producers could take certain liberties with the story but to please both reader fan base and movie audiences the right actor had to be given the lead 007 role. He may not have been an Englishman, or even the producers first choice, but the man that first donned that tuxedo with a 00 license to kill was Scotsman Sean Connery. Upon my revisiting of Dr. No for the formation of this Top Five list Connery's introduction as 007 at the casino table is still one of my favourite moments in movie history. The scene between 007 and Sylvia (played by Eunice Gayson) plays out without the camera ever showing his face until it comes time for Connery to say those famous lines "the name is Bond. James Bond". While delivering those legendary lines a perfectly dressed Bond lights a smoke as the theme music in the background is turned up a notch and from that point on Connery became the epitome of cool.
As the film progressed Connery proved to be more than a suave guy in a suit. Connery established Bond as being both a physical and an intellectual character, never relying solely one trait. The story of Dr. No sends Bond to the exotic locale of the Jamaican islands to investigate the disappearance, and amused deaths, of a British intelligence operative and his secretary. Of course there are moments where Bond knocks around a few lackeys during his mission, but for the most part Connery plays Bond like a detective piecing clues together that inevitably lead to the main villain himself, Dr. No. Straying from the standard American action hero platform of shot first ask questions later, Connery and director Terence Young made Bond a refreshingly new type of protagonist for moviegoers.
The storytelling in Dr. No also sets the tone for villains introduced in the Bond universe by unconventionally yet effectively shadowing and hiding them till later in the film, rather than a first act reveal. The protagonist James Bond is introduced just after the opening credit sequence but his main adversary, Dr. No, doesn't make his first visual appearance until 22 minutes left in the film. In the beginning of the film the Dr. No character is only ever referenced by fearsome secondary characters recounting rumours of the man. About halfway through audiences are given a tease of the infamous doctor only hearing his ominous voice while he calmly threatens an associate of his after failing to kill Bond. Not revealing the Dr. No character till later in the film created suspense and intrigue for audiences, but when he did appear and first came face-to-face with Bond it didn't lessen the effect of the character one bit. The doctor was already pitted as an intellectual equal to Bond but the slight augmentation of his hands (essentially being metal vice grip claws) started another trend in the series. From Dr. No onward villains in the Bond movies typically (although not always) had some kind of physical alteration to them making them un-mistakenly to audiences that they were 007's enemy.
In addition to Bond villain's irregular appearance is their lair or secret hideout where they craft their plans from world domination from. The bar was raised and started pretty high in Dr. No for this category within the Bond universe as the doctor didn't just any villainous sanctuary he had his own island. Setting 007 against a nemesis with the massive resources of that magnitude expanded the scope these films could take on. Believably for these sometimes gigantic settings never really became an issue with audiences in the films that followed, rather they just became another expectation attached to movie experience.
Another franchise consistent established in Dr. No was the character category of the 'Bond Girl'. Every Bond feature as their own Bond Girl character (good or bad) in them and in many cases more than one to a film. Dr. No's had both the good and the bad Bond Girl to begin standard. The first was the bad Bond Girl Miss Taro character (played by Zena Marshall) who ended up being another one of Dr. No's operatives placed in Britain's Jamaican embassy. Taro lead Bond into a death trap, like most bad Bond girls do, but has the last laugh by getting some revenge sex before he returns the double cross and hands her over to the British government. Marshall's character from Dr. No isn't actually remembered too often because of the other Bond Girl in the film, Ursula Andress as Honey Ryder. Female audiences were wowed by Connery brawny physique but male audiences dropped their jaws when Andress appeared from the ocean in her now iconic white bikini. That scene is arguably one of the most memorable in the entire Bond franchise. So much so that other Bond films tried duplicating that onscreen moment; closest perhaps Halle Berry's Jinx character's introduction in 2002's Die Another Die.
Dr. No is also credited with the first appearances of M, his secretary Miss Moneypenny, and CIA agent Felix Leiter. The incarnations of the M and Leiter characters have changed slightly over the years while still staying true to the literal source material. For the theatrical adaption of Moneypenny Dr. No strayed marginally from the books and begun the flirtatious back and forth relationship between her and Bond fans would come to know and love.
Pop-culture experts narrowed down the major cultural impact on the 1960's into the three B's. Beatles, Batman, and Bond. The Adam West Batman series has faded somewhat over time but the other two have still been able to remain revenant 50 years later. The Beatles still are one of the most popular music groups day, long after their disbandment, and the character of secret agent 007: James Bond has been able to constantly reinvent himself over the decades. Goldfinger in my opinion is the most complete James Bond film from all of the 22 (Skyfall notwithstanding) in the series. Not putting that film at the top of this Top Five list was a tough call but since so much of the 007 canon stems directly from the 1962 classic James Bond wouldn't be one of cinema's most iconic characters if it weren't for Dr. No.
Some Honorable Mentions
When picking only five Bond films from a library of 22 (going on 23) so are bound to miss the cut. Here are a couple of honorable mentions from some select favourites of mine that in their own had an impact to the James Bond franchise.
Thunderball from 1969 and Bond # 4. Thunderball almost made my list because it had practically all the Bond staples in it, plus it had many of the clichés the spy genre is both known and parodied for. Just to list a few highlights from the film it had a big name in Tom Jones performing the opening title song, Bond using a jetpack (which is still very cool in the 21st century), and the eye-patched villain called Number 2. Thunderball's plot also had characters getting facial reconstructive surgery to assume someone else's identity and showed audiences the secret lair of SPECTRE (SPecial Executive for Counter-intelligence, Terrorism, Revenge and Extortion). No kidding that's what it stands for. Practically everything in Thunderball became an inspiration later to parodied in Mike Myer's Austin Powers films.
The Spy Who Loved Me (1977 & Bond #10) and Moonraker (1979 & Bond #11) get a minor nod for the popular henchman character of Jaws (played by Richard Kiel). Few villain characters have made the surviving jump film to film but Jaws became an expectation. One of the series' most recognizable characters, Jaws became a fan favourite with his tall size and his set of metal teeth. Jaws was one of Bond's greatest physical challenges and he had the grill to back it up.
Tomorrow Never Dies (1997 & Bond #18) gets a tip of the hat for the film's main villain Elliot Carver (played by Jonathan Pryce) and his master plan. Carver wasn't the typical Bond foe fans were used to but in many ways the one with the smartest scheme. A media baron Carver plotted and executed events that both made headlines and started wars. Tomorrow Never Dies came out just as the internet age begun to boom and the idea of someone controlling global information by ensuing chaos and being there first to report on it was powerful idea. That concept might have a stronger effect if redone in some way in today's age of information, but again the idea was inventive compared to most Bond villains.
Follow Andrew on Twitter
Tags: James Bond, Sean Connery, Pierce Brosnan, Roger Moore, Daniel Craig, George Lazenby, Timothy Dalton
Related Posts
Andrew Burns loves film and comics, and can be found writing about when those worlds converge. You can follow him on Twitter at @myAndrewBurns.
Search SBM Archives