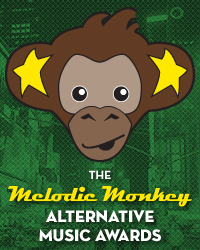 The Melodic Monkey Awards: Our Top Music of 2008
Filed under: SBM Awards
The 51st Annual Grammy Awards may be taking place tonight -- with the likes of Lil Wayne, Coldplay, Sara Bareilles, Kanye West, Jay-Z, Ne-Yo, and Radiohead all raking in multiple nominations -- but we here at ShowbizMonkeys.com look at music a little differently. And by differently we mean a lot of rock and singer-songwriters.
And so, we've decided to put together our own list of the best albums of 2008. They may not match up with the Grammys (sorry, no Lil Wayne love here), but we stand by our choices.
1. Coldplay - Viva la Vida or Death and All His Friends
Okay, so we're not too different from the Grammys with our #1 pick, as Coldplay had the second-most nominations, including "Album of the Year", "Record of the Year", and "Best Rock Album". But sometimes agreeing with the so-called establishment just makes sense. These guys changed things up with their 4th full-length release, and most of the time it worked really well.
2. Kings of Leon - Only by the Night
Again, we're not too far off from the Grammys here, as Kings of Leon nabbed nominations for "Best Rock Album", "Best Rock Song", and "Best Rock Performance by a Duo or Group with Vocals" (longest category name ever!). After achieving success throughout Europe with their previous releases, Only by the Night was the first album to really take North America by storm -- and if you found yourself singing along to "Sex on Fire" on the radio throughout 2008, you'll know why they're #2 on our list.
3. Hawksley Workman - Between the Beautifuls
So now is where we differ a bit from the Grammys, as our list starts to show the fact that ShowbizMonkeys.com is based in Canada. Quirky, odd, beautiful, poetic -- these words can often be used to describe Hawskley's music (or sometimes the man himself), and in 2008 he released two albums that would certainly qualify for those adjectives. Between the Beautifuls was the best of the two, and was nominated for a Juno Award (Canada's equivalent of the Grammys) for "Best Adult Alternative Album".
4. Jason Mraz - We Sing. We Dance. We Steal Things.
Okay, so Jason Mraz also received Grammy love -- but really, this is not a bad thing. His latest album produced the infectious single "I'm Yours", nominated for "Song of the Year" and "Best Male Pop Vocal Performance". The album as a whole -- which traverses through reggae, pop, folk, and jazz sounds -- might have been a tad over-produced, but the songs are solid through-and-through, and Jason Mraz has proven that he's one of the best young songwriters in the business today.
5. The Kooks - Konk
While the Grammys may have no love for The Kooks, we sure do. This album, their second release, is simultaneously playful and insightful, and we love it for its dance-y alt rock feel and its ability to make us feel like we're driving up the Pacific Coast Highway with the top down and the wind in our hair. We wanted to recommend a particular track for you to download, but we couldn't pick just one. In short, you should get your hands on the whole album; you won't regret it.
Other Favourites
Priscilla Ahn - A Good Day
Sarah Slean - The Baroness
Sam Roberts - Love at the End of the World
Newton Faulkner - Hand Built by Robots
The Black Keys - Attack and Release
Rachael Yamagata - Elephants...Teeth Sinking Into Heart
Snow Patrol - A Hundred Million Suns
We Are Scientists - Brain Thrust Mastery
Rue Royale - Rue Royale
Opeth - Watershed
Meiko - Meiko
(Additional reporting by Ariana Heppner.)
Tags: Coldplay, Kings of Leon, Hawksley Workman, Jason Mraz, The Kooks, top 10, lists, awards
Related Posts
Paul Little is the founder and Managing Editor of ShowbizMonkeys.com. When not interviewing his favourite musicians and comedians, he can also be found putting on and promoting music and comedy events with The Purple Room in Winnipeg, or co-producing the live comedy game shows Pants on Fire and The Great Patio Showdown. (@comedygeek)
Original Comments Posted (2)
Ariana says...
Boy, The Kooks, eh? That's the best description of a Kooks album I've ever read. Amazing.
Feb 13, 2009 3:09pm
sarahm says...
Yep, fantastic!
Feb 14, 2009 1:43am
Comments Posted ()
Search SBM Archives