Walkey Talk: I Like to Move It, Move It
Posted by: Mike Walkey // June 18, 2011 @ 3:56pm
I've done it in my basement. I've done it outdoors. My favourite place to do it is in a park. I used to be shy about doing it in public but I overcame that. I do it fast. I do it slow. Sometimes I take hours to finish. Once I pulled a groin doing it. After I'm done, I usually like a nice hot shower and have a nap. Sometimes I do it with other people. But most of the time I do it by myself. I also do it most of the time in silence. But on occasion, I find a little music can give me a little pick-me- up.
I like to run.
I run to de stress. I run to get in shape. I run for fun. I run to look cool. I run for something to do. I like to run. Summer weather isn't always agreeable, so I run in the not so pleasant weather sometimes. It makes my summers feel longer.
In honour of this year's Manitoba Marathon, here are my favourite albums to run to:
Back in Black – AC/DC
Clocking in at 38 minutes, Angus and the boys provide me with a quick, high energy, hedonistic workout. I don't need to wear a mullet or own a muscle shirt to like AC/DC, but I find their music sounds better when I'm sweaty.
Like the sound of a gun at the beginning of a race, the opening chimes of those hellish bells gets my motor running as I warm myself up during the opening track. By the time 'Shoot to Thrill' begins, I've picked up the pace while bobbing my head. I've kicked into high gear by the title track, peaked during 'You Shook Me All Night Long', and take a sip of water during 'Have a Drink on Me'. I then cool down during the mid tempo bluesy rocker 'Rock n Roll Ain't Noise Pollution'; and swagger home.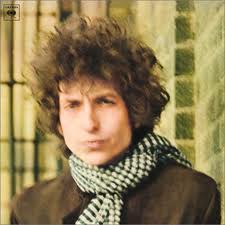 Blonde on Blonde – Bob Dylan
Sometimes I like a nice long meditative run. Dylan's electric-country-blues-rock opus is my go to companion piece for running through a park or quieter, less populated areas. The consistency in the tracks makes for few highs and lows through my run. Just one long steady ride. The tempo is mid range, the imagery is serene, the humour is sarcastic. It's everything I need on an early Sunday morning.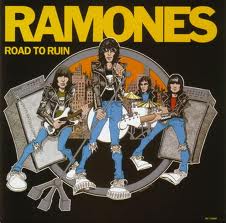 Road to Ruin – The Ramones
Another high octane cardio friendly album. Bouncy, catchy and aggressive – everything you need to increase your heart rate in a hurry. With just enough lighter pop tunes to provide a nice change of pace form all the speedy fuzz. And at the mid way point is a pop punk masterpiece 'I Wanna be Sedated', aka the greatest two and a half minutes I've ever spent with my clothes on.
The Fame - Lady Gaga
If I invert the gender of each pronoun, this album is so empowering!
For some reason, when I match the rhythm of my stride up to the beat of 'Just Dance' I can run at my ideal pace. If I can play the song on a loop for 90 minutes, I'll achieve a personal best. The thumpin' beats and aggressive tone in Gaga's voice are great for running in high traffic areas of the city. Only downside is sometimes I can't tell which one of us is doing the heavy breathing.
Now it's your turn. What's on your iPod? Any albums you like to exercise to? Or are there any individual songs that get your groin grinding? Madonna, Ozzy Osbourne, Justin Bieber... who do you like whispering into your ears while you work up a sweat? Do you prefer to get jacked up with a little Katy Perry? Or slow things down with a little detoxifying Michael Buble? Do you like to run in the country with John Mellencamp? Or in the city with Notorious B.I.G.?
Let us know.
Tags: Lady Gaga, Bob Dylan, Homer Simpson, AC/DC, Walkey Talk
Related Posts
Original Comments Posted (2)
crimson says...
I'm going to start inverting gender pronouns!
Jun 19, 2011 11:47pm
metal2000 says...
I didn't make any sense when I would work out -- I'd just put my music on shuffle, so I'd get everything from Iron Maiden to Hawksley Workman to Joshua Radin. The metal would work to pump me up, yet the softer stuff like Radin would just allow me to relax and do what I needed to do. I guess I would just let whatever music was playing motivate me in the way that worked with the song. Heh.
Jun 20, 2011 12:21am
Comments Posted ()
Search SBM Archives