Newfoundland folk duo Fortunate Ones visit the Winnipeg Folk Festival fresh off releasing new full-length, Hold Fast
Filed under: Interviews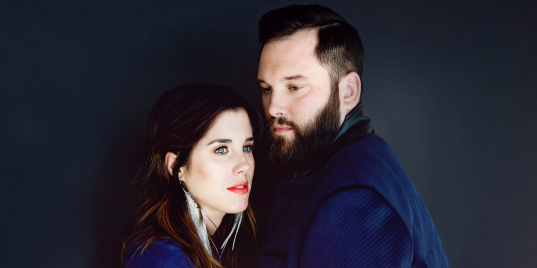 Newfoundland and Labrador has a population of just over half a million people – smaller than all but one other province. But over the last number of years, Newfoundland's music scene has punched way above its weight class, and the newest generation of artists are benefitting from the path forged by late singer-songwriter Ron Hynes and others.
Andrew O'Brien – one half of the Newfoundland folk duo Fortunate Ones – has nothing but praise for the likes of Hynes, Great Big Sea, and more recently Hey Rosetta! and Amelia Curran, who collectively haven't just put Newfoundland and Labrador on the national music map, but have helped to actually make it cool to be from "The Rock".
Fortunate Ones have certainly done their own part in bringing eyes to the Newfoundland music scene. Their debut album, 2015's The Bliss, was nominated for a Juno and won the band an East Coast Music Award and a Canadian Folk Music Award. It even spawned a pair of #1 singles on CBC Radio 2's Top 20. One would think the success of their debut would put pressure on the duo when working on a follow-up.
One would apparently be wrong...
"You think about it for a minute, but then you have to move ahead," O'Brien said about how he and his bandmate and partner Catherine Allan approached writing Fortunate Ones' sophomore record, Hold Fast.
Unlike their debut, the band worked with other songwriters on the album, with Alan Doyle (Great Big Sea), Tim Baker (Hey Rosetta!), and Meg Warren (Repartee) writing with O'Brien and Allan. Despite building a close dynamic as a duo, the experience of bringing others into the fold was a positive one, built upon relationships they had already forged as touring musicians.
"We're lucky that a lot of our friends happen to also be in this industry, so it was comfortable having them involved in the process," he said.
Another big change for Fortunate Ones this time around was getting several high-profile guests to appear on Hold Fast, including Jim Bryson, Alexa Dirks (Begonia), and Kinley Dowling. While this was a new experience for the duo, O'Brien said it was part of thinking of the album as a recording first, and not worrying about how the songs would translate live as a duo until the time for touring came.
"If a song needed a really good electric guitar part, we flew in Jim Bryson. If we needed strings, we'd get Kinley Dowling from Hey Rosetta!" he said about the freedom that process gave them.
While it's never easy to pick a favourite child, especially with the album so fresh (having been released on May 25), O'Brien did point to the songs "Before You" and "She" as standouts. The latter, penned by Allan about her grandmother, is a particularly personal and powerful track.
A brand new album means Fortunate Ones are playing a number of festivals this summer on the heels of its release, including their return to the Winnipeg Folk Festival – O'Brien's favourite – this weekend. Performing at festivals has the added benefit of seeing other bands and artists who, because of the touring grind, they rarely get to actually spend any time with. "It's like ships passing in the night," he says.
Winnipeg's festival also includes daytime workshops – where multiple artists share the stage to perform a song at a time around a similar theme – and this year includes "Two for the Road" on Sunday morning, where Fortunate Ones will be joined by their good friends Harrow Fair and other duos.
As for why he likes returning to Winnipeg (besides the festival, it's been a frequent tour stop for Fortunate Ones), O'Brien has a pair of reasons. "Winnipeg has a similar working-class feel as St. John's," he says, noting that it's reflected in each city's music scenes.
But besides the music, there's also the local cuisine: "I'm really looking forward to having the Mexican breakfast at Stella's!"
Fortunate Ones performs Thursday, July 5 through Sunday, July 8 at the 2018 Winnipeg Folk Festival. They open with a main stage tweener set at 9:25 PM on Thursday night, take part in the "Fiddler's Green" workshop at Big Bluestem on Friday afternoon, have their full concert Saturday afternoon at 2:30 PM at Little Stage in the Forest, and wind things up with the aforementioned duos workshop at Shady Grove on Sunday.
You can follow Fortunate Ones on Instagram at instagram.com/fortunateones, visit their website fortunateones.ca to see if they're coming to a city near you, and pick up Hold Fast from St. John's music store Fred's Records., which ships worldwide.

Tags: Fortunate Ones, Andrew O'Brien, Winnipeg Folk Festival, Newfoundland and Labrador, folk, roots, Hold Fast, duo, interview, WFF2018
Related Posts
Paul Little is the founder and Managing Editor of ShowbizMonkeys.com. When not interviewing his favourite musicians and comedians, he can also be found putting on and promoting music and comedy events with The Purple Room in Winnipeg, or co-producing the live comedy game shows Pants on Fire and The Great Patio Showdown. (@comedygeek)
Comments Posted ()
Search SBM Archives