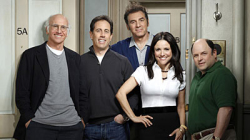 Curb Your Enthusiasm: Funkhouser's Crazy Sister





Filed under: Recaps & Reviews
Last night marked the much-anticipated return of the eccentric HBO comedy Curb Your Enthusiasm. For all of those who are not regular viewers, the show stars Seinfeld co-creator and writer Larry David as a semi-fictionalized version of himself, and situates him in an awkward world of social missteps and peers with unusual and unforgiving tendencies.
The episode itself, tellingly entitled "Funkhouser's Crazy Sister", is a strong return to form for David and his team, and the series superbly recaptures its odd yet irresistibly cringe-worthy hilarity as though it had not been on hiatus for the last year and-a-half. Social impropriety reclaims centre stage as a focal point of the program through the many constructs of the plot, and is executed in a manner which can at once be absurd, morally heinous and oddly relatable.
Ironically, it is the show's newfound willingness with the premiere episode to delve to unseen levels of moral debasement that has elevated it to a higher level of competency and a complete realization of the show's artistic vision. Curb seems to have finally hit its stride, as the combination of an increase in the show's absurdity and the incredulity of Larry and co.'s actions has created a perfect blend of its core elements. I found myself laughing harder at this episode than any previous, as I watched Larry labour to justify his decision to leave his ill girlfriend, who was awaiting the results of a biopsy exam, while his agent Jeff attempted to cover up his sexual indiscretion with a mental patient. Add to this the inclusion of the side plot involving Larry's doctor and their tensions regarding fridge-raiding, and last night's episode may have been the best of the series.
Catherine O'Hara (of SCTV and Home Alone fame)'s turn as the eponymous sister was scene-stealing, praise which is all the greater when considering the formidable talents of her fellow cast. Although I have never counted myself as a fan, her performance was pleasantly convincing and undoubtedly remarkable. It indicated the need for both the show and the industry to involve her in many more future projects, as her talent has been inexplicably overlooked in recent years.
For all of you Seinfeld fans, keep watching the show as the reunion of such notables from the cast as Jerry, Elaine, Kramer, George and Newman has been confirmed and will be a central aspect of this season's story arc.
"Prettay, Prettay, Prettay Good."
Tags: Curb Your Enthusiasm, premiere, funkhouser , seinfeld, larry david , season 7
Related Posts
Comments Posted ()
Search SBM Archives