C4: Meeting Jonathan Frakes at Comic Con (And Why That Matters)
Filed under: Festivals
I was lucky enough to obtain a press pass for ShowbizMonkeys.com to attend the C4 Comic Con, but since "equipment carrier" isn't exactly a worthy title, I was asked to contribute an article as well. Which is fair, and I wouldn't mind giving you a recap of the Saturday events. But I have to admit that on one of the two main days of the event, I had goal in mind: to meet one of my idols, whom I have "gotten drunk with" on more occasions than I can count. Perhaps I should explain.
In August of 2006, me and 5 or 6 friends thought it would be a great idea to form a drinking team. One of us realized that if we were to make our drinking team look like a local sports team, we could perhaps cash in on the free appetizers and other deals local sports bars and pubs offer teams. And so began our great experiment. The problem was, none of us really played any sports. We were all super nerds, fans of Star Trek and Star Wars and things like that. We definitely wanted our team to represent that while still looking all-business to the pubs.
I still recall the day we figured out the name. It was August 19th, 2001. We were out camping in Northwest Ontario and the subject of our team's name came up around the campfire. We threw out ideas left and right: 'The Ragin' Targs', 'Team Enterprise', 'The Picards'... Every idea either sounded too commonplace or too "out there". Suddenly, for reasons I couldn't explain at the time but have since deduced, I said, "what about 'Team Frakes'?"
Now, the thing you have to understand is, no matter what the group's preferences in the sci-fi genres were, we ALL knew and loved Star Trek. And we were all of the age that Star Trek: The Next Generation was our real starting point. So it was no surprise to me that everyone knew to whom I was referring. Jonathan Frakes, the bold, assertive, and extremely charming actor who played the bold, assertive, and extremely charming character of Commander William T. Riker. He exudes just the right amounts of humour, humility, and honesty -- and, despite him being a great actor, you can tell it isn't an act. He just is that cool.
So it was no surprise that the idea charmed the pants off of each and every one of us. He was not the most common name tied to Star Trek, but anyone who dared call themselves a "Trekkie" knew who he was. And as an interesting side note: we figured out, a year later (and I am not making this up), that the day we named the team happened to also be the birth date of one Jonathan Frakes. It's fated, right?
I won't get into the intricate process of how we made our logo for our shirt, but I will tell you it took quite a few revisions, most of which sucked. But we got a logo, found an online t-shirt making site, and we were off to the races!
One of us was able to make it to the former Star Trek: The Experience in Las Vegas wearing the jersey, another got himself a polo shirt with the logo to wear to work, there are a few Team Frakes coasters floating around our apartments and houses, and some of us still go out together for pub crawls decked out in our jerseys to the local bars to take advantage of their team deals (shhh... don't tell Boston Pizza)!
Which brings us back to the start of this article. The Central Canadian Comic Con. 2011. Jonathan Frakes in attendance. I'm not going to get into great detail about our encounter, but suffice it to say, he seemed genuinely impressed that we had taken his likeness and name as our official emblem. I didn't feel the need to tell him our story, nor did it feel right to try and convince him that we were not in any way mocking him. From my perspective, he genuinely understood that through his many acting and directing gigs, he had formed an unspoken bond with us and that we honestly appreciate his work.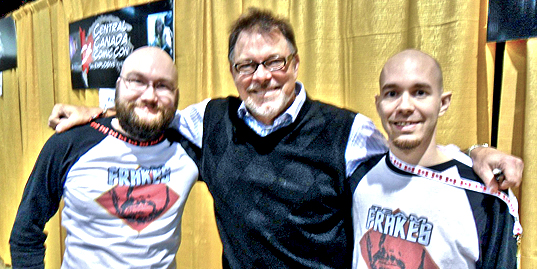 So to conclude this long-winded article all about me and my drinking buddies, I would put forth the opinion that this unspoken bond is what Comic Con is all about. Even if you aren't there to get a photo or an autograph, you're there because something there connected with you at some point in your life. Either that, or your spouse dragged you there. If that's the case, and you don't come with an open mind, you'll surely stick out far more than the guy dressed up as Banana Boba Fett.
Tags: C4, comic con, Jonathan Frakes, Riker, Star Trek, TNG
Related Posts
Comments Posted ()
Search SBM Archives