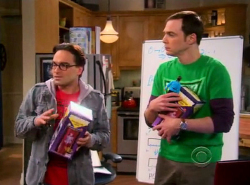 The Big Bang Theory: The Transporter Malfunction
Filed under: Recaps & Reviews
"And just to clarify... a female wife?"
The inability to speak to women has been a long source of agony for Raj. It took a huge toll on him in the last episode, "The Weekend Vortex," as he expressed his frustration of Sheldon beating him to getting into a relationship before he did. Raj's troubles continued this episode, as he was asked by Howard and Bernadette if he was going to be bringing a date with him to their upcoming wedding. Raj responded that he was, and in order to do so, he would have to face his family, his culture, and just about every East Indian's worst nightmare: the dreaded arranged marriage.
When it seemed like everything was going exceptionally well with Lakshmi, Raj discovered that the one time he could use his custom in his favour, it managed to backfire on him. And it was not even his fault. It turned out that Lakshmi had not told Raj first thing of her sexuality, and she expected Raj to be a homosexual as well, so that they could both pretend to be a happily married heterosexual couple. Raj's despair became especially evident, when he would actually consider getting married to a lesbian, despite the consequences, only so that he would not stay single for life.
While Raj was desperately trying to maintain a relationship, Sheldon, on the other hand, was being selfish and damaged his friendship with Leonard. After pointing out to Penny that she had eaten so much of his food over the years, Penny used the risidual money from her hemorroid commercial to buy him and Leonard the same gift from the comic book store. A Star Trek transporter.
Without Amy to engage in conversation with, the dialogue inside Sheldon's mind and unconsciousness was shown, in the form of him getting spoken to by a toy Spock. In dreamland, Sheldon's necessity to keep a mint toy in a box was challenged. When awoken, he would get out of bed to finally open the box. In doing so, proved a logic to Sheldon's original point. If he had not opened the box, the transporter would not have been damaged. Afterwards, another battle took place in Sheldon's mind, as he had to decide between taking Leonard's unopened mint toy as his own, and being honest to Leonard and Penny about what he had done. When he finally confessed, he also let out how he felt. "I hope it breaks."
Tags: The Big Bang Theory, The Transporter Malfunction, Star Trek, Leonard Nimoy, Johnny Galecki, Jim Parsons, Kaley Cuoco, Simon Helberg, Kunal Nayyar, Melissa Rauch
Related Posts
Comments Posted ()
Search SBM Archives