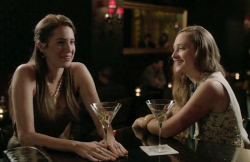 Girls: Weirdos Need Girlfriends Too
Filed under: Recaps & Reviews
"I've never been this miserable in my life."

Marnie was still taking her break-up really badly, especially after she found out that her ex had now gone on vacation with the new girlfriend. To make things worse, Marnie's wall was not thick enough for her.
She sure as hell was not overstating anything back in the Pilot, when she referred to Hannah and Adam having gross sex:

"How fat were you? Be honest. That's what I thought. You were probably a really late walker. And you were probably toilet trained really late."

Marnie and (the now unemployed) Jessa finally got to know each other, as Jessa provided much needed emotional support to Marnie. Unbeknownst to Hannah, Marnie and Jessa gossipped to no end about Hannah not following through with plans, boyfriends, and Hannah's forehead.

Marnie and Jessa went to the bar (title image), and met some guy who took them over to his place. Sadly for him, Marnie and Jessa left no room in the middle for him, which caused him to snap, thus losing out any chance he had.
After the little outburst that came after last episode's bicycle accident, Hannah made an honest attempt to finally get to know Adam. She did things like look at his old pictures, go jogging with him, watch him act on stage, witness him blowing up at a driver...

...and get freaked out by what he did in the shower.

Because we here at Shobizmonkeys want to keep this website safe for work, we will not be going into any depth about what happened in the shower that caused Hannah to jump out.

A little later, Adam took Hannah out to show her the apologies that he pasted on a wall. He explained to Hannah that he was sorry for yelling at the car. Hannah really appreciated this, and helped with the clean up.
In the end, this episode did two things. The first, was for Hannah to get to know Adam better. The second, and more interesting, was to have a friendship build between Marnie and Jessa. Although their little make-out session was not anything more than just experimenting, it did show how far the two women have come in the span of one episode.
Tags: Girls, Judd Apatow, Weirdos Need Girlfriends Too, The Return, Lena Dunham, Welcome to Bushwick (aka The Crackcident), HBO, Allison Williams, Zosia Mamet, Jemima Kirke
Related Posts
Comments Posted ()
Search SBM Archives