JFL42 Preview: 10 things I'm looking forward to seeing at 2017's JFL42 in Toronto
Filed under: Festivals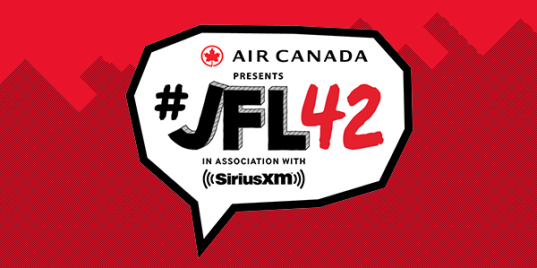 It's September. It's Toronto. It's unseasonably hot, and I'm sleeping on my friend's couch again for two weeks. That must mean it JFL42 season again!
I've been coming to Toronto for JFL42 since its inception, as it's one of the best comedy festivals in Canada, and a great way for a comedy nerd like myself to cram dozens of great shows into a tight few days, back to back to back. A comic friend of mine once referred to it as "Comedy Space Camp" for comedians like me -- a chance to immerse yourself in comedy and pretend the world is this hilarious all the time.
I'll be covering my various adventures as the fest plows on, and while I'm on vacation and have nothing but time to prance from show to show and roll the dice with a few choices, I know many people have "jobs" and "lives", and are a little more choosy with what they see. So, for your convenience, here are 10 of the acts coming to JFL42 this year that I'm the most excited about.
When JFL42 announces their line-up every year, I've always got my fingers crossed that a few names will pop up. For quite some time now, Morgan Murphy has been one of those names, and I'm thrilled she's finally making it this year. I've been a fan for a long time, but never had the opportunity to see her live. Dry, slick, and just so solid of a joke writer, if you're unfamiliar with her, just go in like I am and assume everything you've been told is true. Plus, she's doing six shows. You've got no excuse.
Shining a bright ultraviolet light into the dark, dirty, and disturbing motel room that is our world, the Last Podcast boys have a delightful way of turning the most horrifying subject matter into podcasting gold. Often giddy in it's tastelessness while simultaneously being impeccably well researched, those who have an appetite for tales of the macabre, brutal murder, aliens, the occult, and the other such topics that you get ostracized for bringing up at dinner parties will be sure to enjoy. Definitely recommended for fans of My Favorite Murder.
The phrase "one of the best comics in Canada" is a pretty hollow statement. It's given out in this country by people who really don't know how to give a compliment without slightly knocking down the rest of the country, and by extension the person they're trying to compliment. It's in our blood, we can't help it. That aside, Chris Locke is one of the funniest people on the planet. He just so happens to also be Canadian. Incidental to his current geography is the fact that he is a dynamic performer, lovable as all get-out, and most importantly, consistently hilarious. He was one of the best comics at Oddblock in Winnipeg last month, and even though I saw him several times then, I'm excited to see even more of him.
If you don't know about the Alt Show by now, I'm not sure what to tell you. Just imagine all the fun and inventiveness your favorite comics would get into if you granted them to freedom to just hang out, be weird, and all tried to make each other laugh. Andy Kindler sets the stage for a series of shows that guarantees top-tier acts from Canada and abroad, in a show that always lives up to its infamous reputation. Tickets always sell out, so book in advance. Any comedy room in the world would be lucky to get line-ups as good as the ones Andy builds, and JFL42 gets four of them. Don't miss it.
A definite "bucket list" comic for me, and one that I'm most excited to see for the first time this festival. Proops is a comic that defies you to poke holes in his style and presence, but sorry little guy, that's just not happening. If you think you know all you need to know about him based on a TV show he did over a decade ago, you're missing out on one of the best stand ups of his generation. Also worth seeing, the live taping of The Smartest Man in the World podcast.
It's not very often that a comic like Jen Kirkman comes along, and when they do you need to stop and appreciate them. Killing it all over North America, and seemingly never letting up with her consistently great writing and delivery, Kirkman is always a delight and never disappoints. I'm sure I'll roll the dice and see a number of great comics for the first time this year, but it's also good to know that we've got Kirkman in the mix to assure me that quality is always a premium at JFL42.
I saw Kondabolu for the first time a few years ago in Winnipeg, and was blown away. Also, a little disappointed in myself for not knowing enough about him before he came to my frozen little town. That's on me. Since then, he's released his incredible album Mainstream American Comic, and positioned himself as one of the top comics working today. I've been following him ever since, and I'm excited to see what he brings this year.
Along with the usual 42 (even though it's more like 45, plus the... ah, never mind), many of the satellite "ComedyCon" events this year are definitely worth seeing you plan to stuff your entire day with comedy goodness. Previous years these selections were slim, but now it's been substantially beefed up with panels, conversations, and live podcasts. One that really stuck out is the Feminist Live Reads of the criminally underrated Romy And Michelle's High School Reunion. Should be an awesome time for fans of the flick. Fingers crossed they get someone good to read for Heather Mooney.
I've had the good fortune of seeing Johansson several times in the past few years, and he has never disappointed. I've seen him bring a dead crowd back to life with his act, and do an entire hour of amazing material at the Winnipeg Comedy Festival in his own one person show. If you need any proof, watch his fantastic story from the Comedy Central This Is Not Happening series. Anyone looking for razor sharp storytelling should definitely check him out.
I can't be objective here. All semblance of journalistic integrity and that fleeting sense that I have to tow the line between recommending things I think other people will like versus things I like to an unhealthy degree just goes out the window in this case. I just love Kyle Kinane. I can't overstate that enough. Every so often you just find someone with a comedic voice that gets you in all the ways you like to get got. Uncle BBQ Kinane is the perfect mix of everything I love about comedy, rolled into one grumpy yet endearing package. I'll just say it, if you know Kinane's act and are not really a fan, I'm sorry you read this whole thing all the way to the end. You and I are two very different people, and I'm afraid my recommendations are not for you. Enjoy the festival all the same, though. There's something for everyone, and I can't see everything. I hope you veer off these recommendations and find something more to your liking. Whatever. More Kinane for me. Seriously though, get with the program. He's great.
Tags: JFL42, Kyle Kinane, Pete Johansson, Hari Kondabolu, Jen Kirkman, Greg Proops, Andy Kindler, Chris Locke, Toronto, stand-up
Related Posts
J.D. Renaud is a writer, comedian, producer, and visual artist originally from Oakville, Ontario. You can follow his weird thoughts on Twitter at @jdrenaud.
Comments Posted ()
Search SBM Archives