JFL42 Review: Graham Clark at the Garrison
Filed under: Reviews, Festivals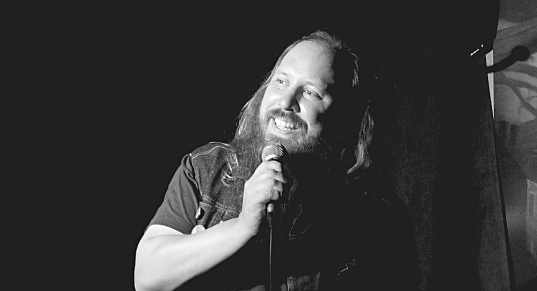 I've known Graham Clark for a few years now, and seen him perform numerous times under a wide variety of different circumstances: gala tapings, Fringe shows, standard comedy clubs, weirder alt shows, and live podcasts, just to name a few. Last night at The Garrison during JFL42 proved a very true fact about him though, which is that a loose Graham Clark is really an exceptional Graham Clark.
Early on in his set he straight up told the audience that he only felt like telling jokes that he felt like telling from his act, which made for a very fun, silly, and hilarious night. The "ah, what the hell?" nature of the evening meant that we were flying from one premise to the next, building in momentum the entire time. Clark has that power to drop very playful observations, wrap them up succinctly, and move onto another so deftly, where if another comic tried it you'd feel like they were abandoning their premise. With Clark, it's almost like he's distilled the jokes to the peak of their potency, and since he's comfortable enough to just let loose and bounce around, we were treated to everything from his Toronto memories, to quips on the needlessly complicated JFL42 pass system, and even a quick tour of his Instagram page.
Graham is truly one of the best comics in Canada, and in JFL42, it really feels like he's completely in his element. Don't miss him.
Passes and individual tickets for JFL42 -- which runs September 20-29 in venues across Toronto -- can be found at jfl42.com/choose-your-pass. Graham Clark has two more shows at JFL42 on Saturday and Sunday evenings, as well as a recording of his long-running podcast with Dave Shumka, Stop Podcasting Yourself, featuring guest (and podcast favourite) Paul F. Tompkins.
Tags: JFL42, stand-up, Graham Clark, Toronto, Stop Podcasting Yourself
Related Posts
J.D. Renaud is a writer, comedian, producer, and visual artist originally from Oakville, Ontario. You can follow his weird thoughts on Twitter at @jdrenaud.
Comments Posted ()
Search SBM Archives