Interview: Chester Tam, writer/director of the new Netflix original film, Take the 10
Filed under: Interviews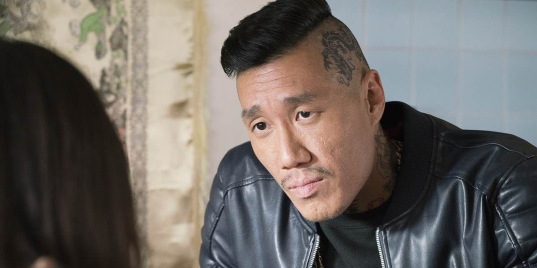 When we first met Chester Tam, it was right before we re-branded this website as ShowbizMonkeys.com nearly 10 years ago. The Lonely Island's first feature film, Hot Rod, was about to be released, and Tam (their friend and frequent collaborator) was nice enough to brave being only the second person I'd ever interviewed. The following year, during a visit to L.A., I once again caught up with Tam and his Lonely Island pal Jorma Taccone for a strange but very funny experimental interview that to this day is still one of the most popular things we've ever posted.
Now 9 years later, Tam has written and directed a new feature film for Netflix (he also co-stars) called Take the 10, about a pair of friends (Josh Peck of Drake & Josh and Tony Revolori of The Grand Budapest Hotel) in Los Angeles who go through crazy lengths to get to a massive hip-hop show. Also featuring great performances from Kevin Corrigan, Cleopatra Coleman, Andy Samberg, and Fred Armisen, it's an incredibly funny and off-the-wall movie, and Tam's talent both behind the lens and in front of the camera (playing drug dealer, Jay) are on full display.
Take the 10 is available on the streaming service as of today, but I got the chance to speak with our old friend Chez about the struggles and triumphs putting together the feature, what it was like working with Netflix, and why he wanted this interview to be titled "Be Ben Affleck". We also go back to the savoury crepe well, because we're committed to bringing you hard-hitting journalism.
Paul Little: Take the 10 is the first feature you've directed. What were some of the differences from directing shorts, which you've worked on for years? Is it just everything you're used to but to a larger scale?
Chester Tam: The biggest difference for me was telling a story on a larger scale. For a lot of shorts I directed, there was this low pressure philosophy of: "if we miss something in the scene we can always come back tomorrow to pick it up". With a feature there was my own pressure of making sure I got everything I needed every day. Because we were a low-budget movie, we didn't have the option to come back to pick up shots.
PL: Was directing yourself in a feature much different than doing so in a short?
CT: It was difficult at times because I didn't have any friends around to help me. This was the first time I worked with anyone on this movie, so it was a learning experience, and really gratifying at the end.
PL: Was Netflix involved from the very beginning of this project? I've heard from people who've had series on Netflix that they're very hands-off creatively for the most part – is it the same with a film?
CT: Netflix started doing these low-budget movies around a year and a half ago, and I was lucky my agents were able to get them my script. They were very hands-off creatively as far as the script goes, but for actual cuts of the movie they weighed in and for the most part had good critiques.
PL: How long have you been working on this story for Take the 10? Did it evolve a lot over time?
CT: I wrote the script in 2008 and so much changed over the years. Even while I was shooting, I was making revisions every day, trying to write more for in the voice of our actors. So it never really stopped.
PL: While obviously things in the film are taken to an extreme degree, I wonder with Tony's character sharing your name, if any of the film has some autobiographical elements to it?
CT: This movie is based on my relationships with a few of my friends. Losing touch and outgrowing each other. So there's definitely a lot personal parts of this movie that are derived from my life.
PL: Considering it's a comedy running just under 90 minutes, all the characters seem to go through a decent amount of growth, even secondary characters like the one you play in the film. Was that important for you?
CT: Wow, I love that you checked out the TRT. Very thorough, Mr. Little! My goal from the beginning was to hopefully create real characters. And like real people, we're layered and flawed. I hope when everyone watches the movie they feel empathetic for my character. I didn't want him to just come off as joke. He's ultimately a very sad character.
PL: Speaking of your character, Jay is pretty nuanced for the drug dealer/antagonist role. Did you draw on anyone you've read about or known in real life for him?
CT: I was drawing from my own personal experiences. I wanted to play it as real as possible, and I think trying to play anything but myself would like a caricature. I did a lot of research on Asian gangs in L.A., and that all helped with the flashiness of who Jay wants to be perceived as, but the core of the character is really just a guy who wants to be accepted. I think anyone can relate to that in their lives.
PL: You've been mostly behind the scenes in film and television over the last while. Was it fun getting to act in a fairly prominent role?
CT: I feel like I cheated because I cast myself in my own movie. But I had to because no one else would cast me in anything. People laugh at me when I say Ben Affleck's my idol. Writing, directing, and acting in your own movie is so hard but so addicting now. My goal one day is to be Ben Affleck! Can you change the name of this interview to "Be Ben Affleck!"?
But also Jon Favreau and Mike Birbiglia do it so well.
PL: Tony Revolori and Josh Peck are very convincing in their roles as best friends who at their core are wildly different people. How early on were they cast? Did they know each other going in, or did that chemistry develop through filming?

Josh Peck (Chris) and Tony Revolori (Chester)
CT: Josh was attached for a while, and Tony was cast right before pre-production. I originally wanted Tony to play Greg (the character Jordan Rock plays). My casting director (Lauren Grey) kept pushing Tony on me for the role of Chester. Eventually, I met with Tony, and he has this naive yet sweet thing going on that I thought was right for the movie. Before signing off, I had Josh and Tony read scenes together and immediately it felt right. Their chemistry just developed the more time they spent together.
PL: I'm sure you have more goals beyond this, but when you were going to NYU film school, was directing a feature the long term goal?
CT: The long term goal was to be a working actor, writer, or director. So the fact I got to do all three on one project is like the fratty universe saying, "What? You said this is what you wanted, brah."
PL: How did you go about choosing the music in the movie? The whole film is centred around going to a big hip-hop festival, and it seemed like the music choices all the way through were very integral.
CT: I met Kier Lehman, who was the music supervisor on 22 Jump Street, a few years back. He has great taste in all genres of music. He was the first person I sent the script to right after Netflix greenlit the movie, because I knew getting music would be super important. He knew how small our budget was and sent me over a zip full of songs that weren't released yet or were just released by indie artists. And there were 4 songs I loved that had the right energy for the movie, and I ended up picking those early on.
PL: Did it take much convincing to get Fred and Andy involved with the film?
CT: Andy was attached to the movie early on, and I'm so grateful he was because that helped get the script noticed. I think he's so good in the movie; I hope people feel the same. It's something I haven't quite seen him do before. As far as Fred, I always wanted to work with him. I didn't think he'd do a small part like this. So when my casting director told me he'd do it, I was ecstatic but still in disbelief like: "Are you sure? That has to be a mistake."

Josh Peck (Chris) and Tony Revolori (Chester) in 'Take the 10'
PL: Take the 10 comes out on Trump's inauguration day. Would watching this movie be a much better use of people's time that day? Maybe for a comedic escape?
CT: Nothing will be funnier and more horrifying than the inauguration. I've already come to terms with that. But I hope people watch the movie, and then march the next day. Or march first, then watch the movie. I just hope people march, because heart disease is a major problem in our country.
PL: With this film being released via Netflix, it'll likely have a pretty long shelf life as people discover it organically. But have you already started thinking about your next projects?
CT: I have no new projects in the works yet. The movie was actually just finished in November. So if anyone's hiring, I can send my cover letter and Law & Order resume from 2004.
PL: Now the question on everyone's mind: Has your opinion on savoury crepes changed at all? Is it still the holy grail of food, or have you found something even better and more satisfying?
CT: Let's Make America Crepe Again. Let's end on bad pun. You're welcome, America.
Take the 10 – written and directed by Chester Tam and starring Josh Peck, Tony Revolori, Tam, Cleopatra Coleman, Kevin Corrigan, Andy Samberg, and Fred Armisen – is now streaming on Netflix.
Tags: Chester Tam, Take the 10, Netflix, Tony Revolori, Josh Peck, Andy Samberg, Ben Affleck, filmmaking
Related Posts
Paul Little is the founder and Managing Editor of ShowbizMonkeys.com. When not interviewing his favourite musicians and comedians, he can also be found putting on and promoting music and comedy events with The Purple Room in Winnipeg, or co-producing the live comedy game shows Pants on Fire and The Great Patio Showdown. (@comedygeek)
Comments Posted ()
Search SBM Archives