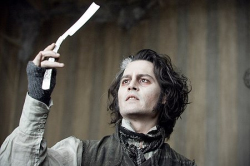 Golden Globe winners (yes, the Globes were "handed out" last night)
In the most exciting press conference of the weekend -- perhaps even the whole week -- the Golden Globe award winners were announced Sunday night. Normally, the Globes are the "fun" awards show. The stars sit at round tables instead of neatly-formed rows; they drink plenty of alcohol; and they're basically a lot less rigid than at the Emmys or Oscars.
However, with the Writers' Guild of America on strike and threatening to picket a writer-less ceremony (and the Screen Actors Guild saying none of its members -- aka the actors nominated for most of the awards -- would cross a picket line), the "show" was reduced to a short press conference hosted by Access Hollywood's Nancy O'Dell and Billy Bush. And since nobody cares how a press conference "came across", we'll just get right into the winners.
Film
Best Picture (Drama): Atonement
Best Actress (Drama): Julie Christie – Away From Her
Best Actor (Drama): Daniel Day-Lewis – There Will Be Blood
Best Picture (Comedy or Musical): Sweeney Todd: The Demon Barber of Fleet Street
Best Actress (Comedy or Musical): Marion Cotillard – La Vie En Rose
Best Actor (Comedy or Musical): Johnny Depp – Sweeney Todd
Best Animated Feature: Ratatouille
Best Foreign Language Film: The Diving Bell and the Butterfly
Best Supporting Actress: Cate Blanchett – I'm Not There
Best Supporting Actor: Javier Bardem – No Country for Old Men
Best Director: The Diving Bell and the Butterfly (France, United States)
Best Screenplay: Ethan Coen & Joel Coen – No Country for Old Men
Best Original Score: Atonement (Dario Marianelli)
Best Original Song: "Guaranteed" – Into the Wild (Eddie Vedder)
Television
Best Series (Drama): Mad Men (AMC)
Best Actress (Drama): Glenn Close – Damages (FX)
Best Actor (Drama): Jon Hamm – Mad Men (AMC)
Best Series (Comedy or Musical): Extras (HBO)
Best Actress (Comedy or Musical): Tina Fey – 30 Rock (NBC)
Best Actor (Comedy or Musical): David Duchovny – Californication (HBO)
Best Mini-Series or TV Movie: Longford (HBO)
Best Actress (Mini-Series or TV Movie): Queen Latifah – Life Support (HBO)
Best Actor (Mini-Series or TV Movie): Jim Broadbent – Longford (HBO)
Best Supporting Actress: Samantha Morton – Longford (HBO)
Best Supporting Actor: Jeremy Piven – Entourage (HBO)
Tags: Golden Globes, awards, Atonement, Sweeney Todd, Mad Men
Related Posts
Paul Little is the founder and Managing Editor of ShowbizMonkeys.com. When not interviewing his favourite musicians and comedians, he can also be found putting on and promoting music and comedy events with The Purple Room in Winnipeg, or co-producing the live comedy game shows Pants on Fire and The Great Patio Showdown. (@comedygeek)
Search SBM Archives