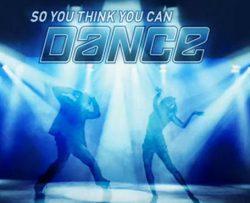 So You Think You Can Dance, Top 8
Filed under: Recaps & Reviews
I don't know about you, but I've been watching the Legion of Extraordinary Dancers over and over this week. But now we gotta talk about these kids.
Oh wow, I just realized that they've added Mary's "woohoooooo" to the opening credit sequence.
Top 8 Performances
Ok, right off the bat, there is a lot of weirdness going on tonight. Cat looks like a Christmas cracker in shiny formal shorts. Ashleigh is nowhere to be seen in the opening 8-counts. And apparently there are going to be SIX DANCERS IN THE FINALE WHICH IS SUDDENLY NEXT WEEK WHY GOD WHY???? Christmas is hardly any reason to preempt So You Think You Can Dance.
This season has been so ridiculous. We lost Mia. We had an injured dancer the first week of Top 20. No one could vote the first two weeks. We have a stupid new stage. We added a third permanent judge and have had no guest judges whatsoever (BORING). And now we have lost another dancer to God only knows what, AND we've having a six-contestant finale.
I want my show back.
Cat tells us that each couple will be doing one of their dances to a song remixed exclusively for the show.
Oh, and here comes Ashleigh to tell us what's going on. She has her right arm in a sling because she dislocated her shoulder just today, but they won't let her dance tonight because she needs an MRI first. Apparently we can vote for her even though she won't be dancing. WHAT?!?
I HATE THIS SEASON.
So, dancing. Kathryn is paired with Ryan this week. We have rehearsal footage, yays! It's disco with Doriana Sanchez, and Kathryn obviouses that it's really fast with a lot of lifts. Good thing Ryan is so strong and nimble.
They are dancing to a Samantha Ronson remix of Donna Summer's "Last Dance," and they are costumed in a very shiny manner, a la pairs skating. And the dance is SO AWESOME. They're so precise and they don't look like they're being rushed (for which credit should probably go to Doriana for not over-choreographing for once). They are like, disco perfection. Discofection, if you will. This is my favourite disco since Joshua & Chelsie's two seasons ago. With the pink dress! Where he flipped her impossibly mid-spin!
The judges are similarly thrilled, except Nigel found Ryan a little stiff. Enh, fair enough. I sort of can't take my eyes off Kathryn when she's on stage though, so I wasn't bothered by it.
Mollee's got Jakob this week. Lucky. They're doing a Viennese waltz with Jason Gilkison, and their song is "Ordinary Day" by Vanessa Carlton. Hmm, curious. Their costumes and staging are very Sunday afternoon in the park. The dancing, as far as I can tell, is fluid, solid and comfortable.
Judges: love.
Mollee really is so much more tolerable sans-Nathan.
Ashleigh comes out to not dance, but rather be very cheery about her situation and give her us her voting number. I just... I like her and all, and I guess it's nice that they're giving her a shot, but it just doesn't seem fair. If you can't dance on the dancing show, how can you win? It's not right!
Ellenore is dancing with Legacy. They've got contemporary with Travis Wall (and Kayla assisting), and they are playing Mr. & Mrs. Smith. Only I guess they can't say that, so Travis outlines the plot of the movie for us instead. This sounds very... concept-y for a Travis routine.
The song is "Machine Gun" by Portishead and there are a lot of props (table, chair, napkin...) on stage. The dancing is fantastic, but to be honest, I am not thrilled by the routine, probably mostly because the song is super annoying. Cat mentions both Mr. & Mrs. Smith and War of the Roses, so I don't know.
Judges: love. Nigel thinks this might be Travis' Emmy nomination routine. I HOPE NOT. He has done much better. Travis is too busy passing out in the audience to accept any Emmy nominations presently.
Jakob solos in shorty shorts and a hoodie. Why? Just... why? Song: "When You Say My Name" by Mario Spinetti. Also an annoying song.
Russell and not-Ashleigh. In fact, he will be doing Shane Sparks hip-hop with Shane's assistant Rachel, to "Too Much Booty 2 (Bobby J Remix)" by Soundmaster T & Jah-Rista feat. Korveil. I had to rewind so many times to get all that. Ok, I appreciate straightforward hip-hop such as this once in awhile, TABITHA & NAPOLEON. Rachel is a little smiley for the routine, but I suppose this is really not about her.
Judges: love.
Poor, adorable Russell never gets to dance with his partners. Is he bad luck? Does he take "break a leg" too literally?
Mollee comes up the back stairs (there ARE stairs on the stage, I learned last week) and solos to "Heartburn" by Alicia Keys. It's... kind of a cool little number, actually. I don't know why exactly, but it worked for me.
Kathryn & Ryan & Jason Gilkison are back for a cha-cha to "Put Your Hands On Me" by Joss Stone. It's... so hot. SO HOT. This was right up there with my favourite ballroom numbers ever on this show, maybe favourite numbers of all time, any genre. MAN. 100 points for Jason Gilkison.
Judges: LOVE. (The only bad thing about it, Nigel says, is that it's over.) Everyone digs Kathryn in a big way. Everyone, including me. Mary loved it so much she's tearing up. Over a cha-cha! And she's all coherent with her comments! Even when she puts them on the Hot Tamale Train, first class!
The show is so good tonight, stupidest season ever or no.
Legacy's solo is to "Fancy Footwork" by Chromeo and it's my favourite of his so far, telephone gimmick and all. (Cat: "Who's calling?" Legacy: "America.")
Ellenore solos next, to "I Got the Feelin'" by James Brown. She is so very, very awesome.
And now, another solo. By Russell, as Santa Claus, to "Holiday Buckness" by Tha J-Squad. Nothing like skinny, krumping Santas. You know who else besides Ellenore is so very, very awesome? Russell. He loses a shoe, graces us with a nice bum shot, and poses for a family Christmas photo with a teddy bear in shades at the end. Only he can get this gimmicky and still be adorable.
Ok, now it's Mollee & Jakob, back with a Broadway routine by Joey "Maggie Gyllenhaal" Dowling. They've got a Samantha Ronson remix of "Easy Street" from Annie. It's well-danced, but not impressive enough to stand out in the crop of amazing routines tonight -- though I blame that on Joey, and not on Mollee or Jakob. I don't know. I liked Mollee's green dress?
Jakob somehow makes Mollee look really tall, in a good way. I noticed that during their Viennese waltz as well.
Judges: love. Adam loved both the choreography and the performance, and he knows better than me, so go with that.
And now, Kathryn's solo, to "Shadowfeet" by Brooke Fraser. YES. REPRESENT, Kathryn. It's beautiful, as is she.
Ellenore & Legacy are back with Tabitha & Napoleon for an alien-themed hip-hop number to a District 78 remix of "People Are Strange" by The Doors. How perfect for them. We get a lot of Ellenore's alien voice in the rehearsal footage. Oh, creepy. They've got masks on the backs of their heads. I appreciate the routine and I think they did a good job with it, but these two have sadly had my least favourite dances of the night. Who should I blame for this?
Judges: speak in alien voices. Great. Adam thinks it didn't push them enough so it wasn't his favourite, Mary was likewise disappointed, and Nigel's with the other two. (I feel validated.) There is a good deal of criticism of the choreography.
Ryan's solo is to "Din Da Da" by Kevin Aviance and he vindicates himself with a back handspring. The dancing itself is, you know... it is. He asks the audience to vote for Ashleigh, and not himself, and dedicates his solo to her. Cat is very touched.
Russell & not-Ashleigh are back with Bollywood by The Only Bollywood Choreographer in America. Ashleigh likens Bollywood to patting your head while rubbing your stomach, only in double-time. (This was, incidentally, the number that wrecked Ashleigh's shoulder.) Russell is dancing with Nakul's assistant Alicia, and the song is "Spirit of Rangeela" from the Rangeela soundtrack. It's pretty good, and Russell definitely benefits from having an actual Bollywood dancer as a partner, but I still prefer it with much larger groups.
Judges: love. Russell's magnetism is highly touted.
(Also, he is adorable. Did you know?)
So, to recap, read the above recap. We are shown pre-injury rehearsal footage of Ashleigh's routines. I am unspoiled for the results, and at this point I fear for Ellenore and Jakob, and I hope I'm wrong.
Top 8 Results
Group dance! Samantha Ronson remix s'more, this time of "Pon de Floor" by Major Lazer feat. VYBZ Kartel. Ugh, can't a song ever just be by a band anymore?
Psychedelic, half neon tie-dye, half Latin ballroom costumes, Sonya-esque movement. Will I be correct this time? My second choice is that martial arts guy from last week.
I win! Sonya! YES! Finally.
Eight million votes last night. That's a lot of votes. I mean, it's no American Idol quantity, but it sure beats the heck out of Canada's version of this show.
So, results. Guys first this week! Hwha?
Russell determines Cat smells good, and then she determines that he is safe. Hooray!
Legacy is in the bottom two.
Jakob & Ryan. Jakob is in the finale.(Hooray!) Ryan is in danger.
And now, the girls. Ashleigh is slingless.
Kathryn first. Be safe be safe be safe be safe SHE'S SAFE!
Ellenore is unsafe. :(
Mollee and Ashleigh... Ashleigh is safe. Mollee is in danger. I just do not know how I feel about this.
The pre-solos act is Asian pop sensation the Wonder Girls. Huh.
Then it's Christmastime in the dancers' house, courtesy of K-mart, followed by news about Season 7: they'll be touring for auditions starting in January, which must mean it will be airing in summer. DO NOT ALSO DO ANOTHER FALL SEASON NEXT YEAR, PLEASE OH PLEASE OH PLEASE.
Legacy does a different solo than last night, and it's to Vitamin String Quartet (Kanye's "Flashing Lights"), just like LXD danced to last week. He totally wants everyone to know that he is one of them, and why shouldn't he?
Ellenore's new solo is to "Hajnal" by Venetian Snares. She is so musical. Commercials, then Ryan does the same solo as last night. What? Why? More important question: is Ryan's hair better flat or tall? Weigh in below. Mollee does a new solo to "You'll Find a Way" by Santigold.
The pre-actual-results act is Kris Allen. Oh, he is so dear.
Actual results. Girls first. The last girl in the finale is... Ellenore. She is shocked and Mollee is sad and sniffly but gracious. Cue sad Fray song and Mollee's clip package. I thinks she wants to be really famous more than she wants to be a really good dancer. Ah, youth.
Boys. The one moving on to the finale is... Ryan! Colour me surprised. Looks like his self-sacrificing plea worked for both of them. Ah well, I think Legacy will be just fine dancing with LXD and getting really famous while becoming a really good dancer.
So, who do you want to see win? I'm... I mean... I love them all! But especially Kathryn and Ellenore and Russell and Jakob! And I'm pretty sure one of them will win, so I think my emotions are safe next week.
Tags: so you think you can dance, sytycd, dance, recap
Related Posts
Original Comments Posted (2)
fujitam says...
Am a little late with my comments, as I had to wait til this weekend to catch up with my PVR. I was pretty surprised that Ashleigh made it through with out dancing, and felt bad for Molly. I mean it would suck to get less votes than someone who didn't even dance. Also, I was shocked that Ryan made it through, was hoping that Legacy would be in the finale. I agree that a finale with 6 dancers just isn't right, and I hope the producer realize that it was just too rushed for a fall season! My pick to win is Russell, although I would have liked to see either Ellenore or Jakob win :)
Dec 14, 2009 5:37pm
lianne says...
I'm so late with this, but I just wanted to say that for the record, my favorite girl is Ellenore and my favorite guy is a toss-up between Jakob and Russell. I think I might like Jakob a little better, but I'm not sure... I think if any of those three win, I'd be happy.
Dec 16, 2009 7:08pm
Comments Posted ()
Search SBM Archives