Fall Television Preview: New shows, returning shows, video clips, full schedule -- it's all here!
Filed under: Special Coverage
The new fall television season is upon us! I know I'm not the only one who's excited. While cable has come on strong over the last few years with some exceptional series, and the internet takes more and more of our time each and everywhere, there still isn't quite anything like network television. And while a lot of it may, unfortunately, cater to the lowest common denominator in order to bring in as many eyeballs as possible, there is still quality work being produced and aired on the Big Five (well, Big Four and a Half... the CW still isn't quite there yet).
Personally, there a lot of shows that I can't wait to get back into after the summer off. As much as I've enjoyed watching Psych, Rizolli & Isles, White Collar, Covert Affairs, and CFL football, I'm definitely ready to get back into shows like Community, Castle, House, Bones, How I Met Your Mother, Survivor, and many more. (Be sure to sound off in the comments with the shows you missed the most during the summer.) In this fall preview, I'll touch on a few of these series and where they're likely headed with their new seasons.
But of course, September also means the networks begin rolling out a bunch of new series, hoping viewers will tune in even after they may have cancelled their low-rated favourites last spring. For every Heroes and New Adventures of Old Christine, there's a No Ordinary Family and Outsourced to take its place. The question is, are any of the new shows even worth checking out? And even if they are, if the masses aren't watching, will you end up getting burned with a premature cancellation a la Pushing Daisies or FlashForward? Hopefully, I'll be able to guide you to the shows that are likely to be great, along with the ones that are likely to stick around for quite a while.
Get ready, 'cause there's a lot of information to digest below -- but there are also video clips!
New Shows
No Ordinary Family (Tuesdays @ 8pm, ABC – Premieres Sep. 28)
I was able to watch the pilot of this Heroes-meets-Parenthood family dramedy, and I really enjoyed it. It was fun, had a slightly new twist on a relatively tired "superhero" origin story (though a mysterious substance is, of course, to blame), and the dynamic between the actors (especially Michael Chiklis, Julie Benz, Romany Malco) is superb. Its success will all depend on how the characters are fleshed out, but so far so good!
Detroit 1-8-7 (Tuesdays @ 10pm, ABC – Premieres Sep. 21)
Yes, there are a lot of cop shows on television. But there aren't a lot of really good ones, and certainly not many that attempt to be realistic with their portrayals (especially on the networks). Detroit 1-8-7 looks to be one of those. Besides taking place in the murder capital of the U.S., it's also a city that in recent years has been hit the hardest by the tanking economy, so there are bound to be a lot of interesting stories to be told. Having Michael Imperioli on board is a great move (I loved him as a cop in the American version of Life on Mars), but I'm most intrigued to see Canadian comedian Shaun Majumder tackle a role like this. He's known for his time on sketch shows (This Hour Has 22 Minutes, Cedric the Entertainer Presents), sitcoms (Less Than Kind, Unhitched), and various stand-up specials (including a Comedy Central Presents), but besides a couple episodes as a terrorist on 24, audiences haven't really seen him do drama.
The Event (Mondays @ 9pm, NBC – Premieres Sep. 20)
Almost everything that has tried to be the "next Lost" has failed (see: FlashForward), and this is NBC's attempt, with its cryptic marketing and its mixture of established names and new faces. But if what I'm hearing about the show holds true, the story is going to be really gripping and keep us intrigued, and the cast is really strong, with the likes of Blair Underwood, Zeljko Ivanek, Jason Ritter, Scott Patterson, and Laura Innes on board. I'd tell you more, but everything is so lock-and-key with this show.
Undercovers (Wednesdays @ 8pm, NBC – Premieres Sep. 22)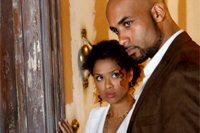 First of all, let it be known that I love J.J. Abrams. I haven't watched everything of his, but everything that I have seen I've loved. I'm a hardcore Lostie, I'm a Star Trek fan who was impressed with his reboot of the series, and I even liked Mission: Impossible III. Oh, and I can't get enough of Fringe! Throw in spies (shows and movies about either spies or con men always get me) and a more straight-forward approach than some of his previous series (even the sort of similarly-themed Alias) and a solid cast of mostly "new" faces to Hollywood (including up-and-coming comedian Ben Schwartz, who I've seen do improv in L.A. a number of times), and I'm 100% on board. Even if it is a little like Mr. and Mrs. Smith.
Hawaii Five-O (Mondays @ 10pm, CBS – Premieres Sep. 20)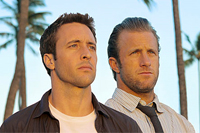 Being a remake of a beloved series doesn't always mean success. In fact, it often means the opposite (see: Bionic Woman, Knight Rider). But this one just looks kick-ass. The cast is great -- Scott Caan, Alex O'Loughlin, Daniel Dae Kim, and Grace Park -- and the previews look awesome. I can't wait!
Running Wilde (Tuesdays @ 9:30pm, FOX – Premieres Sep. 21)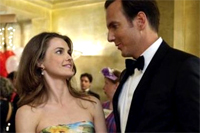 Arrested Development is one of the greatest comedies of our time. And while we wait for the movie to eventually get made, this is the next best thing. AD creator Mitch Hurwitz got together with Will Arnett to create this sort of romantic comedy about a wealthy dude (living off inheritance) who tries to win the heart of his childhood crush (Felicity's Keri Russell). AD's David Cross is also along for the ride.
The Good Guys (Fridays @ 9pm, FOX – Premieres Sep. 24)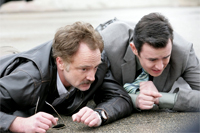 While this technically isn't a new show, it debuted this past summer on FOX and nearly nobody watched it. But hopefully they'll discover it this fall in its new timeslot following Human Target, because it's one of the most fun (and funny) cop shows ever made. Bradley Whitford and Colin Hanks (and Whitford's mustache) are a far and away better comedy cop team than Mark Wahlberg and Will Ferrell in this summer's similarly-titled The Other Guys -- and I like Wahlberg and Ferrell!
Predictions
Will Be Sticking Around
Undercovers
It's got a bunch of hype, was picked up by NBC after a bit of a bidding war, and also will be airing on a network short of many hits. All it needs to do, really, is put up moderate numbers and it'll be around. I predict it'll put up big numbers.
Hawaii Five-O
Once again, a series with a lot of hype going in, but one that looks to live up to it. This one should break the Alex O'Laughlin/CBS cancellation curse.
The Event
Hype hype hype! More so than anything, though, as with Undercovers, NBC just needs a hit. Supposedly there are 5 seasons' worth of stories already laid out (and not in secret, either -- they were presented to the network before the pilot was even made), so if NBC is smart, they'll stay the course and let it all play out.
Law & Order: Los Angeles
The cast is insanely strong -- Terrence Howard, Alfred Molina, Skeet Ulrich, and Regina King -- and the change of scenery should give this genre-within-a-genre some more life.
Mike and Molly
It's a Chuck Lorre show airing after Two and a Half Men. It's as close to a guaranteed success as you can get in Hollywood, even if it's not very funny (and it probably isn't).
Sh*t My Dad Says
Along similar lines, I've heard that (unfortunately) this William Shatner sitcom based on a hilarious Twitter feed isn't funny at all. That may not surprise, but given the source material and the awesomeness that is Shatner, I had expected more. Having said that, it's following The Big Bang Theory in its new Thursday home, so expect the ratings to be solid at least through the first season.
Not Gonna Last
Outsourced
Going for stereotypical -- and borderline insulting -- jokes in this "white American goes to run a call centre in India" "comedy", just doesn't work for NBC's Thursday night comedy block. But the sooner it's gone, the sooner Parks & Recreation is back!
Better with You
I really like Josh Cooke and Jennifer Finnigan, but every single sitcom Cooke has tried his hand at has failed (including the pretty adorable Committed which he co-starred in with Finnigan). So this isn't a shot at the show's quality, which looks like it might have potential -- it's just a near certainty.
My Generation
Looks kind of boring, but most of all, its timeslot is awful. Leading into Grey's Anatomy is hard enough, but competing with established shows at the 8pm hour on Thursdays is even harder. The fact that The Big Bang Theory, a powerhouse in the 18-49 ratings, is now also at 8 on Thursdays -- along with Bones, Community, and 30 Rock, means it's very unlikely this show will find an audience, even if it doesn't suck.
Outlaw
Speaking of sucking... I really wanted to like this show. It's produced by Conan O'Brien's company, Conaco, so its success on NBC would've been interesting; its cast is strong, and I'm a pretty big fan of Jimmy Smits; and its premise is unique, with a conservative Supreme Court justice resigning his post to concentrate on practicing law in the name of social justice. Unfortunately, the pilot was awful in almost every way, including the writing, editing, and even acting. Don't expect this to make it through its first season, even on Fridays.
Sleeper Hit
The Defenders
I'm going out on a limb here, but I'm predicting The Defenders will do well for CBS on Wednesday nights. Despite how awful According to Jim was, and how excruciatingly long it was on the air, I actually kinda like Jim Belushi. Throw in the always-fun Jerry O'Connell, and you might have a pretty good show. It's not up against crazy-stiff competition (new series The Whole Truth, with a similar but decidedly more serious subject, and the new Law & Order), which should help it out as well.
Returning Shows
There are also a lot of returning shows worth mentioning, some because I've actually seen screeners of their season premieres, others because they just deserve to be talked about heading into the new season. I'll go over a few here, but be sure to hit up the comments for any others you think people need to be checking out.
How I Met Your Mother (Mondays @ 8pm, CBS – Premieres Sep. 20)
Many longtime fans of the show were a bit unhappy with the direction How I Met Your Mother took last season. Gone was most of the overarching mystery of "the mother", and in its place were a lot more standalone episodes, especially involving Ted just as a regular ol' member of the dating world. Sure, we did see a couple great moments, including Ted once again encountering the yellow umbrella and seeing his future wife's ankles while on a date with her roommate (Rachel Bilson), but all of that basically took a backseat to Barney and Robin, and Robin and Don, and Barney and countless other women. It was great to get into some of the other great characters on the series, but not at the expensive of what made this show so great to begin with. It's about friendship and true love, with a dash of over-the-top hilarity (go NPH!).
Having watched tonight's season premiere already, I'm happy to say that so far, this year is definitely off to that kind of feel. The premiere strikes a wonderful balance between really funny moments and poignant, serious moments. Plus, there's the whole mystery we were reading about all summer about a supposed wedding taking place during the episode (there is a bit of a wedding, at the beginning and end, but I won't say any more). Marshall and Lily are also starting to tackle trying to have a baby this year, which if the premiere is any indication, How I Met Your Mother won't handle the exact same way most others do. The first episode back got me really excited for this next season, and where we're headed with Ted and the gang, so I hope they keep this pace and feel going forward.
Community (Thursdays @ 8pm, NBC – Premieres Sep. 23)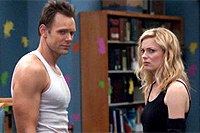 As anyone who regularly visits our site knows by now, we love Community. It won a Crafty Monkey for Best Comedy, and several of its cast received acting nominations, as well. The best new show on television last year, and possibly the best overall comedy (sorry, Modern Family and Glee fans), is back for a second season, and I couldn't be more looking forward to the premiere. And even though some think she's gotten a bit oversaturated, I still love me some Betty White, who guests in the season opener as the new Anthropology Professor. (By the way, it wasn't some Snickers commercial that made Betty White "cool" again -- Boston Legal already did that a few years ago!)
With the way the first season ended off, things should be a little awkward in the study group to start things off, but we wouldn't expect anything less. With Senior Chang now part of the student body, and episodes like last year's "Modern Warfare" (the paintball ep) a sign of what this show can do at the top of its game, Season 2 looks like it's going to be amazing. Also expect to see a lot more of John Oliver this year (though I hope not too much, to the point where he has to leave The Daily Show).
The Big Bang Theory (Thursdays @ 8pm, CBS – Premieres Sep. 23)
I think I'm one of the rare people that likes this show. What I mean by that is, everyone I know seems to have a very strong opinion of The Big Bang Theory. Some absolutely love it, while others can't stand it. Some of my geekier friends enjoy the show for, amongst other reasons, having science at the forefront of a prime time network TV show (and a popular one at that). Others thing it goes for the easy joke too often, and isn't really representative of modern 21st century geekdom at all. Personally, I enjoy some of the geekier moments, and Jim Parsons is great (as is Johnny Galecki), but it's a Chuck Lorre, and it often shows. (Lorre is the creator of Two and a Half Men, or as I like to refer to him, the man who is almost single-handedly feeding America "easy" comedy.) Too often, TBBT goes for the quick, simple, and obvious joke, most times at the expensive of good story or character development. And while the general audience might eat it up, it disappoints me as a comedy fan.
Having said that, I do enjoy much of what the show does, especially when it comes to the relationships between Sheldon, Leonard, and Penny. Tonight's premiere gives us a really good storyline involving Penny chaperoning a "date" with Mayim Bialik (of Blossom fame, who showed up in last year's finale as Sheldon's internet dating match). All these scenes are wonderful, and I won't give away any of the great lines and moments. The "B story", however, is so "sitcommy" that I had wished I was watching it on my PVR (rather than an advanced preview copy) so that I could skip through those scenes.
With its huge ratings gains last year following Two and a Half Men, CBS has moved The Big Bang Theory to Thursday nights at 8et, opposite Community. There's no doubt TBBT is going to whoop Community's behind every week, but I just hope it's not by too much, because if The Big Bang Theory ends up being the death of my favourite comedy, I will never ever ever forgive Chuck Lorre. And I was willing to forgive him for Two and a Half Men!
Castle (Mondays @ 10pm, ABC – Premieres Sep. 20)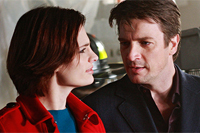 What a fun show this is! And luckily, viewers seemed to think the same, as its ratings steadily rose throughout its sophomore season to the point that it was a no-brainer pick-up for ABC. When we last left our cop and author crime-fighting duo, Beckett had just dumped her boyfriend and was about to finally spill her feelings for Castle, but he showed up just before heading off for the summer with one of his ex-wives in tow. As it always is with these kinds of situations, Castle and Beckett can never seem to be at the same place at the same time, and don't look for them to be anytime soon, either. Castle's still with his ex when this season begins, and later on this fall, Beckett's going to be getting a new wild man of a boyfriend (played by Victor Webster, who told us a little about his Castle character during his interview for the new film Heart of a Dragon).
And if the previews for the season premiere are any indication, this season's going to start off with a big bang, as it looks like Castle's caught red-handed with a gun at a murder scene. We're sure he's on the money when he says, "It's not what it looks like!" but it should be a fun way to start out the new season of this awesome action/drama/comedy.
CSI: NY (Fridays @ 9pm, CBS – Premieres Sep. 24)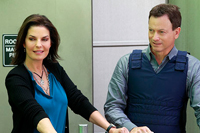 My personal favourite of the 3 CSI series (I don't watch Miami, and the original is hit and miss) has moved from Wednesdays at 10 to Fridays at 9. And while Fridays are often considered a "death time slot", CBS has been pounding out solid ratings on that night for years now. Numb3rs and The Ghost Whisperer, both which ended their multi-year runs this spring, were ratings hits for most of their time on Friday nights. Plus, because it's considered a dead night for television, a show's ratings don't have to be as strong as other nights of the week for it to be considered a "hit". This should help with CSI: NY, which saw a slight dip in its ratings (especially in the 18-49 demo) last season.
Creatively, the show is also undergoing a significant change for its 7th season, as Melina Kanakaredes has left the show (Stella has taken a job in New Orleans, we are meant to assume given a very brief mention of her character in the season opener). In her place is a new CSI, and former FBI agent from Washington played by Emmy-winning actress Sela Ward. And of course, the season begins seconds after the 6th season finale cliffhanger ended, with Danny and Lindsay's baby in the hands of crazed (and gun-wielding) killer Shane Casey. Let's just say the first scene of the new season is one of the most intense the show has seen, and the episode as a whole is pretty dark and humourless. However, with Ward on board, I'm excited to see where CSI: NY is headed this year, whether it's its last season or not.
Human Target (Wednesdays @ 8pm, FOX – Premieres Nov. 17)
Much like Castle, this is just a fun show to watch. I thought for SURE it wouldn't be picked up for a second season, after its brief rookie season received mostly low ratings. Thank goodness I was wrong, because not only did things end on a cliffhanger (and I hate it when cliffhangers are unresolved!) but I just really enjoy watching Mark Valley, Chi McBride, and Jackie Earle Haley work together. It's been a long time since this kind of no-nonsense action show has been on network television, and I really hope -- despite being on Friday nights -- it manages to stay on for a long time to come.
The show is adding a lot of new blood for its new season, which will hopefully get more eyes onto it (or at least the same amount of eyes, but on a worse night for TV, thus keeping it around). Indira Varma is joining the cast as a billionaire widow who will help to fund the group's operations, while Janet Montgomery will play an experienced thief who joins the guys on some missions. Plus, the awesome Lennie James (Jericho) will be returning as Baptiste at some point this season, and I think television as a whole is better when he's on it! (Here's hoping former CSI: NY regular Emmanuelle Vaugier also returns to Human Target at some point as FBI agent Emma Barnes, after spending the summer playing a Washington reporter on several episodes of Covert Affairs.)
Undercover Boss (Sundays @ 9pm, CBS – Premieres Sep. 26)
What an amazing... just kidding, guys! Did I have you there for a second? I don't even really like Family Guy, but watch that on Sunday nights -- or NFL football -- rather than this "runaway hit" from last season. So fake a so schmaltzy, it literally makes me ill to watch it. Literally. Ill.
Fall Schedule & Premieres
A few shows have already debuted over the last week or so (personal faves amongst the ones already out of the gate: Survivor, Parenthood, and Life Unexpected), but most shows new and old are going to be airing their premieres over the next week or two. Here's the entire fall network prime time schedule (subject to change, of course) with premiere dates.
MON
8:00
8:30
9:00
9:30
10:00
10:30
Chuck
The Event [new]
Chase [new]
Dancing with the Stars
Castle
How I Met Your Mother

Rules of Engagement
Two and a Half Men
Mike and Molly [new]
Hawaii Five-O [new]
House
Lonestar [cancelled, replaced with Lie to Me]

90210
Gossip Girl
TUE
8:00
8:30
9:00
9:30
10:00
10:30
The Biggest Loser
Parenthood
No Ordinary Family [new]
Dancing with the Stars: Results Show (first week @ 8)
Detriot 1-8-7 [new]
NCIS
NCIS: Los Angeles
The Good Wife
Glee
Raising Hope [new]
Running Wilde [new]
One Tree Hill
Life Unexpected
WED
8:00
8:30
9:00
9:30
10:00
10:30
Undercovers [new]
Law & Order: SVU (2 hr premiere)
Law & Order: Los Angeles [new]
The Middle
Better with You [new]
Modern Family
Cougar Town
The Whole Truth [new]
Survivor
Criminal Minds
The Defenders [new]
Human Target

Hell's Kitchen (premieres at 8pm)
America's Next Top Model
Hellcats [new]
THU
8:00
8:30
9:00
9:30
10:00
10:30
Community
30 Rock
The Office
Outsourced [new]
The Apprentice
My Generation [new]
Grey's Anatomy
Private Practice
The Big Bang Theory
Sh*t My Dad Says [new]
CSI
The Mentalist
Bones
Fringe
The Vampire Diaries
Nikita [new]
FRI
8:00
8:30
9:00
9:30
10:00
10:30
Who Do You Think You Are?
School Pride [new]
Dateline NBC
Outlaw [new]
Secret Millionaire [new]
Body of Proof [new]
20/20
Medium
CSI: NY
Blue Bloods [new]
House (repeats)

The Good Guys
Smallville
Supernatural
SUN
7:00
7:30
8:00
8:30
9:00
9:30
10:00
10:30
Football Night in America
Sunday Night Football
America's Funniest Home Videos
Extreme Makeover: Home Edition
Desperate Housewives
Brothers & Sisters
60 Minutes
The Amazing Race (premiere @ 8:30)
Undercover Boss (premiere @ 10)
CSI: Miami
The OT [new]
The Simpsons
The Cleveland Show
Family Guy (1 hr premiere)
American Dad
Tags: preview, TV season, Undercovers, No Ordinary Family, The Event, How I Met Your Mother, Community, The Big Bang Theory, Castle, Human Target
Related Posts
Paul Little is the founder and Managing Editor of ShowbizMonkeys.com. When not interviewing his favourite musicians and comedians, he can also be found putting on and promoting music and comedy events with The Purple Room in Winnipeg, or co-producing the live comedy game shows Pants on Fire and The Great Patio Showdown. (@comedygeek)
Original Comments Posted (4)
crimson says...
Outsourced is HORRIBLE. I gave it a try, and I just stopped watching after seventeen minutes, and the joke about Detroit being the home of automobiles and BLACK PEOPLE. I was tempted to stop watching after hearing the joke of the Cheeseheads being compared to Indian head wear, or the joke about the mistletoe belt buckle, but I didn't. Now I've wasted seventeen minutes of my life that I will never get back.
Sep 24, 2010 3:09pm
metal2000 says...
I feel it only fair that I mention Outlaw again, because I watched the second episode last night, and it was almost like watching a completely different show. While the characterizations were relatively consistent with the pilot, the plot, dialogue, and overall acting were leaps and bounds better. The story was engaging, and the way they tackled the Arizona immigration law was unexpected but interesting.
The show continues to get mediocre-at-best ratings, but because it's on Friday nights, if the quality remains at the level of Episode 2 throughout the season, it may have a shot.
My "Will Be Sticking Around" guarantee also might be a bit off for Undercovers, which is too bad, because the first episode was great. But its ratings were not. It's a sad reality that, should this show have been picked up by ABC or CBS, it would probably have been a Top 20 show right out of the gate, but because it's on NBC, there aren't a lot of eyeballs on it. I hope I end up staying right, however, because it (with the possible exception of Hawaii Five-O) was the most fun new show all week.
Sep 25, 2010 11:41am
crimson says...
Paul, is there a way to have the nielsen ratings get published on this site?
Sep 25, 2010 12:01pm
Hutch says...
Undercovers is GARBAGE. But I do agree with you about Outlaw, it's getting way better. Jimmy Smitts is a terrific actor, always likable when he wants to be and definitely unlikable if he needs to be.
The Whole Truth is far too predictable when they have their big "shocking" reveal at the end of each episode. That, and none of the characters stand out at all. The Defenders is far superior of a court-room drama.
Detroit 187 is really good, I like it a lot, and I'm not the hugest cop drama fan. But I am a sucker for constant mentioning of Canada, lol.
The Event is the new Lost. AND I HATED Lost. Too much "suspensful mystery" that comes off as supremely unneeded and unbelievable. It takes a REALLY good reason to not just tell people the answers to their simple questions. And this show is lacking those.
No mention of Terriers? I don't really like Donal Logue but this show has grown on me!
Oct 7, 2010 1:18pm
Comments Posted ()
Search SBM Archives