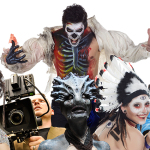 Posted by: Mark McLeod • July 21, 2014 @ 1:47am
The first thing you notice when you step off the elevator in Vancouver's Standard Building -- home of New Image College of Fine Arts -- is that this isn't quite the educational learning facility you're expecting.
Posted by: Mark McLeod • June 26, 2014 @ 11:48pm
Have you ever wished you could be your favorite superhero or movie character at Halloween? Do you have dreams where you wished you were Hellboy or The Hulk or an undead zombie? I mean, really be those characters, not just wear a lame store-bought costume? What if I told you that there's a school in Vancouver that can not only transform you into whatever your imagination might dr
Posted by: Tony Hinds • January 16, 2012 @ 2:18pm
"So where was I?" That was how host Ricky Gervais opened Sunday's 69th Annual Golden Globe Awards, a nod to the controversy that followed his previous year's hosting gig. His inference: he was going to pick up exactly where he left it last year. He wasn't going to pull any punches. Once again, he was going to raise hell. Well, this time? He didn't.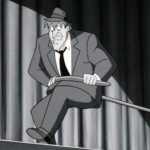 Posted by: Lawrence Lee • March 31, 2011 @ 12:23am
The interviews. The rehearsals. Backstage segments. Countless recaps. The biographies. Celebrity special appearances. Product placement. The judges. The scores. The voting. The ridiculously long commercials. And worst of all, the elongated elimination segments that attempt to build tension and suspense.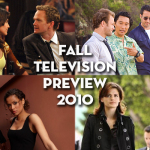 Posted by: Paul Little • September 20, 2010 @ 5:07am
The new fall television season is upon us! I know I'm not the only one who's excited. While cable has come on strong over the last few years with some exceptional series, and the internet takes more and more of our time each and everywhere, there still isn't quite anything like network television.
Posted by: Paul Little • May 25, 2010 @ 12:06pm
Last week, all five American networks held their respective "Upfronts" in New York City, where advertisers and the press are given a chance to take a look at the preliminary schedules for each network for the following year, and begin to decide where to spend their cash for the next television season.
Posted by: Paul Little • November 9, 2009 @ 4:47pm
A little over a week ago, myself and 30 Rock recapper Jeff Anseeuw got the opportunity to see live tapings of The Tonight Show with Conan O'Brien (on Monday, October 26th) and The L
Posted by: Paul Little • May 6, 2009 @ 10:43am
I know we haven't really posted about Scrubs since I wrote one recap back in October 2007 and then I got behind on them (with Scrubs recaps never to return), but for those that are unaware, the show airs its last episode of the season (and possibly ever) tonight on ABC at 8/7c.
Posted by: Dean Kish • September 21, 2005 @ 12:00am
There comes a time when the summer heat begins to die down and you get that first really cool rainy day which reminds you that, before you know it, the leaves will start to change. Yes, it's that time of year again -- fall.
In recent years, the television landscape has been a little erratic, with so many zillion reality shows debuting it seems like every week.
Posted by: Dean Kish • March 29, 2005 @ 12:00am
Okay, so this is a little late. Back in October, I took a look at the emergence of the new 2004-2005 television season. There has been a lot of interesting developments since I wrote that article.
Search SBM Archives