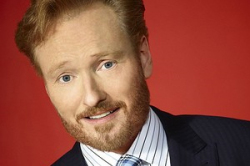 Late night talk show guests: November 8-12
So it's been a while... hi! It's been a long many months since this section has been active. Part of that was due to lots of summer repeats in the late night world, and part of is was -- I'm not gonna lie -- a bit of sadness at the lack of Conan O'Brien on our airwaves. It's well-documented on this site that I'm an unabashed Coco fan, having seen his Late Night live in person three times and his Tonight Show once, not to mention done interviews with longtime O'Brien staffers Brian Stack and Aaron Bleyaert.
But now, after an incredibly successful U.S./Canada live comedy tour and months of preparation, Conan is back on television on basic cable with his new show... Conan. Will you be watching these week? Or is the time the show airs -- 11pm Eastern/Pacific -- too problematic for you? After all, in the United States, Conan airs opposite other popular cable shows The Daily Show and The Colbert Report (in Canada, Conan actually airs AFTER TDS and TCR on both The Comedy Network and CTV). And of course, Dave and Jay come on halfway through Conan, which may make remotes switch to the network talk shows. (Not this remote, of course!)
There's a lot more going on in late night besides Conan, though. Jon Stewart and Stephen Colbert just held an extremely successful faux-rally ("The Rally to Restore Sanity and/or Fear") in Washington, D.C. a week ago, and for a week managed to even pull in bigger Adults 18-49 ratings than any of the network shows. Who knows if that will stick, but seeing the political cable shows top the "big time" Tonight Show and Late Show -- even for one week -- is pretty monumental.
Here's a quick TOP 5 for the week:
The First Ever Conan (Monday) – Don't miss out on the first ever airing of TBS' Conan! What will be different from his version of The Tonight Show or his old Late Night show? Will we see any old characters? Will there be any surprises? Or will it be business as usual for the red-haired goofball?
Myq Kaplan (Monday on Ferguson) – The finalist from this summer's Last Comic Standing is one of the best stand-ups working today. He's silly, spontaneous, and wickedly smart. If you don't own his latest CD, Vegan Mind-Meld, buy it now! But in the meantime, watch him on The Late Late Show and laugh your ass off.
Mark Valley (Thursday on Fallon) – Did you watch Human Target last season? It may not have gotten great ratings on FOX, but it was a fun-as-hell show that gave us action, comedy, and a bit of drama each week. Well, Season 2 debuts in a week with a couple regular female cast members joining the trio of stars: Mark Valley, Chi McBride, and Jackie Earle Haley. Valley, an incredibly entertaining personality, will be on Late Night Thursday, and it should be awesome.
Jon Dore (Thursday on Conan) – One of the best -- and yet hardly-known -- comics around, Jon Dore will officially be the first stand-up comedian on Conan's new show. He deserves special mention because he's incredibly daring and creative -- and because I saw him do an hour set a couple months ago and it was one of the best shows I'd ever seen live. See him. Enjoy him. Keep following him. The star of The Jon Dore Television Program will be huge before you know it.
Harrison Ford (Monday on Letterman, Tuesday on Stewart, Thursday on Kimmel) – The star of the upcoming comedy Morning Glory makes the talk show rounds this week (and next), and one of the biggest movie stars in the world is always a good sport on these kinds of shows. Despite his gruff exterior, his comedic timing is superb (his appearances on Late Night with Conan O'Brien are legendary) and he should be a great guest on all 3 shows this week (next week, he reunites with Conan).
The Late Show with David Letterman (CBS)
Mon 11/08: Harrison Ford, Cee-Lo Green
Tue 11/09: Denzel Washington, Bon Jovi
Wed 11/10: Russell Crowe, Quincy Jones, Snoop Dogg
Thu 11/11: Cher, Bruno Mars
Fri 11/12: Kelly Ripa, Greg Fitzsimmons, Reba McEntire
The Tonight Show with Jay Leno (NBC)
Mon 11/08: Arnold Schwarzenegger, N.E.R.D.
Tue 11/09: Dave Salmoni, Chris Pine, Lee DeWyze
Wed 11/10: David Spade, Christine O'Donnell, Old 97's
Thu 11/11: Kim Kardashian, Dennis Miller, Soulja Boy
Fri 11/12: Diane Keaton, Kevin McHale
Conan (TBS, CTV)
Mon 11/08: Seth Rogen, Lea Michele, Jack White
Tue 11/09: Tom Hanks, Jack McBrayer, Soundgarden
Wed 11/10: Jon Hamm, Charlyne Yi, Fistful of Mercy
Thu 11/11: Michael Cera, Julie Bowen, Jon Dore
Jimmy Kimmel Live (ABC)
Mon 11/08: Adam Carolla, Neil Diamond
Tue 11/09: Kate Walsh, the latest Dancing with the Stars castoff
Wed 11/10: Chris Pine, Danica Patrick, Blake Shelton
Thu 11/11: Harrison Ford, Gary Dell'Abate, Edward Sharpe and the Magnetic Zeros
Fri 11/12: TBA (Repeat)
The Late Late Show with Craig Ferguson (CBS)
Mon 11/08: Tom Selleck, Myq Kaplan
Tue 11/09: Cheryl Hines, Wolfgang Puck
Wed 11/10: Tim Meadows, Stan Lee
Thu 11/11: Juliette Lewis, Rampage Jackson
Fri 11/12: Ewan McGregor
Late Night with Jimmy Fallon (NBC)
Mon 11/08: Scarlett Johansson, Chris Morris, Toots & the Maytals
Tue 11/09: Rosario Dawson, Ty Burrell, Rory Scovel
Wed 11/10: Rainn Wilson, Biz Stone & Evan Williams, Carla Gugino, Jonsi
Thu 11/11: Jeff Goldblum, Mark Valley, Robyn
Fri 11/12: Tracy Morgan, Dick Cavett, Kings of Leon
The Daily Show with Jon Stewart (Comedy Central, CTV)
Mon 11/08: Texas Gov. Rick Perry
Tue 11/09: Harrison Ford
Wed 11/10: Mick Foley
Thu 11/11: Rosario Dawson
The Colbert Report (Comedy Central, CTV)
Mon 11/08: Reza Aslan
Tue 11/09: Cee-Lo Green
Wed 11/10: Martha Stewart
Thu 11/11: Quincy Jones
Last Call with Carson Daly (NBC)
Mon 11/08: David Cross, Tift Merritt, Matt & Kim (Repeat)
Tue 11/09: Mike Birbiglia, Steve Jones, The Walkmen
Wed 11/10: Donal Logue, Edgar Wright, Alberta Cross
Thu 11/11: DJ Z-Trip, Justin Taylan, Jimmy Eat World
Fri 11/12: Maynard Keenan, John Cameron Mitchell, A Perfect Circle
Lopez Tonight (TBS)
Mon 11/08: Janet Jackson, Antoine Dodson, Rooney
Tue 11/09: Jamie Foxx, Jayma Mays
Wed 11/10: Howie Mandel, Juliette Lewis
Thu 11/11: Denzel Washington, Hilary Duff, Russell Peters
George Stroumboloupoulos Tonight (CBC)
Mon 11/08: Martin Sheen & Emilio Estevez (Repeat)
Tue 11/09: Billy Connolly (Repeat)
Wed 11/10: Philip Seymour Hoffman (Repeat)
Thu 11/11: Davis Guggenheim (Repeat)
Fri 11/12: Gene Simmons (Repeat)
Kevin Pollak's Chat Show (Online)
Tags: Conan, David Letterman, Jon Stewart, Stephen Colbert, Jay Leno, Jimmy Kimmel, Jimmy Fallon, Craig Ferguson, George Lopez, talk shows
Related Posts
Paul Little is the founder and Managing Editor of ShowbizMonkeys.com. When not interviewing his favourite musicians and comedians, he can also be found putting on and promoting music and comedy events with The Purple Room in Winnipeg, or co-producing the live comedy game shows Pants on Fire and The Great Patio Showdown. (@comedygeek)
Comments Posted ()
Search SBM Archives