Late night talk show guests: January 3-9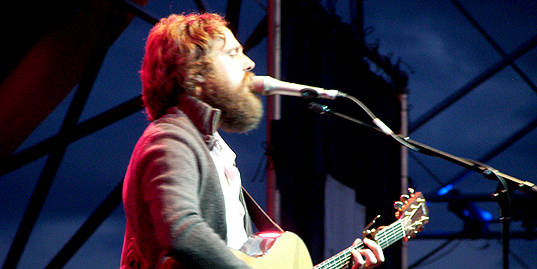 How were your holidays? Have a fun New Year's Eve? Back to the grind of work once again? Well, many of the talk show hosts are already back to work, which means new episodes for all of you!
I had a great chat over the holidays with a local comic about the history and current state of late night TV. It's always nice to chat with people who love this stuff as much as I do -- he had even read The Late Shift before the movie ever came out (though just like me, he hasn't yet read the sequel).
What are your favourite late night TV shows? Next week we'll be giving you our Best of 2010 in Late Night list, but I'd love to hear your thoughts as well.
Anyway, here are this week's Top 5 guests:
Iron & Wine (Thursday on Fallon) - One of my favourite singers in the world is Sam Beam, aka Iron & Wine. I finally got to see him live a year and a half ago at the 2009 Winnipeg Folk Festival, and he's just amazing to see perform. I believe he's got a new album coming out, and thus new material will likely be played on Fallon.
Hannibal Buress (Friday on Letterman) - Almost everyone else on this list is a stand-up comic. What can I say -- there aren't a lot of places to see stand-ups on TV unless you're specifically seeking them out, and this week there are some great ones performing on late night. Buress was a writer on SNL last year, but shifted over to work for 30 Rock this season. He's also a super clever stand-up, and I believe is making his first Letterman appearance after being bumped a couple weeks ago.
Matt Braunger (Monday on Ferguson) - Another phenomenal young stand-up is Matt Braunger. I am ashamed to say that I didn't even know his work until I saw him perform last year on Conan's Tonight Show, but I've been seeking out everything of his I can ever since then. He's one of several great L.A.-based comics that are taking the alt-comedy scene (whatever that means) by storm, and for good reason. Don't miss this set!
Patton Oswalt (Friday on Fallon) - While Patton always does talk shows as a sit-down guest (usually the featured one), he's a stand-up, and will usually do bits of his material during the interview. Even if not, he's a crazy smart, insanely funny comic, and always worth listening to and watching in any format.
Mila Kunis (Friday on Ferguson) - One of the most beautiful women in Hollywood, Kunis is riding high off of the buzz from her performance in the new thriller Black Swan opposite Natalie Portman, even drawing some potential Oscar talk. But at her core, she's still just a really funny actress, and always has fun chatting with Craig (much like her Forgetting Sarah Marshall co-star Kristen Bell).
The Late Show with David Letterman (CBS)
Mon 01/03: Brian Williams, Paula Abdul
Tue 01/04: Tim McGraw, Shaquille O'Neal, Keri Hilson
Wed 01/05: Jennifer Connelly, Dr. Mehmet Oz
Thu 01/06: Seth Rogen, The Walkmen
Fri 01/07: Regis Philbin, Hannibal Buress, No Age
The Tonight Show with Jay Leno (NBC)
Mon 01/03: Ron Howard, Snooki, Sick Puppies
Tue 01/04: Queen Latifah, Gustavo Dudamel, Jazmine Sullivan
Wed 01/05: Jamie Foxx, Leighton Meester
Thu 01/06: Hilary Swank, Jesse Eisenberg, Los Lobos
Fri 01/07: Jim Parsons, Hailee Steinfeld, Lukas Nelson
Conan (TBS, CTV)
Mon 01/03: Christina Aguilera, Zachary Levi (Repeat)
Tue 01/04: Eva Mendes, Bob Saget, Neon Trees (Repeat)
Wed 01/05: Kourtney, Kim & Khloe Kardashian, Kevin Nealon, Deerhunter (Repeat)
Thu 01/06: Gwyneth Paltrow, T.J. Miller, Jimmy Eat World (Repeat)
Jimmy Kimmel Live (ABC)
Mon 01/03: Patricia Heaton, Brad Womack, Josh Groban
Tue 01/04: Matt LeBlanc, Julie Benz, Michael Carbonaro
Wed 01/05: Simon Baker, Snooki, Lloyd Banks
Thu 01/06: Leighton Meester, Jazmine Sullivan
The Late Late Show with Craig Ferguson (CBS)
Mon 01/03: Lisa Kudrow, Matt Braunger
Tue 01/04: Julie Bowen, Carson Kressley
Wed 01/05: Henry Winkler, Paula Deen
Thu 01/06: Gary Sinise, Alex Kingston
Fri 01/07: Mila Kunis, Geechy Guy
Late Night with Jimmy Fallon (NBC)
Mon 01/03: Gwyneth Paltrow, Wyatt Cenac, Jeff Musial, Best Coast
Tue 01/04: Kevin Spacey, DJ Pauly D, Local Natives
Wed 01/05: Tim McGraw, Emmy Rossum, The Ghost of a Saber Tooth Tiger
Thu 01/06: Iron & Wine
Fri 01/07: Michelle Williams, Patton Oswalt, Daniel Holzman & Michael Chernow
The Daily Show with Jon Stewart (Comedy Central, CTV)
Mon 01/03: Paul Giamatti
Tue 01/04: TBA
Wed 01/05: TBA
Thu 01/06: TBA
The Colbert Report (Comedy Central, CTV)
Mon 01/03: Gov. Ed Rendell
Tue 01/04: Geoffrey Canada
Wed 01/05: Atul Gawande
Thu 01/06: Dr. Ronald DePinho
Last Call with Carson Daly (NBC)
Mon 01/03: Johnny Knoxville, Nathan Barr, Off! (Repeat)
Tue 01/04: Jim Breuer, Black Dub, She & Him (Repeat)
Wed 01/05: Frank Darabont, Matt Sax, Ra Ra Riot (Repeat)
Thu 01/06: Bobby Flay, "Heavy Metal Parking Lot", Matt & Kim (Repeat)
Fri 01/07: Andrew Jarecki, Donald Glover, Florence and the Machine (Repeat)
Lopez Tonight (TBS)
Mon 01/03: Janet Jackson, Antoine Dodson, Rooney (Repeat)
Tue 01/04: Craig Ferguson, Sheryl Crow (Repeat)
Wed 01/05: Denzel Washington, Hilary Duff, Russell Peters (Repeat)
Thu 01/06: Jamie Foxx, Jayma Mays, Freddy Sanchez, Orianthi (Repeat)
George Stroumboloupoulos Tonight (CBC)
Mon 01/03: Dr. Ali Zentner, Jamie Oliver (Repeat Guests)
Tue 01/04: Paul Potts, Jill Hennessy (Repeat Guests)
Wed 01/05: Rémy Girard
Thu 01/06: George Chuvalo
Fri 01/07: Emmanuel Jal, Chrissie Hynde
Kevin Pollak's Chat Show (Online)
Tags: David Letterman, Jay Leno, Craig Ferguson, Jimmy Fallon, Jimmy Kimmel, Jon Stewart, Stephen Colbert, George Stroumboloupoulos, Kevin Pollak, talk shows
Related Posts
Paul Little is the founder and Managing Editor of ShowbizMonkeys.com. When not interviewing his favourite musicians and comedians, he can also be found putting on and promoting music and comedy events with The Purple Room in Winnipeg, or co-producing the live comedy game shows Pants on Fire and The Great Patio Showdown. (@comedygeek)
Comments Posted ()
Search SBM Archives