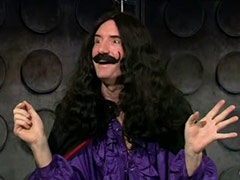 Late Night Lineups: September 15-19
Okay, so we're going to try something new this week. Aside from listing who's going to be on the various late night talk shows throughout the week, I'm also going to give you my picks for which guests NOT to miss. So be sure to stay up late (or set your TiVo/PVR) to check out the funny and interesting.
Ricky Gervais (Monday on Conan and Strombo; Tuesday on Stewart; Thursday on Kimmel)
He's one of the funniest people on the planet, and he finally has his first Hollywood starring role in the September 19th release, Ghost Town. Always a really good talk show guest.
Harland Williams (Tuesday on Conan)
He is one of the strangest, most off-the-wall comedians out there, which makes for an always unique experience when he stops by Late Night. Expect ramblings and innuendos that only make sense about 1/3 of the time but are guaranteed to make you laugh.
Kristen Bell (Thursday on Leno; Friday on Ferguson)
She's gorgeous, funny, and will be back for several episodes of Heroes this season. And she's always an entertaining late night guest.
Stephen Merchant (Wednesday on Kimmel)
The lesser-known half of the Gervais/Merchant writing team that created The Office and Extras, Stephen Merchant is one of the funniest men on the planet. He's likely appearing on the show because he's in L.A. directing an episode of the American version of The Office.
Stephane Dion (Thursday on Strombo)
This one is only relevant to Canadians, of course, but with a Canadian election coming in less than a month, the party leaders will be jumping to appear on The Hour and try and pick up the youth vote. Dion's quiet demeanor and heavy French-Canadian accent makes him quite a different personality than his U.S. counterpart in Barack Obama, but he should make a pretty interesting talk show guest.
The Tonight Show with Jay Leno (NBC)
Mo 9/15: Kate Hudson, Michael C. Hall, Eric Hutchinson
Tu 9/16: Shia LaBeouf, Beau Biden, Nelly
We 9/17: Ed Harris, Meghan McCain, George Clinton & The Gangsters Of Love All-Stars
Th 9/18: Dane Cook, Kristen Bell, Hawthorne Heights
Fr 9/19: Brooke Shields, Dolly Parton
The Late Show with David Letterman (CBS)
Mo 9/15: Richard Simmons, Mary-Louise Parker (R 8/1/08)
Tu 9/16: Kiefer Sutherland, Rumer Willis, Phil Vassar (R 8/7/08)
We 9/17: Nicolas Cage, Anna Torv, Terrence Howard (R 9/2/08)
Th 9/18: Seth Rogen, Fleet Foxes, dock-diving dogs (R 8/4/08)
Fr 9/19: Robin Williams, Shannen Doherty, Duffy (R 9/4/08)
Late Night with Conan O'Brien (NBC)
Mo 9/15: Samuel L. Jackson, Ricky Gervais, Marc Broussard
Tu 9/16: Martha Stewart, Harland Williams, Kasey Chambers & Shane Nicholson
We 9/17: Ray Liotta, Loudon Wainwright III
Th 9/18: Willie Nelson, Southside Johnny with La Bamba's Big Band
Fr 9/19: Ice-T, Dwayne Wade, Shane Mauss
The Late Late Show with Craig Ferguson (CBS)
Mo 9/15: Jason Biggs, the Ting Tings
Tu 9/16: Paulina Porizkova, Ken Tucker, Tally Hall
We 9/17: Alan Alda, Illeana Douglas
Th 9/18: Jason Segel, Steve Hofstetter
Fr 9/19: Kristen Bell, Josh Radnor
Jimmy Kimmell Live (ABC)
Mo 9/15: Kobe Bryant, Tokio Hotel (R 9/9/08)
Tu 9/16: Brad Garrett, Kerry Washington, Adam Perry Lang, Buckcherry
We 9/17: Alyssa Milano, Stephen Merchant, Ne-Yo
Th 9/18: Ricky Gervais, Carla Gugino, Good Charlotte
Fr 9/19: Michelle Monaghan, Cold War Kids
The Daily Show with Jon Stewart (Comedy Central, CTV)
Mo 9/15: Barton Gellman
Tu 9/16: Ricky Gervais
We 9/17: Charlize Theron
Thu 9/18: Tony Blair
The Colbert Report (Comedy Central, CTV)
Mo 9/15: Peter J. Gomes
Tu 9/16: Rick Reilly
We 9/17: Bob Lutz
Th 9/18: Bernard-Henri Levy
Last Call with Carson Daly (NBC)
Mo 9/15: Christian Lander, Iliza Shlesinger
Tu 9/16: Eddie Izzard, Cat Power
We 9/17: Thom Beers
Th 9/18: Meghan McCain, Aushua
Fr 9/19: TBA
The Hour with George Stroumboulopoulos (CBC)
Mo 9/15: Tim Robbins, Ricky Gervais
Tu 9/16: Jeremy Hinzman, LeBron James
We 9/17: Bob Lutz, New Kids on the Block
Th 9/18: Russell Peters, Stephane Dion
Fr 9/19: Tim Robbins, Ricky Gervais (R 9/15/08)
Tags: Late Night, Tonight Show, Late Show, Late Late Show, Kimmell
Related Posts
Paul Little is the founder and Managing Editor of ShowbizMonkeys.com. When not interviewing his favourite musicians and comedians, he can also be found putting on and promoting music and comedy events with The Purple Room in Winnipeg, or co-producing the live comedy game shows Pants on Fire and The Great Patio Showdown. (@comedygeek)
Original Comments Posted (1)
sarahm says...
And Eric Hutchinson is gonna be on Leno on Monday! He's all kind of awesome!
Sep 16, 2008 12:41am
Comments Posted ()
Search SBM Archives