Since it's an irrefutable fact that everyone loves lists... we bring you our Top Fives (and occasionally Top Tens)!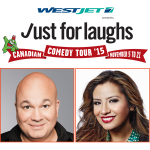 Posted by: Paul Little • November 8, 2015 @ 8:54am
Besides running the biggest comedy festival in the world every July in Montreal -- not to mention off-shoots in Chicago, Toronto, and now Vancouver -- Just for Laughs also does a great job producing theatre shows across Canada.
Posted by: Tony Hinds • July 19, 2012 @ 1:07pm
ShowbizMonkeys.com's Top Fives has returned to drop science on y'all! And by science, we mean comedy! The fest has already begun, so now seems like a good time to check out some of the best shows at the 2012 Just for Laughs Festival in Montreal. At least, in our opinion.
Search SBM Archives