Top Fives: Funny moments from JFL Tour comics Gerry Dee, Robert Kelly, Cristela Alonzo, & Graham Chittenden
Filed under: Top Fives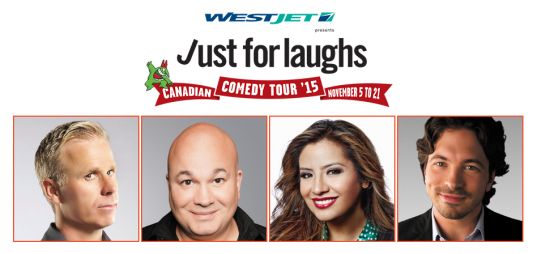 Besides running the biggest comedy festival in the world every July in Montreal -- not to mention off-shoots in Chicago, Toronto, and now Vancouver -- Just for Laughs also does a great job producing theatre shows across Canada. Our northern land is vast and wide, so it sometimes takes a trusted name like JFL to help bring some of the bigger names in comedy to cities like Halifax, Winnipeg, and Kelowna.
While they produce and promote individual headlining tours, like this fall's Kevin Hart tour and a handful of Joel McHale shows earlier this year, their bread and butter is the annual cross-country Just for Laughs Tour. With the opportunity to see multiple comics who could headline on their own, these tours are always a great value for comedy fans looking for a great night out. This year's tour -- The Relationship Edition -- is the 15th anniversary!
You know your comedy tour is strong when the 4th-billed comic on the tour is someone like Graham Chittenden, a hilarious Canadian comic who has appeared on TV galas for Just for Laughs and the Winnipeg Comedy Festival. The other 3 comics on the tour are all recognizable from television roles alongside their solid stand-up careers. Cristela Alonzo created and starred in the ABC sitcom Cristela; Robert Kelly (amongst many other credits) appears from time to time as Louis CK's brother on FX's Louie; and host Gerry Dee (a former Last Comic Standing finalist) is of course the creator and star of the popular CBC sitcom, Mr. D.
For your enjoyment, we've compiled five of our favourite funny moments featuring these comics, which you can watch below. And if you're in Western Canada, don't forget to pick up your tickets (where still available) for a tour stop near you, starting at the Burton Cummings Theatre in Winnipeg, MB tonight and ending on November 21 at the University Centre Farquhar Auditorium in Victoria, BC.
5. Graham Chittenden shows what "work" is like for a stand-up comic
4. Gerry Dee explains how sick days work for a teacher on CBC's Mr. Dee
3. Cristela Alonzo talks about tanning
2. Robert Kelly and Louis CK go for a "bang bang" (double dinner) on Louie
1. Gerry Dee interviews former NBA superstar Charles Barkley
Tags: Just for Laughs, stand-up, Gerry Dee, Robert Kelly, Cristela Alonzo, Graham Chittenden, Mr. D, Louie, Cristela, Charles Barkley
Related Posts
Paul Little is the founder and Managing Editor of ShowbizMonkeys.com. When not interviewing his favourite musicians and comedians, he can also be found putting on and promoting music and comedy events with The Purple Room in Winnipeg, or co-producing the live comedy game shows Pants on Fire and The Great Patio Showdown. (@comedygeek)
Comments Posted ()
Search SBM Archives