JFL42 Interview: British comic James Acaster
Filed under: Interviews
The UK is home to a plethora of comedy panel and game shows. From QI to Would I Lie to You? to Mock the Week -- and seemingly hundreds more -- there are so many opportunities to catch some of your favourite UK-based comics (with the occasional Canadian, American, or Aussie thrown in) regularly on tele. I've personally discovered some of my favourite comedians via panel shows, James Acaster definitely being one of them. I was immediately drawn to his style of joke-telling in the semi-unscripted format, but it wasn't until his 2017 appearance on Conan that I saw a cohesive comedy set of his. I loved it, and his unique version of observational humour opened up the eyes of many other North American comedy fans.
One thing short comedy sets can't fully convey is Acaster's gift for storytelling -- whether that's completely true (and hilarious) stories about being "cabbaged" or his more eloborate and unbelievable tales making up his multiple-year, critically-acclaimed run of shows at the Edinburgh Fringe Festival. Versions of those shows were eventually filmed for his four-part Netflix stand-up series, Repertoire, in which he deftly combines absurdist and observational humour with master storytelling. He's now touring with his new show, Cold Lasagne Hate Myself 1999, and is bringing it to Toronto for five shows at this year's JFL42, appearaing at Yuk Yuk's, Royal Theatre, The Garrison, and Comedy Bar between September 20 and 24.
I was absolutely delighted to get to speak to James Acaster ahead of his JFL42 appearances. The circumstances of my chat with Acaster -- with about a 5-second phone delay as he was riding a bus (as he said to me, "the worst time to be speaking on the phone") -- made the audio not exactly usable for our "Kinda Sort Maybe" podcast. However, you can read an edited version of our conversation below, where he explains how his Netflix special came together, the benefits to the UK having so many panel shows featuring comedians, and North American audiences being more open to a narrative, storytelling style of comedy special.
Paul Little: You've been performing stand-up for over a decade now. Have you noticed a significant shift or change in your work and process, especially since you started bringing shows to the Edinburgh Fringe?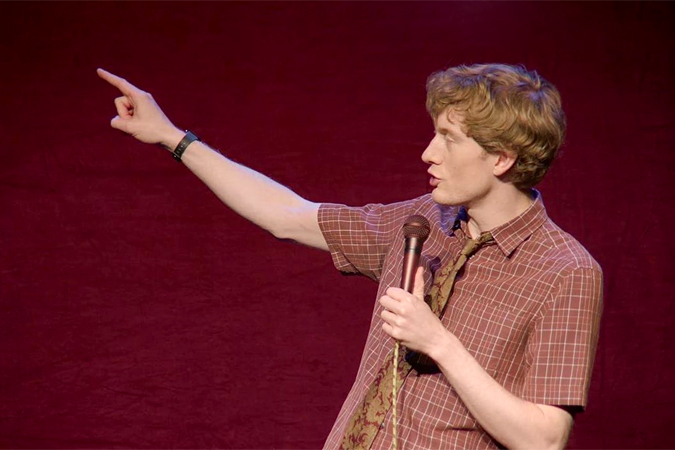 James Acaster: It's more that I'm just accepting of it more now. When I started out, I thought trying out loads of material -- most of which failed -- in order to get a decent show was something that I would one day grow out of. That I'd get good enough that I wouldn't have to do that anymore. Now I'm more accepting of that's just how a show works. When you're writing a new show, you have to work on stuff. Some of it makes it in, and most of it doesn't. So I feel a lot more at peace with it, when I'm working on new stuff.
And then also, I'm a lot more accepting that a show is never finished. If you start saying this show's done, it's as good as it's ever going to be, you start to not enjoy it live. And actually, a show can always get better, and you can always adapt it to a room night to night, change the deliver and whatnot.
PL: Your Netflix series was an interesting concept -- four hour-long specials in one. I understand the idea for that came from your Edinburgh Fringe shows and experiences. Can you talk a bit about producing and shooting those as one cohesive piece of four specials?
JA: I was doing the shows once a year in Edinburgh, and by the second one, it was clear that they belonged together, in some sort of connection. And me and my agent at the time decided we would hold off and film them (together) -- it was originally going to be three of them at the time, a trilogy. I decided last year that if I didn't record them then. The longer I left it, the more I worried they wouldn't be as good as they were. So I wanted to film them, but no one was buying them off of us -- all the channels in the UK turned it down. But I wanted to press on regardless, and film them and put them on my website.
So I went on a tour so I could re-learn the older of the shows and get them all up to the same standard. And while I was touring them, I just kind of saw that there were links between them all, and started to figure out how they could all be one story. I'm really into fan theories about films and stuff -- so if you could apply that to your own show, let's just pretend this is all in the same universe and just one story. Doing that, I realized there was quite a big gap in the story. And I had loads of other material that I was doing on this tour that was even older than the three shows. So I'd re-learned all this material anyway, and I thought it'd be a shame for that not to see the light of day. So I thought I'd just take this old material, adapt this new narrative to it, and make a fourth show.
Then I had to figure out a way to film them all in one day, because if they were filmed in more than one day, it was going to be way more expensive, and you have to be asking a lot more money. So we figured out a way of filming it for the price of one and selling it for the price of one, and then we sold it to Netflix. People think they approached me and commissioned me to produce four specials -- and it's an honour to be on Netflix, obviously -- but we very much had to figure out an economical way of doing it so that they would have us. They were so supportive, and it was amazing working with them, and I couldn't have asked for a better working relationship. The whole thing is a very positive experience.
PL: Yeah, you can definitely see all the connections come together, especially in that fourth one, which was very neat. And like I said, very unique for what you typically see of stand-up specials.
JA: Yeah, I wanted to make them feel quite special and like my own thing -- my own world. And the team I got to do it with are people I've worked with a lot before. They actually hadn't done comedy specials in the past, the group of them. They'd done things at quite a small scale -- corporate work, the director (Daniel Lucchesi) worked a lot for the BBC. They were all the right people for the job, and I got to handpick a team that would make it look and feel like my own thing, as well, rather than anybody else's shows. And I was so glad that I got to do that, too.
PL: The other thing, coming from Canada -- where we have a decent Fringe circuit -- is you can tell it has that Fringe-storytelling style to it, which is atypical for most traditional stand-up hours in the U.S. Along with Hannah Gadsby's Nanette, I guess it seems that North American audiences are a bit more open to that style of comedy special. Had you noticed a difference between the kind of stuff you watched from America vs. what you were putting together for your Edinburgh Fringe shows and eventually these specials?
JA: I'm not sure, really. Probably not. Maybe with stand-up specials I've watched, but even then you've got people like Mike Birbiglia doing stories and Maria Bamford doing many weird shows. There's always a lot of innovation coming from America. And even in the UK, we have loads of interesting stand-ups doing hourlong specials with throughlines and a narrative. Same as Australia, where Hannah Gadsby worked out Nanette. It's just good, at the moment, that that's being applied (more) to the filmed special. I think people are making them different, which before wasn't really happening. It used to be restricted to the Fringe or comedy festivals. It's cool that Netflix has given those shows a shot.
Nanette split a lot of people, and I think the reason why some comics got angry about it is because for ages they've been able to say, "It's okay, no one knows those shows are out there and that comedy can do all these different things." And then everyone goes nuts for it, and people love it, and I think they're just angry. *laughs* They're like, "Ahhhh, I didn't want this to get out. I didn't want them to know that we can do whatever we want with this art form, and now we have to work harder."
PL: Being from the UK gives you the opportunity to do TV panel shows and quiz shows, which are abundant. Do you think it's a benefit for comics based there to have the opportunity to be visible on television regularly, and to work with different comics on all sorts of different things?
JA: Yeah, absolutely. You've got to be smart about it -- if you say yes to absolutely everything, you end up losing your voice and your identity, and it gets muddy to the public who you are. You just become a celebrity rather than a comedian. But if you make sure you choose the right projects, say yes to the right things, and always make sure you bring your own personality and persona to it, then it's a huge help. Not only does it sell more tickets to your live shows, and helps you build your fanbase more, it also broadens your skillset and makes the comic persona you've been working on on stage even (stronger). If we drop this character into this scenario -- which could be an episode of a panel show or whatever the show is -- and we put them into this environment, well how do I react now?
PL: And finally, what can people look forward to with your shows at JFL42 in Toronto?
JA: It's my new show, called Cold Lasagne Hate Myself 1999, and it is about the best year and worst year of my life, side-by-side: 1999 and 2017. This show is all true -- not to say that my Netflix specials aren't true and I'm not an undercover cop. *laughs* This one maybe is more believable. So it's the same sense of humour, but it's more personal.
Passes and individual tickets for JFL42 -- which runs September 20-29 in venues across Toronto -- can be found at jfl42.com/choose-your-pass. If you're not in Toronto this week, you can also catch runs of James Acaster's Cold Lasagne Hate Myself 1999 later this month in New York for 8 nights at the SoHo Playhouse and at the end of October in London for 6 nights at the Vaudeville Theatre. You should also follow Acaster on Twitter at @JamesAcaster.
Tags: James Acaster, JFL42, Just for Laughs, British comedy, Edinburgh Fringe, panel shows, stand-up, Toronto
Related Posts
Paul Little is the founder and Managing Editor of ShowbizMonkeys.com. When not interviewing his favourite musicians and comedians, he can also be found putting on and promoting music and comedy events with The Purple Room in Winnipeg, or co-producing the live comedy game shows Pants on Fire and The Great Patio Showdown. (@comedygeek)
Comments Posted ()
Search SBM Archives