Posted by: Showbiz Monkeys • July 6, 2017 @ 9:51am
The summer festival season in Manitoba, on the Canadian prairies, is always an exciting time.
Posted by: Nyala Ali • November 22, 2016 @ 4:08pm
Born out of a mutual appreciation for each other's contributions to Canrock's indie canon, Tommy Hawkins is a spirited side-project that pools the eccentric talents of multi-instrumentalists Thomas D'Arcy and Hawksley Workman.
Posted by: Paul Little • July 6, 2016 @ 2:39pm
The Winnipeg Folk Festival is one of Canada's longest-running music festivals, and is a favourite not just amongst local music fans, but of performers and audience members well beyond the Manitoba borders.
Posted by: Showbiz Monkeys • August 12, 2015 @ 1:33pm
Interstellar Rodeo -- a music festival started by Canadian indie label Six Shooter Records in Edmonton, Alberta in 2012 -- has come to Winnipeg for the first time in 2015, setting up shop at the Forks from Friday, August 14 to Sunday, August 16.
Posted by: Showbiz Monkeys • July 7, 2015 @ 7:28am
The Winnipeg Folk Festival has been going strong on the Canadian prairies for over four decades. Music, community, environment, food, fun -- these are all integral parts of what makes the Winnipeg Folk Festival so special year after year. There are travellers from across Canada and the U.S.
Posted by: Paul Little • December 25, 2014 @ 9:46pm
Mounties is a Canadian "supergroup" (in a quaint, Canadian sort of way) consisting of Hawksley Workman, Ryan Dahle (of Limblifter), and Steve Bays (of Hot Hot Heat).
Posted by: Matt Moskal • December 15, 2014 @ 2:49pm
Canadian singer/songwriter and national treasure Hawksley Workman joined me over the phone in the UMFM studio.
Posted by: Chris Hearn • November 30, 2014 @ 5:59pm
Beatsteaks are one of my all-time favourite bands, so this review may come across as a tad biased. But, come ON, they are the Beatsteaks. To me, this is the best band Germany has given to the world (sorry Scorpions). Danke to you, Germany!
With each album I think, "Is this the one that is going to suck?" Each time, the answer is no. This is no exception.
Posted by: Chris Hearn • November 16, 2014 @ 10:50am
Does anyone really need an introduction to Bill Idol? I don't think so. When it comes to Billy Idol, I like the hits, and he has had some good ones. But, face it, when some of these artists get older, they lose their edge and have difficulty repeating the successes of earlier releases.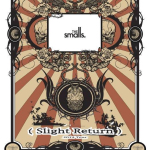 Posted by: Chris Hearn • November 8, 2014 @ 2:47pm
Sold out! And for good reason, after all, it was the smalls, on their big return to Winnipeg for their (Slight Return) reunion tour, and people were excited. Well, I know I was. And so was the bass player for Black Mastiff who was the opening band for the tour. He expressed it often, using much profanity, just how excited he was to be part of this.
Search SBM Archives