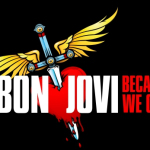 Posted by: Randy Hazzard • April 5, 2013 @ 7:30am
Something was missing at the Bon Jovi concert on Friday night, but it certainly wasn't fan enthusiasm.
The set list was balanced by playing 8 songs from the 80s, 4 from the 90s, 8 from the 2000s, 3 brand new tracks, and one full cover.
Posted by: Randy Hazzard • April 2, 2013 @ 7:41pm
If the volume in your head phones is too loud, brace yourself. You will not be gracefully welcomed into Killswitch Engage's latest offering, Disarm the Descent. You will be welcomed to relentless screaming and pounding guitars.
Posted by: Paul Little • February 28, 2013 @ 3:20am
Tegan and Sara, the Canadian folk pop twin sister duo, have been performing together for almost 20 years and making records for nearly 15. With six studio releases under their belt, floating mostly between indie folk and rock, the sisters' seventh record (Heartthrob, released on January 29, 2013) takes them head on into a commercialized pop sound.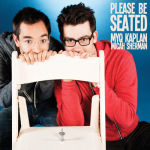 Posted by: Tony Hinds • September 25, 2012 @ 4:59pm
"I was not the lead in that movie." – Micah Sherman
"You mean -- you weren't the lead in that Matthew McConaughey movie?" – Myq Kaplan
If you were to describe Please Be Seated, I would probably turn up my nose at first: An album of comedic songs written/performed in an almost Simon and
Posted by: Matt Moskal • July 3, 2012 @ 10:18pm
During his TD Jazz Lab at the Manitoba Music Conservatory, Lucky Peterson played to the people. Taking requests and telling tales, the Buffalo bluesman gave a preview of his storied career. Joined by his wife Tamara, Peterson encouraged audience participation through a number of classics and standards.
Posted by: Matt Moskal • July 1, 2012 @ 9:36pm
"Jazz is not just a genre of music," announced Steve Kirby.
The Manitoba bassist had Juss Jazz packed elbow-to-elbow while his hot quartet ended their set. As the evening unwound, venues facilitated genre-spanning performances all under the Jazz Festival banner.
Posted by: Matt Moskal • June 30, 2012 @ 2:06pm
"I'm so sorry, this is not jazz," proclaimed a flustered patron to his table.
It was midway through Larry and His Flask's set. The man was in a suit and accompanied by two women in fancy dresses. Everyone else in The Pyramid Cabaret was dressed casual, in vests or had facial hair. After killing another shot, the trio departed.
Posted by: Matt Moskal • May 31, 2012 @ 8:00am
When a stranger brags, "I'm in a rock band," you can imagine their sound. Self-proclaimed rockers haven't had much allure this decade. They've become the excitable inappropriate uncles of the music industry. Sudbury, Ontario's Pistol George Warren are not rockers. But they have walked a mile in their shoes.
Posted by: Matt Moskal • May 17, 2012 @ 8:00am
At 56-years old, Keith Morris has dedicated the majority of his life to hardcore punk. He was the leader of Circle Jerks for three decades and fronted Black Flag for Nervous Breakdown. When his term with one band ended, he fought tooth-and-nail to keep a microphone in-hand.
Posted by: Matt Moskal • May 10, 2012 @ 8:00am
Kathleen Edwards has made a career of manipulating bitterness into success. On her 2003 debut album, Failer, the dissolution of young love inspired the bulk of her creativity. Over a decade has passed since the Ottawa-native recorded her first songs at Little Bullhorn Studios.
Search SBM Archives