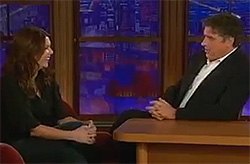 Late night guest line-ups: October 26-November 1
My apologies for skipping last week's late night listings. In my defense, I was preparing for a 2-week trip down to Las Vegas and Los Angeles. Plus, last week was mostly repeats, anyway, so I'm sure you didn't miss things too much!
However, THIS week is an exciting week in late night television! Why? Because yours truly will be attending 2 tapings LIVE in L.A. (yes, this is one of the main reasons I'm on the aforementioned trip). Both The Tonight Show with Conan O'Brien and The Late Late Show with Craig Ferguson will be blessed with my presence. PLUS, on Monday I'll be interviewing Mr. Kevin Pollak, he of Kevin Pollak's Chat Show, about his great online talk show (which we help bring you every week) as well as the rest of his great acting and stand-up career.
So next week, be sure to check this spot for my rundowns on the live tapings, and check the ShowbizMonkeys.com main page for the Kevin Pollak interview. In the meantime, here are the top 5 can't miss moments of the week.
Me (Monday on Conan, Tuesday on Ferguson) – Okay, so I'm not a guest on these late night shows (obviously). But I'll be in the crowd, and there's always a chance that you'll see a crowd shot and I'll be there. PLUS, I'll be posting next week about the audience experiences at both these shows, and it'll be much easier to follow along if you watched the shows I'll be talking about. So yes, watch the shows I'll be watching live!
Tracy Morgan (Monday on Stewart) – Tracy Morgan is crazy. If you've seen him as Tracy Jordan on 30 Rock, you've probably seen more of the real Tracy Morgan than you realize. And if you've followed him on Twitter, you're getting some of that weirdness first hand. Any time Tracy Morgan appears anywhere, it's brilliant. I'm sure his appearance on The Daily Show will be no different.
Lauren Graham (Friday on Ferguson) – I'm completely unembarrassed to say that I was (and still am, I suppose) a huge Gilmore Girls fan. And besides the quick and hilarious writing, the main reason the show was so great was because of Ms. Graham. It was recently announced that she'll be returning to television, taking on a role in the upcoming NBC series, Parenthood (somewhat based on the 1989 Steve Martin film) which was originally to be played by Maura Tierney (who left the show to battle breast cancer). Lauren is always fun and quirky on talk shows, so it's a guaranteed hit segment!
"Weird Al" Yankovic (Wednesday on Fallon) – He may be cheesy to some, but Weird Al has always been at the top of the parody world. There would probably be no Lonely Island success if Weird Al hadn't come before them. And the best part is, he's still keeping "with the times" over 2 decades later, posting on Twitter and working with some of the top young comics around today.
Jason Schwartzman (Thursday on Kimmel) – Has anyone else been watching Bored to Death on HBO? I first checked it out because of the cast (Schwartzman, Zach Galifianakis, and Ted Danson), and it took a little while to find its footing (in my opinion), but I'm really liking the show more and more with each new episode. Schwartzman often plays characters that seem pretty similar to himself (at least with regards to his comedic delivery), but that just means his appearances AS himself (like this Thursday on Kimmel) bring what you probably already like about him. He's a bit weird, he's creative and artsy, and he's practically the definition of "hipster" – but most importantly, he's really, really funny.
The Tonight Show with Conan O'Brien (NBC)
Mon 10/26: Kathy Griffin, Capt. "Sully" Sullenberger, Wolfmother
Tue 10/27: Garry Shandling, Paula Deen, Julian Casablancas
Wed 10/28: Lindsey Vonn, Uncle Kracker
Thu 10/29: Denis Leary, bat expert Rob Mies, the Swell Season
Fri 10/30: Susie Essman, Alice in Chains
The Late Show with David Letterman (CBS)
Mon 10/26: Charles Barkley, Harper Simon
Tue 10/27: Courteney Cox, Florence and the Machine
Wed 10/28: Patrick Dempsey, Sting
Thu 10/29: Tom Hanks, Weezer
Fri 10/30: Regis Philbin, Weezer
The Jay Leno Show (NBC)
Mon 10/26: Dr. Phil McGraw
Tue 10/27: Ewan McGregor, Tina Fey, Tim McGraw & Gregg Allman
Wed 10/28: Chelsea Handler, Brian Williams
Thu 10/29: Michael Moore
Fri 10/30: John Cusack, Frank Caliendo
Late Night with Jimmy Fallon (NBC)
Mon 10/26: Willem Dafoe, Tiffani Thiessen, Har Mar Superstar
Tue 10/27: Artie Lange, Olivia Munn, David Chang
Wed 10/28: Edward Norton, Hulk Hogan, "Weird Al" Yankovic
Thu 10/29: Carrie Fisher, Sam Rockwell, Mastodon
Fri 10/30: Wanda Sykes, Josh Charles, the Amazing Kreskin, Andrew Bird
The Late Late Show with Craig Ferguson (CBS)
Mon 10/26: Sherri Shepherd, Alex Dryden
Tue 10/27: Alicia Silverstone, Salman Rushdie
Wed 10/28: Madeleine Albright, Rodrigo y Gabriela
Thu 10/29: Newt Gingrich, Jessalyn Gilsig
Fri 10/30: Lauren Graham, Fruit Bats
Jimmy Kimmell Live (ABC)
Mon 10/26: Edward Norton, Paul Shaffer, Dancing with the Stars castoff Natalie Coughlin, the Sounds (Repeat)
Tue 10/27: Dr. Mehmet Oz, the latest Dancing with the Stars castoff, Morningwood
Wed 10/28: Atticus Shaffer, Flyleaf
Thu 10/29: Jason Schwartzman, Rod Stewart
Fri 10/30: Paris Hilton, Slipknot
The Daily Show with Jon Stewart (Comedy Central, CTV)
Mon 10/26: Tracy Morgan
Tue 10/27: Steven D. Levitt
Wed 10/28: Dr. Mustafa Barghouti, Anna Baltzer
Thu 10/29: Wanda Sykes
The Colbert Report (Comedy Central, CTV)
Mon 10/26: Cornel West
Tue 10/27: Gail Collins
Wed 10/28: Brian Cox
Thu 10/29: Bill Simmons
Last Call with Carson Daly (NBC)
Mon 10/26: Chris Pratt, Naked Girls, the Like (Repeat)
Tue 10/27: Yvonne Strahovski
Wed 10/28: Derek Luke, Mike Posner
Thu 10/29: Kate Flannery
Fri 10/30: Masi Oka
The Hour with George Stroumboloupoulos (CBC)
Mon 10/26: Gen. Rick Hillier, Juliette Lewis
Tue 10/27: Lewis Lapham, Suzanne Somers
Wed 10/28: Ali Velshi, Hugh Dillon
Kevin Pollak's Chat Show (Online)
Sun 11/01: Kent Nichols and Douglas Sarine (from AskANinja.com)
Tags: The Tonight Show, Late Night, David Letterman, Craig Ferguson, The Daily Show, The Colbert Report, The Hour, Conan O'Brien, Kevin Pollak, talk shows
Related Posts
Paul Little is the founder and Managing Editor of ShowbizMonkeys.com. When not interviewing his favourite musicians and comedians, he can also be found putting on and promoting music and comedy events with The Purple Room in Winnipeg, or co-producing the live comedy game shows Pants on Fire and The Great Patio Showdown. (@comedygeek)
Comments Posted ()
Search SBM Archives