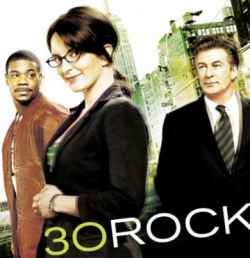 30 Rock: Sun Tea
Filed under: Recaps & Reviews
Liz's building is being converted into condo's and she doesn't want to buy her small one-bedroom apartment because she thinks she will need a bigger place once she has a husband and family. She doesn't want to leave either, however. Jack suggests that she try and bribe her upstairs neighbour to leave so she can buy both places.
Its green week and NBC wants to attempt to reduce power usage by 5% across the board. Jack puts Kenneth in charge of the effort on the set of 30 Rock. He pesters various staff members to do their part to help, largely without result. Jenna refuses to unplug any of her various appliances and Liz wont commit to giving up her office mini-fridge. The only person with an environmental conscience turns out to be Frank, who receives the office "green" award in recognition of his willingness to eliminate waste by eating leftover food and his system of making (and then disturbingly recycling) sun tea.

Liz cant convince her neighbour Brian to leave and he convinces her instead that they should move in together to share costs. She agrees, but immediately starts plotting ways to make him want to leave. She tries to play the "overdramatic female" card, but that doesn't work when he turns out to be gay. Next she tries to convince him that an angry and irrational Dot-Com is her scary-big boyfriend, but Brian turns out to be tougher than he looks and isn't fazed by him showing up in a cooked-up fit of jealous rage.

Jack is appalled when he sees the family squabbling caused by the legal battle being fought by Don Geiss's siblings over the family fortune. It is the final straw for him and he decides that he should get a vasectomy since he doesn't want children of his own. Tracy also decides to go that route (somewhat belatedly, however), since having Tracy jr. around is inconvenient for him, or as he puts it: "The Cosby show lied to me!". They book appointments with the frighteningly incompetent and always hilarious Dr. Spaceman (Chris Parnell). Both back out, though: Jack because he bonds with Tracy jr. and Tracy because he realizes that he wants a daughter.

In the end, green week inspires everyone in their own way. The 5% power savings are realized when Frank gets to re-instate his Sun-Tea system. Liz is inspired too, as she realizes what she must do to drive Brian out of their shared apartment. She drinks gallons of iced tea and then waits for Brian to get home. As he opens the door, she grabs a vase off the mantle, drops trou, and lets nature take its course right out in the living room. A disturbing ploy, to be sure, but she has no regrets- she got the apartment.
Tags: Tina Fey, Alec Baldwin, Tracy Jordan, Chris Parnell, 30 Rock
Related Posts
Comments Posted ()
Search SBM Archives