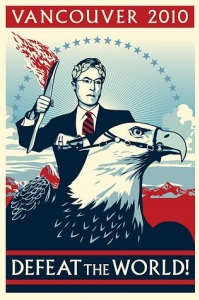 Late night talk show guests: February 22-28
Last week, most shows were in either repeats or pre-empted because of the Olympics, but this week almost every one is back on with new episodes. Not very much interesting actually happened over the last couple weeks since I last posted. Not that I want to keep going on about Conan O'Brien, but the only real news coming out in the last little while was rumblings that Conan might use his NBC-mandated time off of television to take his show on the road and perform in theatres across North America (and possible the world). That would certainly be a clever way to get around the contract stipulations where NBC hoped to kill some of Conan's buzz by keeping him off the air until September. We'll of course keep you updated on any developments.
That's about it, I think. My late nights the last week have been spent watching Olympic coverage. Here in Canada, it's pretty much wall-to-wall, with several Canadian networks broadcasting nearly 24-hour coverage (all in HD, too!). Plus, my satellite provider also has several free PPV channels that show events live in HD with no commercials or commentary -- so it's almost like being there. Plus, we still get NBC, and this year (unlike most other Olympics) they seem to be offering pretty balanced coverage overall.
But even with the Olympics dominating television, I'll still be checking out the ol' talk shows this week, especially these ones...
Colbert @ the Olympics (Monday-Thursday) – Stephen Colbert's Olympic movement finally comes to a head! After rallying the Colbert Nation to sponsor the U.S. Speedskating Team, sarcastically attacking Canadians, being named a part of NBC's broadcast team, and being named Assistant Sports Psychologist of the Speedskating Team... Colbert officially took his show to the Vancouver Olympics. He filmed the episodes last week, and they air this Monday to Thursday. I guarantee each episode is NOT to miss!
Tracy Morgan (Wednesday on Stewart) – Tracy Morgan was supposed to be on a while back, but for whatever reason had to cancel. But now, with his new movie Cop Out coming out soon, he's scheduled again. Tracy Morgan, of course, is one of the strangest people in the business. And the most hilarious.
Stephen Fry (Tuesday on Ferguson) – The incredibly humourous British comedian, sometimes Bones guest star, and former comedy partner of Mr. Hugh Laurie stops by The Late Late Show once again. His appearances with Craig are always a blast. Consider it the opposite of Lopez Tonight: high brow humour at its best.
Ricky Gervais (Monday on Stewart) – Ricky Gervais is always funny on The Daily Show. That should be enough. And it is.
Don Cheadle (Wednesday on Ferguson) – Did any of you watch Funny or Die Presents... on HBO on Friday night? If you did, you would've seen the first installment of "Drunk History" (well, the first televised installment), which featured Don Cheadle as Frederick Douglass and Will Ferrell as Abraham Lincoln mouthing the words of a drunk Jen Kirkman (watch the first part here). Anyway, he's such a great actor, but it's fun to see him do high concept comedy, as well. He should also be funny talking to Craig.
The Late Show with David Letterman (CBS)
Mon 02/22: John Travolta, Shaun White, Ben Harper & Relentless7 (Repeat)
Tue 02/23: Jamie Foxx, Amanda Seyfried, Robin Thicke (Repeat)
Wed 02/24: Bruce Willis, Ne-Yo (Repeat)
Thu 02/25: Drew Brees, Sandra Bullock (Repeat)
Fri 02/26: Harrison Ford, Lou Reed & The Blind Boys of Alabama (Repeat)
The Late Late Show with Craig Ferguson (CBS)
Mon 02/22: Parker Posey, Tom Everett Scott
Tue 02/23: Stephen Fry
Wed 02/24: Don Cheadle, Jeannette Walls
Thu 02/25: Seann William Scott, Jackie Collins
Fri 02/26: Quentin Tarantino
Late Night with Jimmy Fallon (NBC)
Mon 02/22: Pre-empted
Tue 02/23: Pre-empted
Wed 02/24: Pre-empted
Thu 02/25: Pre-empted
Fri 02/26: Pre-empted
Jimmy Kimmel Live (ABC)
Mon 02/22: Mel Gibson, Kate Micucci, Mayer Hawthorne (Repeat)
Tue 02/23: David Spade, The Trailer Park Boys (Rob Wells, Mike Smith & John Paul Tremblay), Miss Willie Brown
Wed 02/24: TBA
Thu 02/25: Gordon Ramsay, Ginnifer Goodwin, VV Brown
Fri 02/26: Kara DioGuardi, Daniel Merriweather
The Daily Show with Jon Stewart (Comedy Central, CTV)
Mon 02/22: Ricky Gervais
Tue 02/23: Jeff Garlin
Wed 02/24: Tracy Morgan
Thu 02/25: Martin Scorsese
The Colbert Report (Comedy Central, CTV)
Mon 02/22: Shaun White
Tue 02/23: Lindsey Vonn, Bob Costas
Wed 02/24: Scott Hamilton, Seth Wescott
Thu 02/25: Jeret Petersen, Ryan St. Onge
Last Call with Carson Daly (NBC)
Mon 02/22: Pre-empted
Tue 02/23: Pre-empted
Wed 02/24: Pre-empted
Thu 02/25: Pre-empted
Lopez Tonight (TBS)
Mon 02/22: Jennifer Love Hewitt, Pitbull (Repeat)
Tue 02/23: Ray Romano, Lake Bell, Mariah Carey (Repeat)
Wed 02/24: Ludacris, Elisha Cuthbert (Repeat)
Thu 02/25: Jamie Kennedy, Sofia Vergara, James Van Der Beek (Repeat)
The Hour with George Stroumboloupoulos (CBC)
Mon 02/22: Bill Maher, Vivica Fox, Hugh Dillon (Repeat)
Tue 02/23: Morgan Freeman, David Cross, John Irving (Repeat)
Wed 02/24: Cory Monteith, Eugene Levy, Norah Jones (Repeat)
Thu 02/25: Melissa Gilbert, Joey McIntyre, Louis Ferreira (Repeat)
Fri 02/26: Andrea Martin, Viggo Mortensen, Michael Douglas (Repeat)
Kevin Pollak's Chat Show (Online)
Sun 02/28: Nick Cassavetes
Tags: David Letterman, Craig Ferguson, Jimmy Kimmel, The Daily Show, The Colbert Report, Olympics, George Lopez, The Hour, Kevin Pollak, talk shows
Related Posts
Paul Little is the founder and Managing Editor of ShowbizMonkeys.com. When not interviewing his favourite musicians and comedians, he can also be found putting on and promoting music and comedy events with The Purple Room in Winnipeg, or co-producing the live comedy game shows Pants on Fire and The Great Patio Showdown. (@comedygeek)
Comments Posted ()
Search SBM Archives