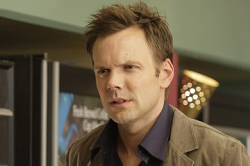 Late night talk show guests: March 29-April 4
Sorry folks! I was quite sick last Sunday, and with several shows airing repeats, I took that as an opportunity to get more sleep on Sunday and Monday (thus not posting these updates). I realize that it's probably not the best excuse, but it is mine none-the-less. However, I'm feeling better (as you would have been able to tell if you saw that I posted my Survivor recap), and so here is this week's list of guests!
I don't have much more interesting to say, except that I'm currently finally getting around to watching the One Year Anniversary episode of Kevin Pollak's Chat Show (which you can conveniently watch at the bottom of this page). It's over 3 hours long, so my advice would be to put it on in the background and listen, but it's totally worth checking out. Besides just talking about the the last year of the show -- which is a fascinating series of conversations with comedians, actors, filmmakers, and people in the tech world -- they also welcomed a bunch of past guests back to the show, including James Urbaniak, Mike Binder, Samm Levine, and several others. So if you have the time to listen or watch, be sure to check it out. It's quite entertaining, as is pretty much every show.
Anyway, here are my picks for what not to miss this week, followed (as always) by the entire late night guest listings:
Joel McHale (Monday on Ferguson) – I absolutely love Community. I watch pretty much every show on Thursday night in primetime network television -- seriously! -- and the one I most look forward to and make sure to watch first on the PVR is always Community. The entire cast is phenomenal, but it's lead by McHale, and the show would fail if he wasn't great in his role. He's also a hilarious talk show guest, especially when he talks about his crazy and strange son.
Jeff Goldblum (Monday on Fallon) – If you have a PVR or make use of online video viewing options, there's another guest on Monday night that is worth watching: Jeff Goldblum! He's on Late Night opposite McHale on The Late Late Show, but he's always so weird and absurd when he makes any kind of appearance that you're guaranteed to get a unique and very amusing segment. And if you can only watch one, well, I can't decide for you -- you must pick between the sarcastic actor with the straight delivery talking about his strange son and the strange actor with odd mannerisms talking about God knows what.
Lauren Graham (Monday on Leno) – I'm doing it -- I'm recommending someone check out Leno. It's unlikely I'll watch the show myself, because I still can't stomach watching the Leno Tonight Show, but Lauren Graham is beautiful and hilarious and awesome, and she's been great on Parenthood. (Though she's great in everything she does.) So if you can stand tuning into Leno, then there's no better guest to do it for than Ms. Graham.
She & Him (Friday on Letterman) – I love She & Him, and not just because one half of the group is the beautiful and talented Zooey Deschanel. The music they make (they being Zooey and the equally talented M. Ward) is a fascinating blend of more modern roots-folk and the classic folk and pop of the 50s and 60s. So check it out!
Elizabeth Mitchell (Monday on Kimmel) – So I haven't exactly watched the first four episodes of V that aired in the fall, but I love Elizabeth Mitchell. She was great during her run on Lost (and I hear she'll be back at some point before the season/series is over). She's a great actress, and I've never actually seen her on a talk show before, so I'm looking forward to it. You should, too, especially if you actually watch V and are anticipating its return.
The Late Show with David Letterman (CBS)
Mon 03/29: Robin Williams, American Idol castoff Paige Miles, Usher
Tue 03/30: Alan Jackson
Wed 03/31: Ricky Gervais, turkey callers, the Whigs
Thu 04/01: Sam Worthington, Patty Loveless
Fri 04/02: Nathan Lane, She & Him
The Tonight Show with Jay Leno (NBC)
Mon 03/29: Lauren Graham, Karl Rove, Joss Stone
Tue 03/30: Joy Behar, Thomas Haden Church
Wed 03/31: Bill Maher, Kendra Wilkinson, OneRepublic
Thu 04/01: Justin Bieber
Fri 04/02: TBA
The Late Late Show with Craig Ferguson (CBS)
Mon 03/29: Joel McHale, Ben McKenzie
Tue 03/30: Greg Kinnear, Amanda Righetti
Wed 03/31: Wanda Sykes, Anna Torv
Thu 04/01: Robin Williams, Jonathan Dancy
Fri 04/02: John Corbett, Joss Stone
Late Night with Jimmy Fallon (NBC)
Mon 03/29: Jeff Goldblum, Julian Casablancas
Tue 03/30: Edward Norton, Chuck Liddell, Moshe Kasher
Wed 03/31: Tyler Perry, Rosemarie DeWitt, Drive-By Truckers
Thu 04/01: Ricky Gervais, Mary Lynn Rajskub, Easton Corbin
Fri 04/02: Sam Worthington, Josh Topolsky, Liquid Liquid
Jimmy Kimmel Live (ABC)
Mon 03/29: Elizabeth Mitchell, Liam Hemsworth, Kevin Nealon
Tue 03/30: Miley Cyrus, the first Dancing with the Stars castoff, Erykah Badu
Wed 03/31: Tom Arnold, Greta Gerwig, Matisyahu
Thu 04/01: Carey Mulligan, "Science Bob" Pflugfelder, OK Go
Fri 04/02: TBA (Repeat)
The Daily Show with Jon Stewart (Comedy Central, CTV)
Mon 03/29: Ben Stiller
Tue 03/30: Robin Williams
Wed 03/31: Roxana Saberi
Thu 04/01: Edward Norton
The Colbert Report (Comedy Central, CTV)
Mon 03/29: Sen. Claire McCaskill
Tue 03/30: Simon Johnson
Wed 03/31: Craig Mullaney
Thu 04/01: Judith Shulevitz
Last Call with Carson Daly (NBC)
Mon 03/29: Lee Daniels, Roger Ross Williams, Fanfarlo (Repeat)
Tue 03/30: Snoop Dogg, Keane
Wed 03/31: Jesse Ventura, Doves
Thu 04/01: Victor Rasuk, Mishka
Fri 04/02: Greta Gerwig
Lopez Tonight (TBS)
Mon 03/29: Snoop Dogg, Annie Wersching, Foreigner
Tue 03/30: Ludacris, Clark Duke
Wed 03/31: Wendy Williams, Johnny Sanchez
Thu 04/01: Usher, Ron Artest
The Hour with George Stroumboloupoulos (CBC)
Mon 03/29: Liam Hemsworth, Suzanne Somers, Lyle Lovett
Tue 03/30: Ashleigh McIvor, Caroline Rhea
Wed 03/31: Christopher Knight, Michael Ignateuff, Mel Brooks
Thu 04/01: Michelle Forbes, Peter Nowak
Fri 04/02: Juliette Lewis, Peter Sarsgaard, Michael Moore
Kevin Pollak's Chat Show (Online)
Tags: David Letterman, Craig Ferguson, Jimmy Fallon, Jay Leno, Jimmy Kimmel, The Daily Show, The Colbert Report, The Hour, Kevin Pollak, talk shows
Related Posts
Paul Little is the founder and Managing Editor of ShowbizMonkeys.com. When not interviewing his favourite musicians and comedians, he can also be found putting on and promoting music and comedy events with The Purple Room in Winnipeg, or co-producing the live comedy game shows Pants on Fire and The Great Patio Showdown. (@comedygeek)
Comments Posted ()
Search SBM Archives