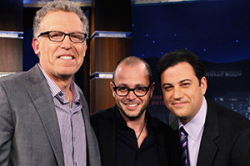 Late night talk show guests: May 17-23
Hello, friends! So how was your weekend? Good times? Up here in Winnipeg, the weather was gorgeous all weekend, so Saturday I did some car-aoke and Sunday was spent out at the park for some football and BBQ. Even though the calendar doesn't say so yet, it's so great that summer's here!
But with the summer comes the end of the broadcast television season. Some shows are ending for the season, and some are ending for good. And if you're as big a fan of Lost as I am, then you're well aware that this is the last week of that epic show EVER. After 6 seasons, there are only 3.5 hours (minus commercials) of Lost left, with Part 1 of the finale airing tomorrow night and Part 2 airing on Sunday night to close out the series. Because of this monumental television event, most of this week's must-watch list is Lost-related. We'll be back to our regularly-scheduled list of comedians and great character actors and actresses next week.
Jimmy Kimmel Live: Aloha to Lost (Sunday after the finale) – The finale airs from 8:00-10:30 this Sunday, pushing back ABC's local news a half hour. But following the re-scheduled local news at 11:05, ABC will be airing a special Sunday edition of Jimmy Kimmel Live featuring many of the stars, writers, and producers of the show. With everything in the series aired, there will be nothing off limits for this live show, so expect some great explanations, as well as some trips down memory lane. Since Jimmy's such a big fan of the show, and has done lots with Lost over the years, there's bound to be some great pre-taped bits as well.
Damon Lindelof & Carlton Cuse (Friday on Kimmel) – If you can't wait until the finale has aired to hear from Lost's co-creators, check out Kimmel on Friday night as Darlton sits down to talk about the upcoming final episode, and likely dole out a few hints and clues into what you might expect as the cult series comes to a close.
Matthew Fox (Monday on Letterman, Tuesday on Fallon) – Matthew Fox has said he's going to take some time off after Lost, possibly for good. Since this week may be the last you'll see of him for a long time, you better tune in! I doubt he'll be giving away much in the way of clues to the end of the show (the last scene of which he's reportedly known about for a few years), but these still should be fun interviews. Plus, as an added bonus, expect a new episode (possibly the conclusion) of Jimmy Fallon's spoof "series", Late (which, if you haven't seen any of it, is actually really well-done).
Josh Holloway (Thursday on Kimmel) – ABC has loaded its late night show with Lost guests to promote the finale, and Thursday night Sawyer himself, Josh Holloway, stops by JKL for a chat. Holloway's done a great job with Sawyer over the last 6 years, and I'm really looking forward to what he'll be up to next (unlike Matthew Fox, I wasn't familiar with Holloway's work prior to Lost). In the meantime, tune in to try and pick up on any clues for the finale.
Jorge Garcia (Tuesday on Lopez, Friday on Fallon) – The other Jimmy loves Lost, too, so even though his show isn't on ABC, he's got a second Lost-related guest on this week (after having Evangeline Lilly on last Tuesday). Garcia's always a fun guest on talk shows, and while he'll not likely give anything up about the show, he always has great insight into the behind-the-scenes dynamic. And he'll also be stopping by TBS to talk with George Lopez.
Billy the Kid (Thursday on Strombo) – As a bonus #6 this week, there's a non-Lost-related guest you have to check out! Billy the Kid is a great singer-songwriter and former punk guitarist whose last album was produced by Our Lady Peace's Raine Maida. Besides me, another big fan of hers is George Stroumboloupoulos, and so with The Hour taping shows on the road in Vancouver this week, former Vancouverite Billy the Kid returns home to be a guest on his show (Maida's also on Thursday's show). Check out her music here!
The Late Show with David Letterman (CBS)
Mon 05/17: Matthew Fox, Zac Brown Band, American Idol castoff Michael Lynche, Jason Randal
Tue 05/18: Jonah Hill, Janelle Monae, John Carney, a Top Ten List presented by Miss USA
Wed 05/19: Russell Brand, Johnny "Ace" Palmer, Stone Temple Pilots
Thu 05/20: Katherine Heigl, Steve Cohen, Band of Horses
Fri 05/21: Ashton Kutcher, Larry Miller, Michael Ammar, Brooks & Dunn with Reba McEntire
The Tonight Show with Jay Leno (NBC)
Mon 05/17: Bill Cosby, Ricky Gervais, Taio Cruz
Tue 05/18: Michael Douglas, Charles Barkley, Joe Nichols
Wed 05/19: Eddie Murphy, Carrie Ann Inaba, Bruno Tonioli, Damian Marley with Nas
Thu 05/20: Chelsea Handler, Chris Matthews, Sarah McLachlan
Fri 05/21: Kiefer Sutherland, Mary Lynn Rajskub, Adam Lambert
Jimmy Kimmel Live (ABC)
Mon 05/17: Mickey Rourke, Jorge Garcia, Pamela Anderson (R 5/4/10)
Tue 05/18: Ryan Phillippe, Beth Ostrosky Stern, Dirty Heads (R 5/13/10)
Wed 05/19: Michael Douglas, Atticus Shaffer, Reflection Eternal featuring Estelle
Thu 05/20: Josh Holloway, Adam Perry Lang, Slayer
Fri 05/21: Teri Hatcher, Damon Lindelof & Carlton Cuse, Massive Attack
Sun 05/23: Aloha to Lost Special (at 11:05
The Late Late Show with Craig Ferguson (CBS)
Mon 05/17: Archbishop Desmond Tutu (Repeat)
Tue 05/18: Jon Favreau, Jakob Dylan
Wed 05/19: Dennis Quaid, Alice Eve
Thu 05/20: Holly Hunter, Vampire Weekend
Fri 05/21: Ben Kingsley, Court Yard Hounds
Late Night with Jimmy Fallon (NBC)
Mon 05/17: Randy Jackson, David Boreanaz, the Survivor final 3 (Sandra, Parvati, Russell), Public Image Ltd.
Tue 05/18: Matthew Fox, Jane Lynch, Ray Wylie Hubbard
Wed 05/19: Jerry Seinfeld, Jesse Eisenberg, Mike Bender & Doug Chernack, Mumford & Sons
Thu 05/20: Will Forte, Jim Parsons, John DeLucie
Fri 05/21: Donald Trump, Jorge Garcia, Robbie Dupree
The Daily Show with Jon Stewart (Comedy Central, CTV)
2 weeks of repeats (guests TBA)
The Colbert Report (Comedy Central, CTV)
2 weeks of repeats (guests TBA)
Last Call with Carson Daly (NBC)
Mon 05/17: Aaron Paul, Shooter Jennings, 311 (Repeat)
Tue 05/18: B.o.B., Mike Massimino
Wed 05/19: Chuck Palahniuk, Mike Scotti, Never Shout Never
Thu 05/20: V.V. Brown, She & Him
Fri 05/21: Jesse Eisenberg, Puppet Up
Lopez Tonight (TBS)
Mon 05/17: Donald Trump, Julie Bowen, Weezer
Tue 05/18: Common, Jorge Garcia, Bobby Slayton
Wed 05/19: Chris Noth, Chilli, Allison Iraheta
Thu 05/20: Ryan Phillippe, Niecy Nash, Mario Lopez
The Hour with George Stroumboloupoulos (CBC)
Mon 05/17: Paul Henderson, Sarah Polley
Tue 05/18: Neill Blomkamp, Betty Fox (from Vancouver)
Wed 05/19: Rick Hansen, MP James Moore (from Vancouver)
Thu 05/20: Raine Maida, MP Julio Montaner, Nancy Robertson, Billy the Kid (from Vancouver)
Fri 05/21: TBA
Kevin Pollak's Chat Show (Online)
Sun 05/23 (3pm PST): Greg Proops
Tags: David Letterman, Craig Ferguson, Jimmy Kimmel, Jimmy Fallon, Jay Leno, George Lopez, The Hour, Kevin Pollak, Lost, talk shows
Related Posts
Paul Little is the founder and Managing Editor of ShowbizMonkeys.com. When not interviewing his favourite musicians and comedians, he can also be found putting on and promoting music and comedy events with The Purple Room in Winnipeg, or co-producing the live comedy game shows Pants on Fire and The Great Patio Showdown. (@comedygeek)
Comments Posted ()
Search SBM Archives