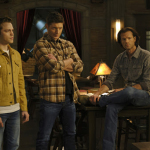 Posted by: Kyle Tetarenko • October 30, 2020 @ 3:34pm
The end is nigh.
After seeing the signs of his return in the stars, Amara knows that Chuck is back. After arriving at the bunker, she tells Sam and Dean that the time is now. With one final ritual remaining, Jack and Dean hit the road but Sam stays behind.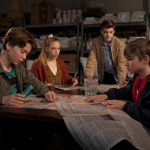 Posted by: Kyle Tetarenko • October 22, 2020 @ 10:51pm
Every motel has a sad story.
Travis John arrives at Rooster's Sunrise Motel late at night. He's tired, scared and wants to be anywhere else but there. Something deep inside pushes him to carry on and check into room 214. After settling in, he takes a swig of whiskey before something old, dark and violent slinks out of the closet.
Posted by: Kyle Tetarenko • October 19, 2020 @ 9:42pm
The darkness returns.
At Patchwork, a community place or worship, the weary can take shelter within its walls because all are welcome, regardless or circumstance, faith or creed. While walking home from volunteering, Conner hears someone call his name in the alley for help but when moves closer to get a better view, he's attacked and taken.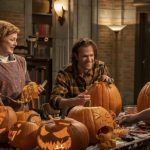 Posted by: Kyle Tetarenko • October 18, 2020 @ 11:07pm
Stand by for full power.
When more and more mechanical issues start creeping up in the bunker, Dean knows it's time to roll up their sleeves and fix the problem. After going into the boiler room, he and Sam notice that the power is noted to still be in standby mode.
Posted by: Kyle Tetarenko • April 6, 2020 @ 12:17am
There's always another rift in Supernatural.
After briefly crossing paths with some alternate reality versions of themselves in the armory, the Winchesters get a visit from none other than the head reaper herself, Billy. Step two of her plan is for the team to find a relic called the Occultum.
Posted by: Kyle Tetarenko • March 16, 2020 @ 9:32pm
So God walks into a Radio Shed...
When browsing the latest selection of TVs and home theatre equipment, the sales associate shows Chuck all of the options that he has available. There's so many that Chuck realizes he doesn't need more – he needs less.
Posted by: Kyle Tetarenko • January 30, 2020 @ 11:14pm
How the Winchesters got their groove back.
Desperate to get back to their old selves for the inevitable battle to end all battles with god, the Winchesters are off to Alaska on a quest to get their luck back. Back at the bunker, Castiel gets home but finds nothing but a note from Sam letting him know where they went. Moments later, the bunker gets a phone call.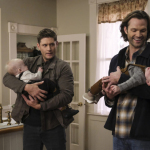 Posted by: Kyle Tetarenko • January 23, 2020 @ 9:01pm
Let's get ready to rumbllllllleeeee.
It's a normal day in Lebanon, Kansas as Dean runs errands and Sam gets dinner ready back at the bunker. Everything seems fine until Dean tries to pay for his snacks and beer when his golden ticket credit card from Charlie is declined and Sam ruins dinner. It's a few minor things going wrong but Dean feels like something is definitely up.
Posted by: Kyle Tetarenko • January 16, 2020 @ 10:10pm
What is the world without god?
After playing into Chuck's hands, Sam and Eileen find themselves tied to chairs inside a casino. Chuck has them right where he wants them and intends to sever the connection he shares with Sam. To do that, he needs to cut into Sam's wound with a scalpel.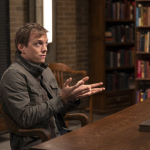 Posted by: Kyle Tetarenko • January 11, 2020 @ 7:04pm
The return of Adam Milligan... and the archangel Michael.
It took them a while, but Dean finally has an idea on how they can find god's weakness – the demon tablet. With that, they bring it to the single, soulless prophet of the lord in Donatello.
Search SBM Archives