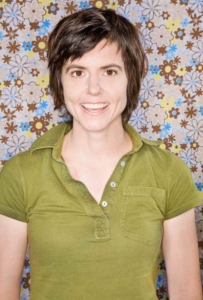 See the hilarious Tig Notaro (and friends) live at Largo in L.A. on April 30th!
If you're like me (and I know some of you are), you love to seek out comedy wherever you can. It's the main reason why I watch so much late night television -- it's a great place to see great comedy every night. And while you'll (usually) get great comedy from the shows' hosts and their writers, we're really lucky when a stand-up comedian performs. One performer who's made the rounds on many late night shows, including Jimmy Kimmel Live and The Late Late Show with Craig Ferguson, is one of the best deadpan comics out there, Tig Notaro.
This Friday, April 30th, you can see Notaro live in Los Angeles at Largo at the Coronet along with the cast Comedy Central's The Sarah Silverman Program (a show in which she has a recurring part herself). This week's show is just one in a series of monthly shows from Notaro at Largo. Last month's "Tig & Friends" show featured the cast of Parks & Recreation doing music, stand-up, and a sit-down interview with Notaro, and was even called, "an evening to remember" by Campus Circle. If you're in L.A. on the 30th, how on earth can you turn down the chance at an evening to remember?
Besides the Largo shows, her late night appearances, and her role on The Sarah Silverman Program (currently airing its 3rd season, by the way), Notaro has been featured at the Montreal Just for Laughs Festival, the Aspen HBO Comedy Arts Festival, and the Melbourne Comedy Festival. And if Notaro's amazing resumé and the opportunity to see Sarah Silverman, Brian Posehn, and company hasn't yet convinced you to hit up this show, how about seeing some Tig Notaro comedy for yourself?
So now that you're thoroughly convinced to see the show at Largo, you need to know how to get in. Tickets can be purchased in advance by calling 310-855-0350 or heading down to the Largo box office (366 N. La Cienga Blvd.) between 2 and 6pm this Wednesday or Friday. Or you can take your chances and buy them the night of the show (cash only), but take note, last month's show featuring the cast of Parks & Rec sold out.
And if you're not going to be in L.A. on the 30th, be sure to check out Tig Nation to see if Notaro is coming to a city near you, as she's got lots of tour dates booked for May and beyond.
Tags: Tig Notaro, live comedy, Los Angeles, The Sarah Silverman Program, Sarah Silverman, Brian Posehn, Largo at the Coronet
Related Posts
Paul Little is the founder and Managing Editor of ShowbizMonkeys.com. When not interviewing his favourite musicians and comedians, he can also be found putting on and promoting music and comedy events with The Purple Room in Winnipeg, or co-producing the live comedy game shows Pants on Fire and The Great Patio Showdown. (@comedygeek)
Comments Posted ()
Search SBM Archives