Opening weekend at JFL Toronto 2023
Filed under: Reviews, Festivals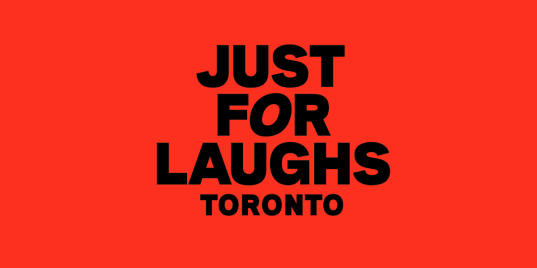 Summers in Toronto are magical, and the Just for Laughs comedy festival is a perfect way to end one with a bang. It's 10 days of your favourite entertainers, the weather is right, and last call stretches 'til the wee hours.
As someone in the funny business, I often struggle between the urge to see and be seen, and the pleasure of my couch + a cozy list of grievances. But this year I was hell bent on going all out. And, after opening weekend, I have both achieved my goal and taken years off my life. Luckily, my memory will live on in the many new best friends I've made. If only I knew any of their names. Follow me as I change to present tense in an attempt to hold your attention:
On Thursday I start my JFL with Ron Funches at The Royal. He's so hilarious in such a specific-to-him way, he'll make my "can't miss" list every time. When Ron takes the stage, it's clear he knows exactly what we want: a gentle delivery of some quirky slice of life comedy with a dash of pop culture commentary. This year, he's got a hint of world weariness that makes his positive resolve that much sweeter. At the end of the show, a woman sitting beside me gives him a solo standing ovation and he lingers on stage, smiling and taking it in.
I wander outside and instantly run into a bunch of the comics from New Faces, many of whom have flown across Canada to be here. That includes my friend Spencer Adamus from my old life in Winnipeg. Spencer is a man who continues to surpass me professionally, but embarrasses himself socially in equal measure. So I don't mind if we stay friends. I take the gaggle of performers over to Old School on Dundas, pointing out some landmarks along the way. I tell them the Monarch Tavern is the oldest bar in Toronto which, as it turns out, is not true, but it made everyone very excited, so who cares?
Local dynamos Dana Smith and Angie St. Mars are running a show at the charming restaurant/venue and the lineup is stacked, so I order a tiny cup of guacamole and stay a while. From there, we walk to Comedy Bar for the Alternative Show – a time honoured JFL tradition. I cozy up next to an arrangement of comedy friends, and I have vastly different levels of familiarity with each of them. It's something that would normally give me social anxiety but we're in the dark, we're giggling, and we feel like a family.
The night ends huddled around a table at Laziza Mediterranean, everyone's mouths wet with various sauces as we make plans that will never actually happen.
I head home, pointing at everyone in that way you do when you're walking away. It's like you're saying, "You? You've got it, kid. You're going places. And I'm going to borrow your JFL Guest Pass so I can go with you."
Friday starts at sukhoTHAI on Front street for Spencer (ugh, him again)'s birthday. From there, we head to the New Faces showcase at The Garrison on Dundas West. I'd say who my highlights were but everyone was so good and Brendan D'Souza is my roller skating instructor so I'm biased.
The show ends and there's more saucy food to be eaten. Then we're finding makeshift ways to clean our greasy mitts and heading to a ritzy Netflix after party at Chef's Hall. I'm told this is basically an upscale food court and I say, "Chyeah maybe an upscale food court Carrie Bradshaw would go to!" and I'm almost 40 so I mean that as a compliment.
Patti Harrison is here and looking effortlessly cool. I think of saying hi but choose instead to lock eyes with local Producer/Bestie Susan Waycik. We make nervous faces at each other for a bit and I think everyone, including Patti, prefers that option.
It's a good party. I'd love to be all hip and say it's not, but it's got everything I like. They're playing agreeable music and it's not too loud, people keep taking pictures with big flashing cameras, and servers who look like supermodels are offering me tiny plates of free food. And I like it, because it's not like that other time a dazzling person offered me free food. I know that, because I don't end the night in an MLM.
So we rub elbows and drink drinks and pile into an Uber because it's the middle of the night and we wanna catch Late Bad – another JFL tradition at Comedy Bar. We arrive and it's the singing, shouting, dancing, balloon-popping time everyone wants it to be. We're happy and drunk and standing outside in the cool air, making more empty promises as we reach into a communal bag of nuggets.
Just as my Uber arrives, I get invited to a vampire-themed dance party. I'm feeling like, despite my complicated feelings about the industry at large, and the fact that I've still never performed at this festival, the comedy scene is a place I belong. And JFL always comes up just as I need to be reminded of that, which is pretty convenient and very nice.
And if you want to know how Saturday and Sunday went, just read this article again, because I'll be stuck in this greasy giggly loop 'til the fest is out.
JFL Toronto runs through September 30 at venues around Toronto, ON. You can get tickets and find more info at toronto.hahaha.com.
Tags: JFL Toronto, Just for Laughs, Ron Funches, Spencer Adamus, Dana Smith, Angie St. Mars, Comedy Bar, Brendan D'Souza, Patti Harrison, Susan Waycik
Related Posts
Melanie Dahling is a Toronto-based comedian and writer, and is part of the Howl & Roar Records team.
Comments Posted ()
Search SBM Archives