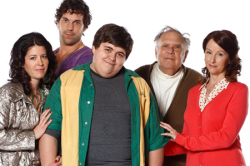 Canadian comedy Less Than Kind returns tonight for a second season on a new network
Filed under: Interviews
From the opening strums of the guitar on The Weakerthan's "One Great City", the entire feel of Less Than Kind is set. The characters aren't really pleasant, happy people. They're like most Winnipeggers (the setting for the show and the subject of its theme song): they complain, they're generally miserable, and they refuse to admit how good they have it. But they're also sarcastic and sardonic and oh so fun to watch!
The darkly humourous Canadian sitcom returns tonight (February 19th) at 8:30pm ET/7:30pm CT on HBO Canada after airing on CityTV for its first season. At its core, it's a classic story of a nerdy kid (Sheldon Blecher, played by Jesse Camacho) having to not only deal with problems at school, but plenty more at home. However, these aren't your usual, garden-variety sitcom problems. Sheldon's father Sam is one extra order of bacon away from a heart attack, and has anger issues to boot; his mom is an emotional mess who also happens to be a bit of a secret pyromaniac; his older brother is a self-absorbed actor back in town (and sharing his room!) after a bit of success preceded a lot of failure; and he's also incredibly smart, sweet, and overweight -- all traits that make him less than popular at school. Being set in Winnipeg only adds to the overall bleakness of Sheldon's situation.
Having said all that, the show is a comedy, and so while the less-than-cheery situations surrounding Sheldon and his family help aid the dramatic moments of the show, they even more so add to the comedy. Helping to find that comedy is Kids in the Hall member Mark McKinney, who was executive producer and script supervisor for the first season, but has expanded his role to become showrunner for season two. Along with creators Marvin Kaye and Chris Sheasgreen, McKinney knew early on that the show was exactly the kind of thing he wanted to put out there. During a set visit during the filming of the second season, McKinney explained why he was on board almost from the beginning.
"It had heart," McKinney said of the initial outlines Kaye and Sheasgreen showed him. "I don't know why, but I'm attracted to that stuff lately. And... you could see that it had real legs -- there was a real dynamic between the characters."
More Freaks and Geeks than Malcolm in the Middle, Less Than Kind draws its humour from the situations that many of us can relate to in the show (even if you didn't have a family like the Blechers, you probably knew one who was). From Sam's health scares and money troubles to Sheldon's unrequited love for a girl who only sees him as a friend (or more so, a doormat), the first season saw plenty of absurd situations handled and maneuvered in a way that real people would (rather than typical sitcom-like characters).
Unfortunately, in trying to keep things as realistic as possible, Less Than Kind tended to push the boundaries of a network show -- even a Canadian network. Though CityTV did originally pick up the show for a second season, it seemed natural that HBO Canada would step in and bring it to premium cable.
"It's rare that you have something that's funny -- that's actually funny, not just trying to be funny, just low-brow humour," said Benjamin Arthur, who plays Sheldon's older brother Josh, back in Winnipeg with no money but plenty of ego. "It is Canadian humour -- it's completely self-depricating, of course -- but it doesn't feel Canadian."
That sense -- that the show doesn't feel Canadian -- is something that until recently was almost unheard of from a Canadian-made show using Canadian funding. Far too many series have come and -- thankfully -- gone where the production value, writing, and even acting just didn't measure up to what was being made south of the border and elsewhere. Whether it was a case of lower production budgets, or all the best writers and actors heading south, there was a long time where anything pronounced as a "Canadian sitcom" would immediately be dismissed as sub-par.
Less Than Kind has been one of the shows in recent years -- along with cross-border hits Flashpoint (CTV/CBS) and Being Erica (CBC/SoapNet) -- proving that if you get the right people involved, the show can not only look as good as its American counterparts, but the acting and writing can match up with (and in some cases, exceed) the work being done elsewhere. Bringing in talented veterans like McKinney and respected character actor Maury Chaykin (WarGames, Dances with Wolves, Entourage) don't hurt, either.
That kind of pedegree involved with the show certainly brings the best out of the younger stars that play the teenaged cast. Even if they were a bit overwhelmed at first.
"The experience is incredible," said Camacho on working with the talented cast and crew in his first lead role. "Last year, it was kind of all of a sudden, and 'Oh my God, this is a show run by Mark McKinney!' who I was a big fan of. It was a lot to take in at first, but all in a great way."
Tyler Johnston, who has guest-starred on U.S. shows like Smallville and Supernatural, joined the show for its second season, and did feel things were a bit different on the Less Than Kind set than what he was used to.
"It's more intimate," he told us. "It's everyone's baby. All the writers and all the producers are so passionate about it, and they love what they're doing. And that works all the way down the chain. It's great to work on a show that everyone cares about."
The setting of the show is also integral to both the story and the production. The Blechers live in the North End of Winnipeg -- lovingly portrayed on screen in all its browns and greys -- and the shots of dirty and snowy streets, industrial buildings, and working-class homes add a unique character to Less Than Kind. The show also stars Winnipeg actors in significant roles. Lisa Anne Durupt, a Winnipeg theatre veteran, joined the show during the first season as Josh's girlfriend, Shandra. And Brooke Palsson, a young Winnipeg actress whose first ever comedy audition was for a small role as Sheldon's nerdy classmate, Miriam, impressed producers enough to keep her on full-time -- to the point where she is very much one of the key stars of the show.
Production values, great writing, solid acting, and passion for the project are all fine and well. But is that enough to get you to tune in? Critics have compared the show favourably to Arrested Development and Weeds, which is high praise (and not unreasonable, either), so that could be a start.
Don't care what critics think? Maybe it's familiar faces that also happen to be funny and talented. Shaun Majumder (reprising his role from the first season) and Dave Foley both make guest appearances in season two.
The show's first season also received some industry acclaim. Benjamin Arthur won a LEO Award -- honouring British Columbia TV and film production -- for "Best Supporting Performance by a Male in a Dramatic Series", despite being the only non-B.C. production nominated in any category (Arthur is a native Vancouverite, mind you). The show's first season also received 10 Gemini Award nominations -- including "Best Comedy Program or Series", "Best Writing in a Comedy or Variety Program or Series" for Mark McKinney, and "Best Individual Performance in a Comedy Program or Series" for both Arthur and Brooke Palsson. It even took home a Gemini for "Best Direction in a Comedy Program or Series".
And if that's not enough to convince you, just take a peek at the season two promo yourself over at the HBO Canada website for the show.
Look for a Less Than Kind video feature on ShowbizMonkeys.com very soon -- including behind-the-scenes footage and interviews with McKinney, Kaye, Sheasgreen, Camacho, Arthur, Johnston, Palsson, Durupt, and guest star (and friend of ShowbizMonkeys.com) Aaron Merke.
Tags: Less Than Kind, HBO Canada, Jesse Camacho, Maury Chaykin, Benjamin Arthur, Brooke Palsson, Tyler Johnston, Lisa Anne Durupt, Canadian television, sitcom
Related Posts
Paul Little is the founder and Managing Editor of ShowbizMonkeys.com. When not interviewing his favourite musicians and comedians, he can also be found putting on and promoting music and comedy events with The Purple Room in Winnipeg, or co-producing the live comedy game shows Pants on Fire and The Great Patio Showdown. (@comedygeek)
Comments Posted ()
Search SBM Archives