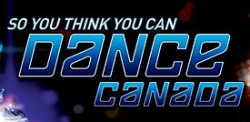 SYTYCD Canada: 20 to 18
Filed under: Recaps & Reviews
So tell me: How'd the pairings turn out for you? Any of your predictions or wildest dreams come true? How'd you feel about that overrated jive from Danny & Allie? Was Izaak & Kaitlyn together the cutest thing on four legs you've ever seen?
And the results beyond the jump...
Personally I'm a little upset that they didn't kick off Natalli and Dario when they had the chance, because I think both Bre and Kevin were excellent this week and had the potential to be amazing further on. But I haven't seen the solos yet (for which I am irate at my PVR) or heard the judges' reasons, so I'll wait and see if it makes sense later.
What about those of you who saw it? Was their reasoning clear? Or was it a crazy choice?
Tags: sytycdc, sytycd canada, leah miller, dance, canada
Related Posts
Original Comments Posted (1)
swishy5 says...
I liked the jive and didn't find it overrated. But I love Allie so maybe that had something to do with it. I think Nico and Arasay (I think I spelled that wrong) are good partners. I also LOVED Lisa and Vincent. SO GOOD. I hope they keep doing well and stick around.
I was also very surprised they didn't get rid of Natalli. She is going to make every routine suffer b/c she can't count and is not going to be able to do choreography properly. I was surprised about that. I am not surprised that Kevin went just b/c I knew they wouldn't get rid of the other two guys. They love Dario's unique solo style and I didn't think they'd get rid of him yet. I kind of like his solos too actually.
Oct 10, 2008 12:38pm
Comments Posted ()
Search SBM Archives