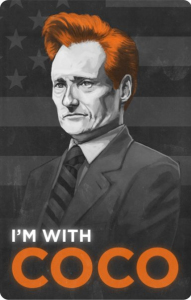 Late night talk show guests: January 18-24 (plus, "I'm with CoCo")
Well folks, it looks like we're gearing up for the final week ever of The Tonight Show with Conan O'Brien. Launched less than 8 months ago on June 1, 2009 (check out our interview with Conan staffer Aaron Bleyaert posted that day), the show will most likely air its last original episode with Conan O'Brien as host this Friday, January 22, 2010. After the Winter Olympics break (where NBC will be losing $200 million by airing the Vancouver 2010 Winter Olympic Games for 2 weeks), Jay Leno will return to once again host the show that bore his name from 1992-2009.
While the "t"s still need to be crossed and the "i"s dotted, it's rumoured that NBC will be buying out the rest of Conan O'Brien's contract with the network (which was to keep him as host of The Tonight Show for a minimum of 3 years). We mentioned last Monday how things were beginning to get crazy over at NBC, and then on Tuesday posted Conan O'Brien's own comments on the situation, where he declined NBC's plan to move The Tonight Show back to a 12:05am starting point. But over the past week, things in late night just got crazier and crazier.
With reports on TMZ, TheWrap, and The New York Times coming out daily on the status of negotiations between NBC and Conan, the entire late night community was taking the opportunity to go after the laughing stock that NBC has become. Jay Leno was cracking "jokes" mostly at NBC's expense; David Letterman got into the mix by going after Leno (the whole thing must've seemed all too familiar for him) and also his former employer, NBC; Jimmy Kimmel did an entire show AS Jay Leno (the best satirizing I've seen in ages -- and a repeat of that show airs tonight!) and then appeared on The Jay Leno Show for the '10 @ 10' segment where he took a stupid but light-hearted segment and just gave it to Leno (video is embedded below); and Conan himself was using the opportunity to write great comedy pieces going after NBC (both blatantly and subtly), as well as taking a few shots directly at Leno (a couple Conan videos from last week are also embedded below).
This week also saw a groundswell of support for Conan O'Brien -- from tweeters posting with the #teamconan hash on Twitter.com in support, to celebrity endorsements, and everything in between. TVGuide.com had a poll (and we all know how scientific internet polls are!) that showed 82% of people wanted Conan to remain host of The Tonight Show. CBC.ca hosted its own poll asking which of the late night talk show hosts was their favourite, with Conan receiving over 40% of the votes (Letterman was in second with just under 25%). The internet community also started to dig up old articles and videos, such as this 1992 article from The New York Times where Leno cried foul after NBC seemingly tried to replace him early on in his Tonight Show stint with Letterman (seems oddly familiar, doesn't it?) and a clip from the 2004 Tonight Show (embedded below) when Leno explained why he'd be passing on the torch to Conan in 2009 (he may not remember things from 18 years ago, but can't he recall what he said 6 years ago?).
And while NBC's own "Dick Cheney", Jeff Zucker, tried to rally his own troops behind the anti-Conan camp (NBC Sports' Dick Ebersol had some harsh, if mostly inaccurate, comments about Conan personally and professionally), most of the vocal support has definitely been in the "I'm with CoCo" camp. To top it all off, Conan's Tonight Show ratings grew throughout the week, first handily beating David Letterman in the key 18-49 ratings on Tuesday, then surpassing the primetime Jay Leno Show in 18-49 ratings on Wednesday, and by Friday's show, surpassing David Letterman in the household ratings for the first time in ages.
On a personal note, my love for late night television began in September of 1993. I was 11 years old, and I had stayed up to watch the launch of a brand new television show: Late Night with Conan O'Brien. Even though that first show -- and months (to some, years) of shows following it -- were lambasted by critics, I was still hooked. I followed Conan and his show for its entire 16-year run, eventually spanning out to watch all sorts of late night television (even some of the earlier Jay Leno years). Late night had the sense of humour I could most identify with, but especially Conan and his Late Night show -- which over the years employed great comedy writers and performers such as Louis C.K., Robert Smigel, Brian Stack, Jack McBrayer, Amy Poehler, Andy Blitz, Brian McCann, Jon Glaser, Kevin Dorff, Demetri Martin, and more.
So I was overjoyed when it was announced Conan would take over The Tonight Show, as my love for the medium of late night talk shows and that style of comedy had enlightened me to the grand history of the whole thing, but especially the legacy of Tonight. Even if he had to get a little "safer" with his comedy, I knew it was important that an intelligent writer and brilliant performer like Conan would be taking over the long-running franchise. And though, in some ways similar to his early days on Late Night (though with way more experience behind him), those first couple months of Conan hosting The Tonight Show were still a bit shaky, I knew he and his staff would grow into their new roles and eventually the show would begin to shine. Unfortunately, it was never truly given the opportunity.
With Jay now returning to The Tonight Show after the Olympics, I consider it the end of an era. It isn't just because there's uncertainly when (and even if) Conan will end up back on late night television -- it's not just the end of the Conan era. No, with Jay stubbornly returning to the show he was supposed to graciously give up, it's proven that NBC is fine with The Tonight Show being safe, easy, "family" entertainment. And that isn't The Tonight Show, as far as I'm concerned. They had the opportunity to return the show to the creative heights it reached during Johnny's years, but they failed to do so. So The Tonight Show, my friends, is dead. If not in name, then certainly in spirit.
Make sure to check out all the shows this week -- if nothing else, it'll be a historic week in television broadcasting, but it should be pretty funny, too, especially given some of the great people they've now lined up for the final shows! (There are also some great guests on other shows this week, but I'll refrain from my picks for one more week, since you've already read enough of my ramblings. Although the aforementioned Dick Ebersol is on The Colbert Report this Wednesday, which probably shouldn't be missed.)
The Tonight Show with Conan O'Brien (NBC)
Mon 01/18: Martin Scorsese, Colin Firth, Cirque du Soleil's "Kooza"
Tue 01/19: Quentin Tarantino, Paul Bettany, Spoon
Wed 01/20: Adam Sandler, Joel McHale, Joss Stone
Thu 01/21: Robin Williams, Barry Manilow
Fri 01/22: Tom Hanks, Will Ferrell, Neil Young
The Late Show with David Letterman (CBS)
Mon 01/18: Kristen Bell, Randy Jackson, Charlotte Gainsbourg
Tue 01/19: Dwayne Johnson, the Swell Season
Wed 01/20: Claire Danes, Will Arnett, James Taylor & Carole King
Thu 01/21: Harrison Ford, Blind Boys of Alabama with Lou Reed
Fri 01/22: Catherine Zeta-Jones, Jeff Stilson, the Heavy
Late Night with Jimmy Fallon (NBC)
Mon 01/18: Ashley Judd, Jimmie Johnson, the Cribs
Tue 01/19: Randy Jackson, Paul Teutul Sr., the Mountain Goats
Wed 01/20: Switchfoot
Thu 01/21: Queen Latifah, a performance by the Broadway cast of "Fela!"
Fri 01/22: Brendan Fraser, Tracey Ullman, Beach House
The Late Late Show with Craig Ferguson (CBS)
Mon 01/18: Marion Cotillard, Steve Jones
Tue 01/19: Alan Alda, Anna Kendrick
Wed 01/20: Keri Russell, Jake Johannsen
Thu 01/21: Adam Goldberg, Abbie Cornish
Fri 01/22: Jamie Hyneman & Adam Savage, the HotRats
Jimmy Kimmel Live (ABC)
Mon 01/18: (Jimmy as Jay Leno) Chevy Chase, Elisha Cuthbert, Melanie Fiona (Repeat)
Tue 01/19: Dennis Quaid, Ty Burrell, Orianthi
Wed 01/20: Paul Bettany, Bachelor Jake Pavelka, Pearl
Thu 01/21: Dwayne Johnson, Dwayne Kennedy
Fri 01/22: Jared Harris, Heartless Bastards
The Daily Show with Jon Stewart (Comedy Central, CTV)
Mon 01/18: David M. Walker
Tue 01/19: Colin Firth
Wed 01/20: Jim Wallis
Thu 01/21: Julie Andrews
The Colbert Report (Comedy Central, CTV)
Mon 01/18: Dr. Margaret Palmer, Emily Pilloton
Tue 01/19: Amb. Stephen Bosworth
Wed 01/20: Dick Ebersol
Thu 01/21: John Farmer
Last Call with Carson Daly (NBC)
Mon 01/18: Weezer (Repeat)
Tue 01/19: Adam Scott, Leticia Bufoni, the XX (Repeat)
Wed 01/20: David Duchovny, Tor Hamer, Anya Marinan (Repeat)
Thu 01/21: Dita Von Teese, Tanith Belbin, Ben Agosto, Ben Gleib (Repeat)
Fri 01/22: Joel David Moore, David Guetta, Gossip (Repeat)
Lopez Tonight (TBS)
Mon 01/18: Amber Valletta, Mark Valley, Christian Lander
Tue 01/19: Brendan Fraser, Khloe Kardashian, Lamar Odom
Wed 01/20: Tyrese Gibson, Betty White, Hannibal Buress
Thu 01/21: Samuel L. Jackson, Omarion
The Hour with George Stroumboloupoulos (CBC)
Mon 01/18: Harrison Ford, John Cassidy
Tue 01/19: Joey McIntyre, Vincent Nguyen
Wed 01/20: Jann Arden, Greg Mortensen
Thu 01/21: Cheryl Tiegs, Kent Annan
Kevin Pollak's Chat Show (Online)
Tags: The Tonight Show, Conan O'Brien, Jay Leno, Jimmy Kimmel, I'm with CoCo, Jeff Zucker, NBC, insanity, Kevin Pollak, talk shows
Related Posts
Paul Little is the founder and Managing Editor of ShowbizMonkeys.com. When not interviewing his favourite musicians and comedians, he can also be found putting on and promoting music and comedy events with The Purple Room in Winnipeg, or co-producing the live comedy game show Pants on Fire. (@comedygeek)
Original Comments Posted (1)
thetaskmaster says...
Shocked NBC would do this just when they fiiiinally got rid of Leno, they have the audacity..
That Kimmel clip is amazing.

Kimmel's not very charismatic or as talented in some ways as say Conan, but he does have the wit and intelligence. But..between him, Carson Daly, Lopez (never watched), and certainly Fallon & Leno, talk shows won't be the same if Conan leaves, and I know a lot of people like myself that'll watch anything but NBC at that point. Letterman's always been fun, quirky and organic (the opposite of Leno's Tonight Show). The Hour is excellent television. Daily Show and Colbert? Give me a break - it's pure gold.
Kevin Pollak Chat Show absolutely DESTROYS Leno's "comedy" "talk show". Watched that since the beginning. The internet is where it's at..or should be in this decade. I thought net/tv would be one and the same by now. Did ya ever see Virtuosity? :P
Jan 19, 2010 7:02am
Comments Posted ()
Search SBM Archives