Mad Men, Modern Family, Breaking Bad, and Temple Grandin the big winners at a moderately amusing 62nd Emmy Awards show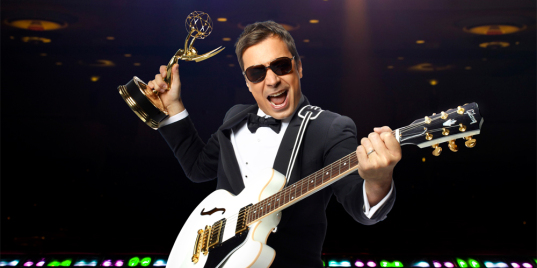 The 62nd Primetime Emmy Awards took place tonight at the Nokia Theatre in downtown Los Angeles, and like most years, there were few surprises. The Emmy voters tend to be pretty predictable, and tonight was no different, as Mad Men took home Best Drama Series honours and rookie sitcom Modern Family won for Best Comedy Series. Breaking Bad's Bryan Cranston captured his third straight Emmy for Best Actor in a Drama, favourite Jim Parsons won the Best Actor in a Comedy Emmy for his work on The Big Bang Theory, and former Sopranos Emmy-winner Edie Falco took home the Best Actress in a Comedy award for her new show, Nurse Jackie. The only minor surprise in the main categories came with The Closer's Kyra Sedgwick winning the Emmy Best Actress in a Drama Emmy ahead of the more likely Julianna Margulies (given her SAG and Golden Globe wins).
Seeing Temple Grandin win nearly everything in the Movie/Miniseries categories (Lead Actress for Claire Danes, Supporting Actress for Julia Ormond, Supporting Actor for David Strathairn, Director, and of course Film) wasn't too surprising either, given the story it told and the wonderful reception the HBO movie received. Neither was Al Pacino taking the Movie/Miniseries Acting honours for his portrayal of Dr. Jack Kevorkian. I'll try not to give too much of an opinion on the Academy's choices overall, since we have our own awards also being "handed out" this weekend, but all told, the winners in the 27 categories on tonight's telecast were pretty deserving, and it was nice to see some of the new shows get some love.
When it comes to these types of things, though, it's not so much the award winners as it is the show itself. And this year, it was pretty good. Late Night host Jimmy Fallon did a pretty good job of moving the show along, cracking a few jokes, and overall just celebrating television. I was a bit disappointed not to see very many pre-taped bits -- and absolutely nothing with the extremely talented Roots (who are not only one of the best live bands in the world, but have shown to be pretty funny as the house band on Late Night) -- but I still think it was a pretty good hosting job, maybe slightly under that of last year's host, Neil Patrick Harris.
The opening number of the evening was pretty inspired, and as a frequent Late Night with Jimmy Fallon viewer, it definitely fit in well with a lot of the pre-taped segments on his show. Roping in some fan favourites like Mad Men's Jon Hamm, 30 Rock's Tina Fey, and Lost's Jorge Gargia to join the Glee crew for a rendition of Springsteen's "Born to Run" certainly helped. I may not watch Glee myself, but it's become such a huge part of pop culture in such a short time, so it was a good move to use it to open the show. Plus, seeing Betty White teach Jon Hamm some pretty dirty dance moves in a dressing room was pretty fun as well.
I loved that they brought back John Hodgman to do the strange and not-completely-true facts about the winners as they make their way to the stage (for those that don't remember, he did the same thing at last year's show). The brilliantly hilarious author of "More Information Than You Require" and frequent Daily Show contributor added much-needed levity to a show that -- let's be realistic here -- is basically just a bunch of rich people giving accolades to other rich people. There were other quips and cracks that also brought some humour to the evening, but Hodgman was at it all night (see below for some of the best lines).
Another nice return from last year was the little "interview" vignettes for the nominated directors and writings. Considering most people don't know or think of the writers and directors of the shows they watch -- despite how important those people are to the end product -- it's nice to actually see them.
The show lasted exactly 3 hours, which the Emmy producers really wanted to make happen this year since they were airing the show live not just on the East Coast in Prime Time, but also on the West Coast (followed immediately by a replay). There weren't really any monumental "cut-offs", and the show seemed to move fairly briskly throughout, which isn't always the case with awards shows of any kind.
Other notable moments:

The Modern Family vignette about making changes to the show was really fun, especially the appearance by George Clooney (that guy really is game for anything, isn't he?).
John Hodgman on Edie Falco: "She is of Swedish and Italian decent, which means both her parents were constantly cooking meatballs."
I'm still not sold on them separating the evening into "5 categories" (which the Emmys also started last year, I believe), but I did like Jimmy's little musical introductions to each section.
The video to go along with The Tonight Show with Conan O'Brien's nomination, which included a bunch of clips from the show, with the last one of Conan being cut off to show an imploding building followed by colour bars. They may not have won, but it was a clever little ending to the clip.
John Hodgman on The Daily Show's Emmy win: "I am not sure that the Academy would be so quick to award The Daily Show these things if they knew what we used the Emmys for around the office."
George Clooney's relatively brief acceptance speech for his Bob Hope Humanitarian Award win, in which he cracked a few jokes, but also reminded us that it's not just putting the spotlight on tragic events and donating to them when they happen, but trying to remember them months and years afterward, when they need the help and money just as much (or more). Plus, it's nice to see big time movie stars at the "little" Emmys: besides Clooney, other "movie peeps" in attendance included Tom Hanks, Susan Sarandon, Patrick Stewart, David Strathairn, Claire Danes, Dennis Quaid, and Al Pacino.
John Hodgman introducing the Ernst & Young accountants with descriptions of their "shattered dreams", which is of course our gain because they were able to become accountants and tabulate the evening's votes.
With the Cheers music playing and Ted Danson about to walk out to present the Best Comedy Series award, Jimmy Fallon introduces him: "Wherever this next presenter goes, everybody knows his name. Please welcome Trip Dinson!"
Best presenters:
Stephen Colbert, doing a bit about female comedic performances, citing John Travolta in Hairspray, Dustin Hoffman in Tootsie, and of course Tom Hanks in Bosom Buddies.
Will Arnett, starting his poem, "My Favourite Part of a Woman" before co-presenter Keri Russell stopped him, saying that part was cut because it was really dirty.
Ricky Gervais, as always, this time going on about not being able to drink at the Emmys, no tough guys being in the audience, and then making a great crack about Mel Gibson ("I'm not gonna have a go at him. He's been through a lot... not as much as the Jews, to be fair...")
Did you watch the show? Do you have your own favourite moments or presenters? Are you happy or unhappy with some of the wins? Chime in, as always, below.
62nd Annual Primetime Emmy Award Winners
Comedy Series: Modern Family (ABC)
Drama Series: Mad Men (AMC)
Lead Actress in a Comedy Series: Edie Falco, Nurse Jackie (Showtime)
Lead Actor in a Comedy Series: Jim Parsons, The Big Bang Theory (CBS)
Lead Actress in a Drama Series: Kyra Sedgwick, The Closer (TNT)
Lead Actor in a Drama Series: Bryan Cranston, Breaking Bad (AMC)
Supporting Actress in a Comedy Series: Jane Lynch, Glee (FOX)
Supporting Actor in a Comedy Series: Eric Stonestreet, Modern Family (ABC)
Supporting Actress in a Drama Series: Archie Panjabi, The Good Wife (CBS)
Supporting Actor in a Drama Series: Aaron Paul, Breaking Bad (AMC)
Directing for a Comedy Series: Ryan Murphy, Glee - "Pilot" (FOX)
Writing for a Comedy Series: Steven Levitan and Christopher Lloyd, Modern Family - "Pilot" (ABC)
Directing for a Drama Series: Steve Shill, Dexter - "The Getaway" (Showtime)
Writing for a Drama Series: Matthew Weiner and Erin Levy, Mad Men - "Shut The Door. Have A Seat." (AMC)
Variety, Music or Comedy Series: The Daily Show with Jon Stewart (Comedy Central)
Directing for a Variety, Music, or Comedy Special: Bucky Gunts, Vancouver 2010 Winter Games Opening Ceremony (NBC)
Writing for a Variety, Music, or Comedy Special: Dave Boone and Paul Greenwood, 63rd Annual Tony Awards (CBS)
Reality-Competition Program: Top Chef (CBS)
Miniseries: The Pacific (HBO)
Made-for-Television Movie: Temple Grandin (HBO)
Lead Actress in a Miniseries or Movie: Claire Danes, Temple Grandin (HBO)
Lead Actor in a Miniseries or Movie: Al Pacino, You Don't Know Jack (HBO)
Supporting Actress in a Miniseries or Movie: Julie Ormond, Temple Grandin (HBO)
Supporting Actor in a Miniseries or Movie: David Strathairn, Temple Grandin (HBO)
Directing for a Miniseries, Movie, or Dramatic Special: Mick Jackson, Temple Grandin (HBO)
Writing for a Miniseries, Movie, or Dramatic Special: Adam Mazer, You Don't Know Jack (HBO)
Tags: awards shows, Emmy Awards, Emmys, Mad Men, Modern Family, Bryan Cranston, Edie Falco, Jim Parsons, Kyra Sedgwick, Jimmy Fallon
Related Posts
Paul Little is the founder and Managing Editor of ShowbizMonkeys.com. When not interviewing his favourite musicians and comedians, he can also be found putting on and promoting music and comedy events with The Purple Room in Winnipeg, or co-producing the live comedy game shows Pants on Fire and The Great Patio Showdown. (@comedygeek)
Original Comments Posted (3)
crimson says...
I look forward to seeing The Pacific.
Aug 30, 2010 5:09pm
Andrew Burns says...
Just glad Jim Parsons won. Hope the show does even better on Thursday nights
Aug 30, 2010 8:20pm
crimson says...
I hope Hutch reads your comment.
Aug 31, 2010 11:44pm
Comments Posted ()
Search SBM Archives