Winnipeg Comedy Festival 2017 Coverage
Filed under: Festivals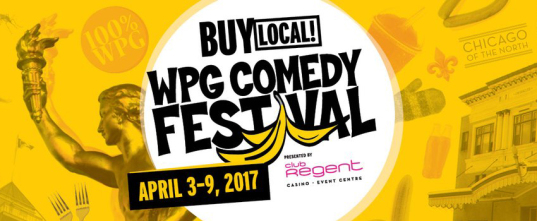 Every spring since 2002, some of the best stand-up comics from across Canada -- and a few from the U.S. and Europe -- have converged on the Canadian prairies for the Winnipeg Comedy Festival. It's a massive undertaking, as radio shows (The Debaters, which made its debut at the festival, returns for its 11th year) and 5 TV specials (which air on CBC Television) are recorded in front of live audiences, while a multitude of smaller theatre and club shows also take place throughout the city all week. This year's festival runs from April 3-9, and since our home office is in Winnipeg, it gives us front-row access to all the action!
One unique thing about the Winnipeg Comedy Festival is its themed galas, which include sets from 6 comics based around a similar idea or theme. We got a chance to speak with Aristic Director Lara Rae to talk about some of those galas and performers, and she highlighted Friday's early gala, "Virgin Territory" (hosted by Gavin Crawford), where the comedians will talk about doing things for the first time.
"Martha Chaves is talking about her First Communion, Big Daddy Tazz his first heart attack -- although I would never frame it that way. I would say, 'My heart attack that changed my lifestyle so much that I never had another,' rather than my first heart attack, which suggests that there may be a second. And Ivan Decker has a wonderful story -- he's a great storyteller -- about eating at a restaurant in the dark."
Rae also noted that Friday's late gala, "Good Neighbours" (hosted by the iconic Tommy Chong of Cheech & Chong), features a very fun take on the theme from one comic, where all the others are telling jokes about literal next door neighbours, Canada's neighbours to the south (Rob Bebenek), or our overall global neighbours (Shazia Mirza).
"To my great amusement... Sean Emeny (had) one of the most bold pitches we've ever had at the Comedy Festival, sending us 50 jokes on our planetary neighbours in the solar system. If you've seen him, he's a hilarious Jon Steinberg/Stephen Wright kind of one-liner comic, and he has a joke for every planet and some jokes about poor Pluto, which recently lost its status."
Because of the experience of others at the Gas Station Arts Centre (which produces the festival every year) and the rest of the Winnipeg Comedy Festival team, Lara Rae also talked about the comfort of stepping away from some of the in-the-moment responsibilities of running a festival while it's happening.
"(It's) to the point where I can actually -- for the first time in a long time -- consider doing a show on the Friday or Saturday evening," she said, saying that slipping away from the galas mid-show to go perform elsewhere will be a nice relief.
"And you realize, actually, that's not just about improvement; that's about a loosening of ego. That's always been the case," she laughed, adding, "I just didn't feel that was the case."
Lara Rae and her team have once again put together a festival that features something for everyone, including three other galas not mentioned above: "Lady Like", hosted by Nikki Payne on Thursday night; "I Heart Love", hosted by Will Sasso on Saturday night; and "Hot Mess", hosted by Howie Miller later on Saturday night. Other recommended shows to check out if you're in the Winnipeg area are Ali Hassan's "Muslim, Interrupted" (which has already wowed audiences at last year's Edinburgh Fringe and Just for Laughs) on Wednesday night, the all-local "Winnipeg Show" on Thursday night, the return of "Tales from Late Night" (a late night talk show format hosted by Bruce Clark) on Friday night, and Shazia Mirza's "The Kardashians Made Me Do It" on Sunday afternoon, plus several feature sets all week at Rumors Comedy Club.
Then there's the most intriguing idea for a show debuting at this year's festival: "The Feminist Gong Show", hosted by Erica Sigurdson. Rae wanted to make sure people didn't misunderstand the point of the show, which will involve male comics hitting the stage at the West End Cultural Centre with their usual material, and female comics off-stage chiming a gong to stop the set whenever something potentially socially problematic comes up.
"This is not, obviously, a completely serious premise. It's a serious premise because, of course, feminism is serioius -- and gong shows are serious... Everyone that's on the show understands the gist of the show, which is to take a good-natured look at sexual politics in comedy, and what you can say and not say."
Touching a bit on her own life, which includes her very public transition, Lara Rae explained why this was such a good idea for a Winnipeg Comedy Festival show.
"I feel that I'm standing on 2 walls in a way. I completely understand the idea -- I've been raised my whole life with the idea -- that you shine a light on something that's unsavoury or, in some cases, ignorant. And then, through that exposure you can see it in its ugly form and then make an informed decision that this is not worth being that upset about at all. But on the other side of the wall, I've learned a tremendous amount about the notions of privilege, white privilege and so on, and not just what is being said but who's saying it, and the notion of context. So I think it's a very important discussion."
In fact, what started as a brief explanation of the show lead to a fascinating 45-minute conversation on comedy and politics and Lara's own challenges with the potential responsibility of likely being the first transgender comic many audience members are seeing. We're going to save that full conversation -- which we think you'll enjoy hearing -- for a future podcast, but it's entirely possible that an all-in-good-fun comedy show like Saturday night's "The Feminist Gong Show" will also lead to some healthy discussions amongst comedy fans and performers alike!
Now in our 8th year covering the Winnipeg Comedy Festival, ShowbizMonkeys.com has once again gotten to speak to several of the comics appearing at this year's festival. Keep checking back all week to see interviews posted with Amanda Brooke Perrin, Jackie Kashian, Rebecca Reeds, Tim Gray & Matt Nightingale of HUNKS, and Nile Seguin (many as part of our Kinda Sorta Maybe Like a Podcast). There are also many comics appearing at this year's festival who we've chatted with in previous years (either as part of our Winnipeg Comedy Festival or Just for Laughs coverage, or through The Supporting Act Podcast), so we've included links to those interviews, too!
Throughout the festival, we'll also be posting lots of photos and updates on Instagram, Twitter, and Snapchat, so be sure to follow us on one or both of those to see things as they happen! And if you're in Winnipeg this week, you can check out the complete Winnipeg Comedy Festival schedule at winnipegcomedyfestival.com/schedule.
2017 Winnipeg Comedy Festival Interviews
Past Interviews with 2017 Performers
Tags: Winnipeg Comedy Festival, comedy, stand-up, festival, Lara Rae, feminism, CBC, The Debaters
Related Posts
ShowbizMonkeys.com began as CanadaMovies.net in September 2001 and branched out into a second website called MovieContests.com the following year. Beginning in 2007, an expansion of coverage and complete re-branding brought ShowbizMonkeys.com to the world.
Comments Posted ()
Search SBM Archives